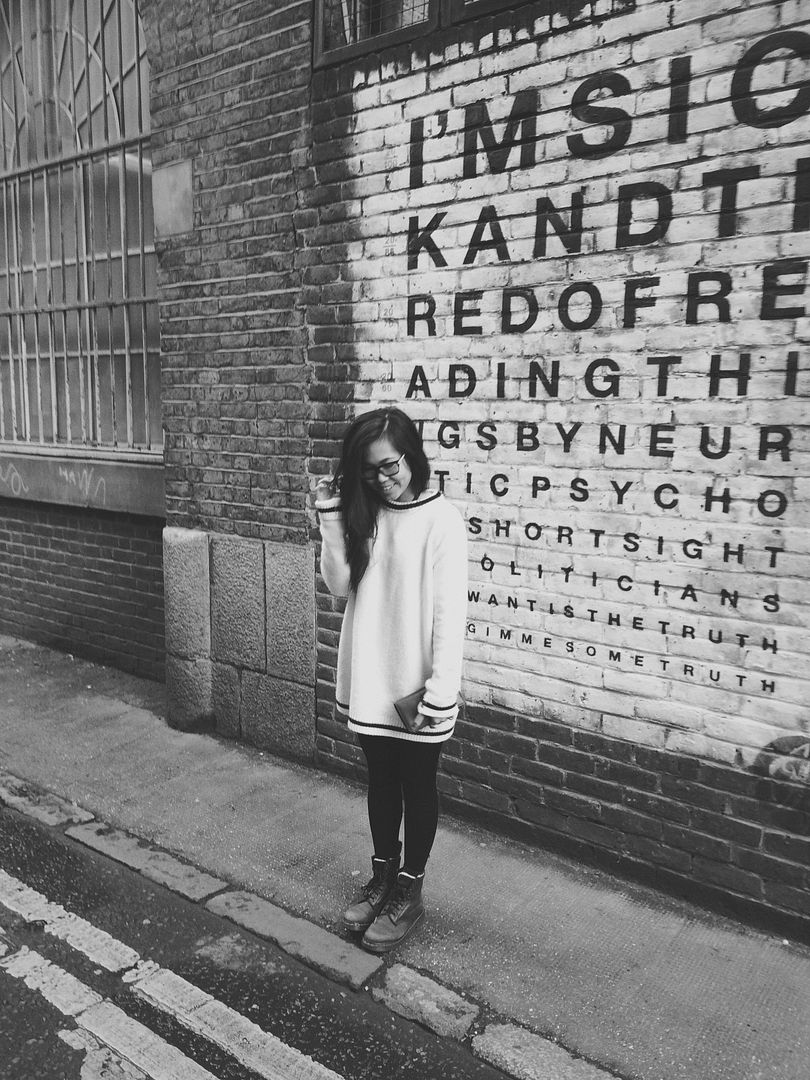 The series of photographs above capture a story tale of cliches.
Let me talk you through each of them and we'll see if you'd still want to be pals with me afterwards:
A grand 2cm of snow graced London yesterday. In my revitalised 7:30 post-shower state, I tried to materialise my inner chants of 'DO YOU WANNA BUILD A SNOWMAN' into an outfit. Goodbye flimsy playsuit, hello oversized woolly marshmallow knit with cricket jumper detailing. In true 'ZZZ' fashion, I rolled with the bedhead, pulled on my Dr Martens and joined the sea of caffeine-deprived commuters whilst secretly mumbling Frozen lyrics to myself.
Within the hour, I had a pipin' hot bowl of porridge sprinkled liberally with goji berries, cacao nibs and a spoonful of almond butter. This was followed by a chocolate orange brownie because life is all about balance. I needn't have bothered with my daily bucket of joe consisting of two espressos and a mug of filter coffee as I have a growing suspicion that I've grown immune to its powers. Naturally, the only way to remedy this is to double the dose with quadruple espresso-fueled gulps every morning. Did I mention that I'm also an incredibly logical person?
Come lunch time, my full-time best friend, part-time photographer/foodie pal/person I repeat '
only let me have ONE glass of wine and NO PIZZAS TOGETHER AT 3AM
' to every week coaxed me on a trip to our local health food shop for pretentious organic treats that promised us eternal youth and spiritual souls. Yes, I'm
that
person. I lap this stuff up and armed with wasabi kale chips and a mango chia pudding dangling from my arms, we scouted a suitable location for a quickfire outfit shoot.
This brick wall complete with a political message that ached our brains to read was perfect.
"Just hold your finger on the shutter as I prance around."
"Oh honey, please. I have a photography degree."
That's pretty much a summary of our friendship.
If that isn't enough, we're going to see an Icelandic band in an East London pub tonight. With our priorities in order, I've already consulted Google and sent across a list of places to eat. Don't worry, no superfoods are involved - only thick doughy pizza crusts straight from a woodfired oven to our rumbling tums. I'm already dreaming about bathing in mozzarella.
With all of this in mind, are we still friends?
Dr Martens Serena Boots
| White Wool Jumper - ZARA | Mulberry Evergreen Tree Slim Wallet