Please note:
Leaving Shu out in the rain for longer than 5 seconds results in immediate shrinking and increased irritability - you have been warned.
When deciding on the uniform for the day, my mornings can be divided into the following scenarios:
- I either delve into my wardrobe in a hurried haste with a whirl of clothes dancing in every direction before it's quickly pulled from the air and morphed into an impulsive ensemble. I've been known to (proudly) roll up to work sporting Marvel t-shirts (
that are secretly part of a pyjama set but shhh!)
, Harry Potter tops (proud Gryffindor) or men's jumpers.
- Wake up with a pressing urge to rematerialise myself into reflect a specific mood/character-inspired attire. I only have my imagination and my knack for getting too emotionally involved with people in films/TV shows to blame for this.
For this particular day, the first option won although channeling Steve Job's love for turtlenecks did stumble into mind.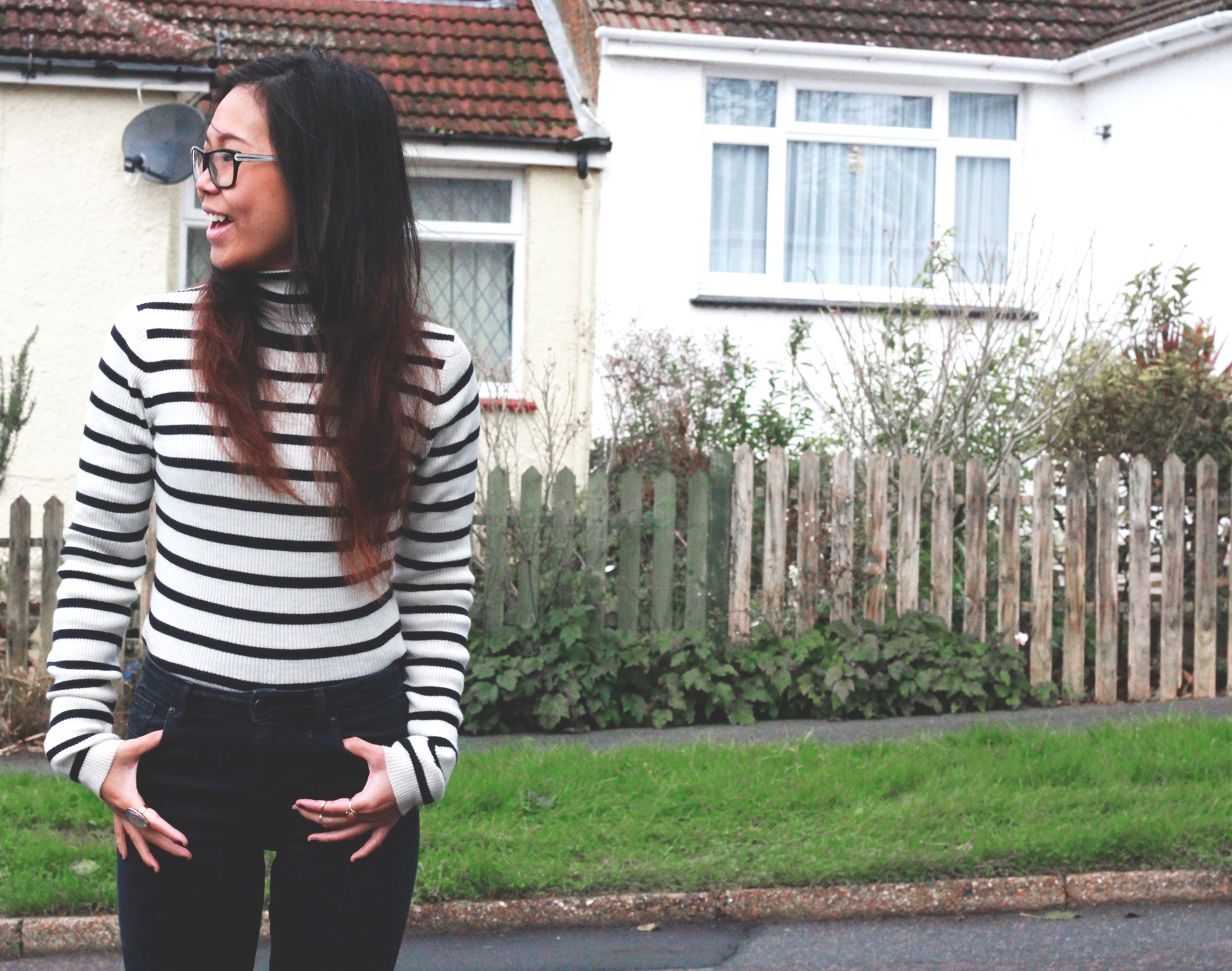 Traditionally, horizontal stripes are hailed as an unforgiving garment designed to widen the body into all sorts of unflattering angles. However, high-waisted jeans counteracts this and saves the day; the fit reaches further past the hips until it sits above your lower abdomen, where it stays and gets to work in accentuating the figure and spinning an illusion with its leg-lengthening powers.
I may be 5'3 but with these Jamie jeans, my legs are a little less short and stout...
Simply magical
until I return back to normality, d'oh.
On a side note, I am experiencing a great deal of infatuation with turtlenecks right now, not just on me but on guys too... notably James McAvoy in Trance with his multipack coloured collection. Dark turtleneck, blazer and chinos?
Be still, my beating heart.