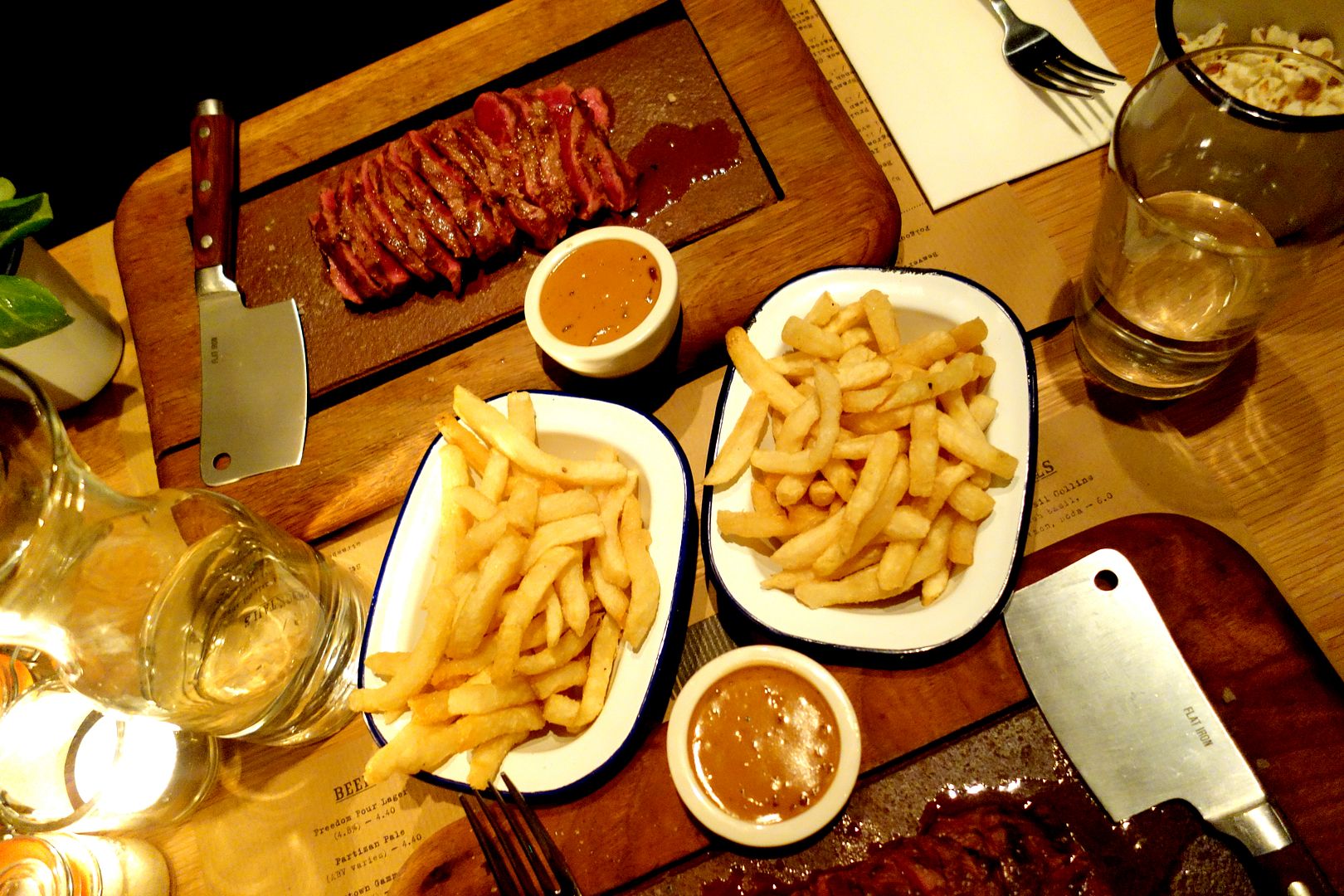 Visited: 9 Denmark St, Soho - Main Location: 17 Beak St, Soho
Carnivores, rejoice. If you're on the hunt for melt-in-your-mouth steak without breaking the bank then look no further, Flat Iron's your answer.
Despite being on my food bucket list for over two years, Jordan and I first visited in September and we (quite literally) kicked ourselves for not going earlier. Whilst I appreciate that it's most likely a cheaper cut of meat compared to those served in Hawksmoor and Goodman, the steak is still uncompromisingly simple and finely cooked. What's more, it's all yours with just a crisp sheet of a £10 note. There are two locations in Soho, we've only dined in the Denmark Street branch but highly recommend it over the Beak Street location. As is the trend in Central London these days, it's a no reservations restaurant so the quieter location benefits from a significantly reduced queuing time - we're talking 10 minutes versus a 1.5-2.5 hour hangry slump. However, it's worth mentioning that there's a thriving bar area downstairs in Beak Street to seat waiting diners with a cocktail (or five) in hand.
Fun fact: Flat Iron even have their own herd based in Yorkshire.
Once seated, a salted popcorn filled enamel tin mug is presented with the restaurant's extensive list of beers, cocktails, wines and soft drinks. On these two particular occasions, I stuck with water and had my pre-steak stomach focus on the main event. No alcohol induced bloated tums allowed... until the serial snacker polished off the popcorn.
The menu's simple - for mains, you're given the choice between The Flat Iron Steak or burger (served with a house leaf salad) for £10. The constant changing specials are £15 and range from different cuts of meat to preparation methods. To go alongside your beef, options include the day's market greens, dripping cooked chips, roast aubergines (with tomato, basil and parmesan) creamed spinach and a mixed salad. Sauces are £1.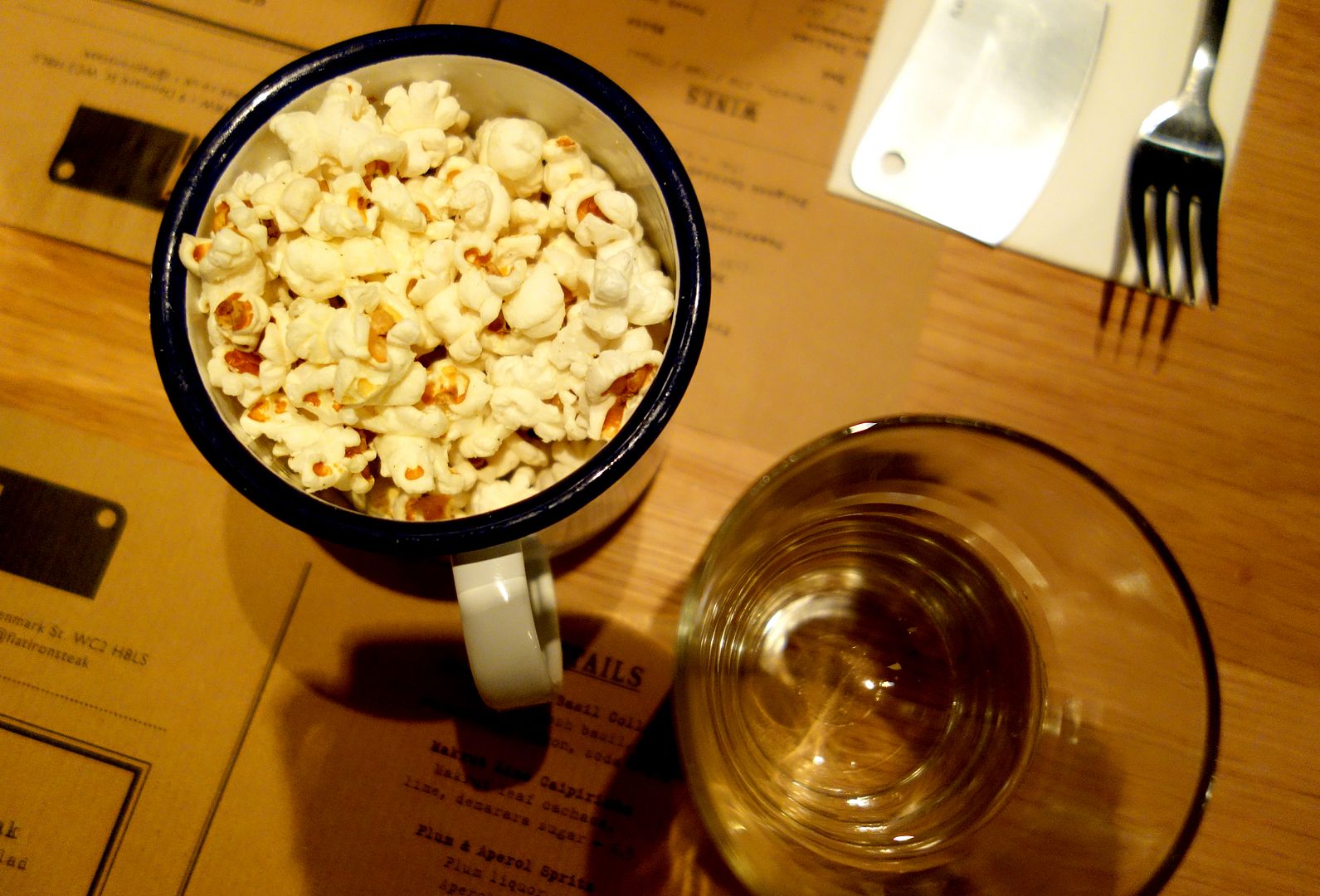 Did anyone spot the mini meat cleavers in replace of traditional steak knives? I'll be honest, it made me feel pretty damn cool.
Oh, don't mind me, just cutting my meat up into smaller bite-sized chunks WITH MY SUPER COOL BABY CLEAVER TOOL.
Just me?
Moving on, Jordan and I kept it traditional with two medium rare steaks, two portions of chips (despite the dripping-cooked label, it wasn't anything out of the ordinary in taste) and two pots of peppercorn sauce. We meant business. After the initial widening of double hearted emoji eyes and mutual appreciation for the dish, the rest of the meal was enjoyed in content silence. Flat Iron beats the other steakhouses I've tried when comparing the quality against those at a similar price point or even those in the £20+ range. It was incredibly tender and wasn't in any danger of being overcooked, dry or under seasoned.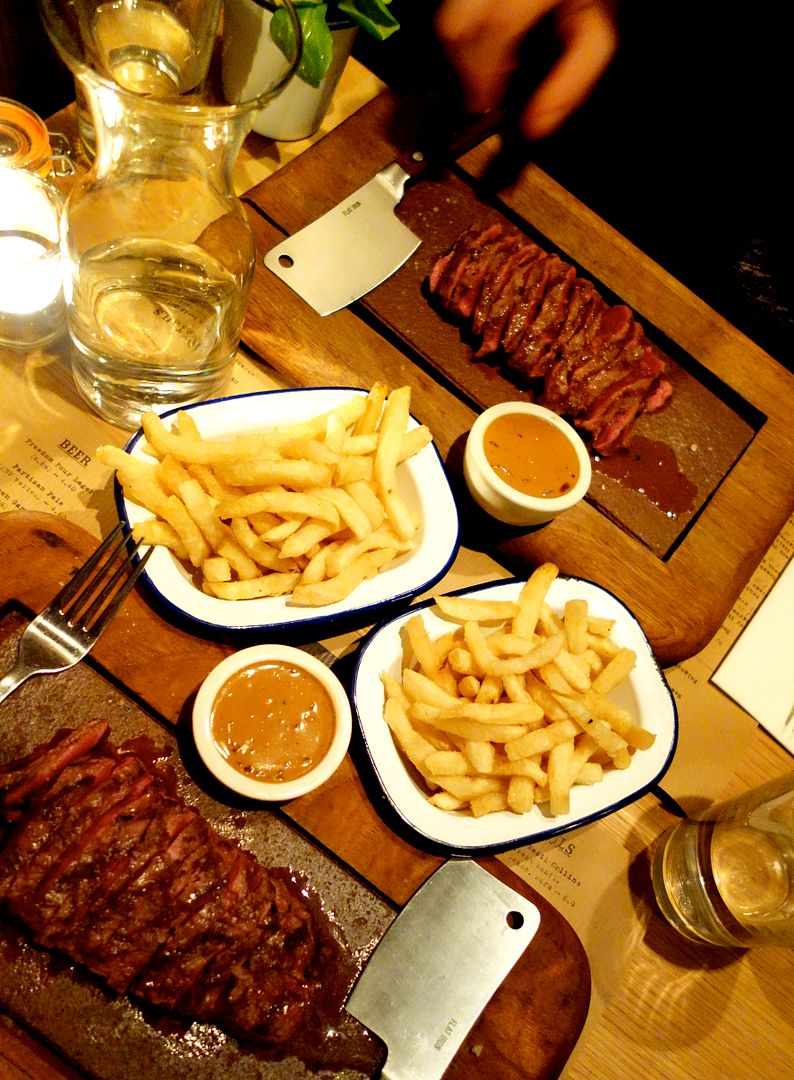 I returned shortly with my mother and two sisters for lunch and opted for the burger to see how it compared. It wasn't bad... but it wasn't mind-blowingly good either. Despite drowning it in sauce, the overall flavours were bland, the meat was dry (although this was largely due to it being at the tip of being well done despite asking for medium rare) and the cheese didn't do anything to elevate the taste. There are certainly worse burgers out there and it's a great option for those who aren't too keen on a board of steak but after trying its signature dish the first time round, this was underwhelming in comparison.
Now, to top it all off with dessert. There's always room for dessert particularly if it's a Paul A Young's creation. A salt caramel sundae served as soft serve ice cream with pots of hot Madagascan chocolate sauce and vanilla bean bourbon syrup to drizzle over. I don't think the waitress stopped to take a breath when describing this delight complete with flapping arms and an excited grin - oh lady, we're kindred spirits, you and I.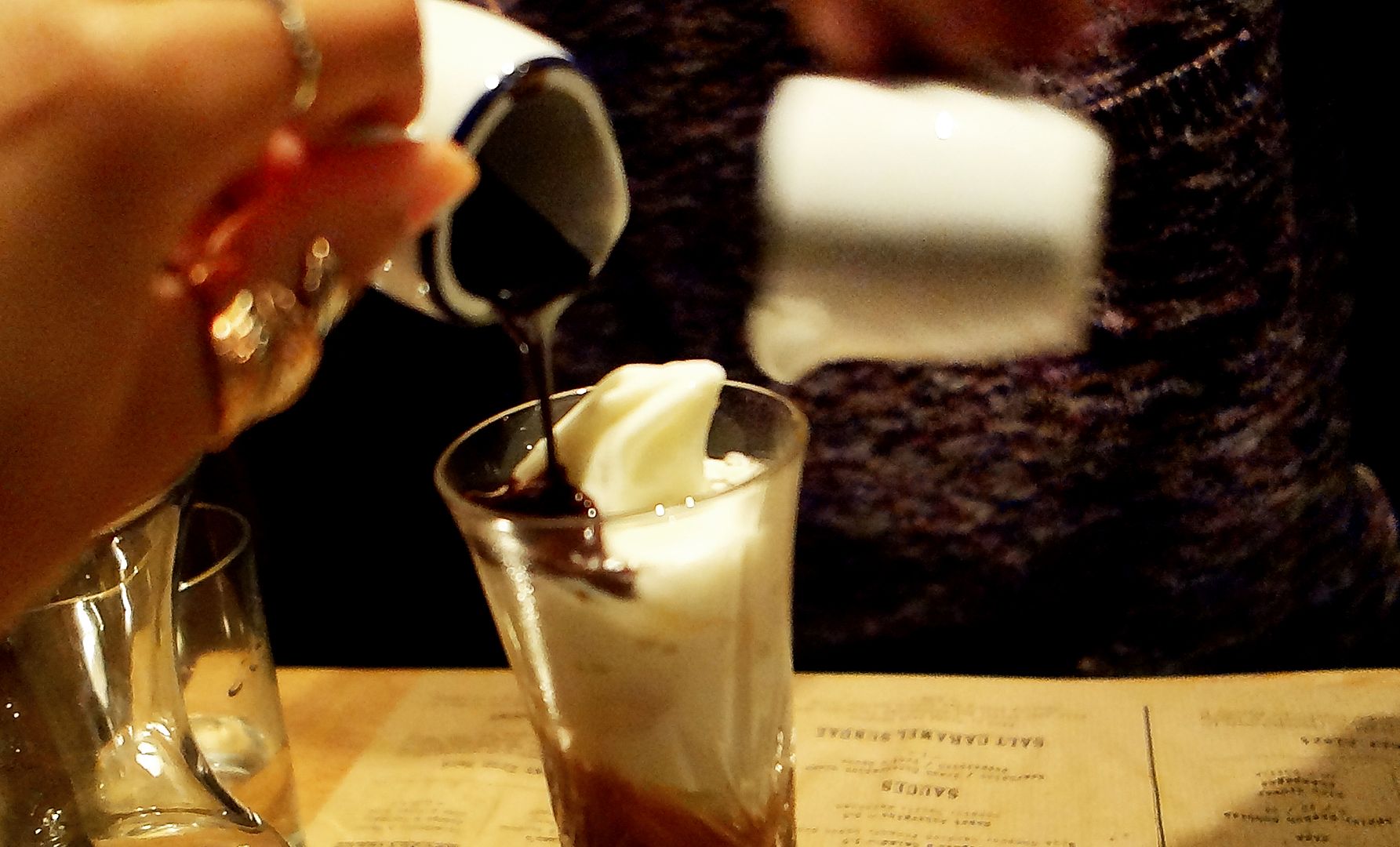 We poured the sauces into its glass mixing pot and pulled ourselves across the table charged with a spoon in hand. In a flurry of metals clinking and cutlery scraping against the sides for the last taste, we sat back and melted into our seats. Defeated.
All in all, if you want a happy tummy full of steak for a good price, Flat Iron is your best bet; it's perfectly situated in the heart of Soho for meat-lovers to huddle together. Whether it's for catch-ups with friends over tipples (
writing that near Christmas makes me feel like a character from Downton Abbey
) or a cosy spot for the perfect date night, Flat Iron's got your back, stomach, drool and heart. I'm still dreaming about it.
Who wants to go next week?