A few years ago, my staple shades were variations of black and white. My wardrobe was a shrine to monochrome until I introduced a little
summin' summin'
to spice things up. Get your minds out of the gutter, people! A
bright floral blazer
joined the party. The print was obnoxious, busy, loud and everything that I had previously shunned so naturally, I loved it.
Little did I know that purchasing the £10 rejected outerwear from Topshop's sales rack started a full-blown affair with bright displays of colour and florals altogether. Case and point, this particular ensemble.
Do you recognise the red dress? It certainly did the rounds around the blogosphere last summer. Whilst it's a primarily fitted, the slight skater-esque flare made it perfect twirlin' material on a summer's day yet appropriate with a pair of black opaques and platform heels in the evening. I was drawn to the graphics aspect of the piece with the stamps of monochrome botanical florals. I deem it a timeless addition to the wardrobe for many seasons to come (as I say for 90% of everything else that I own).
As for the cape like cardigan, my wish to look like a Hogwarts student/superhero hybrid had come true the moment I clapped my eyes on the AA boucle shawl cardigan. I fell in love. Since then, I can be found running around the city with my accompanying wings pretending that I'm the next Batman/Dumbledore/Victor Krum.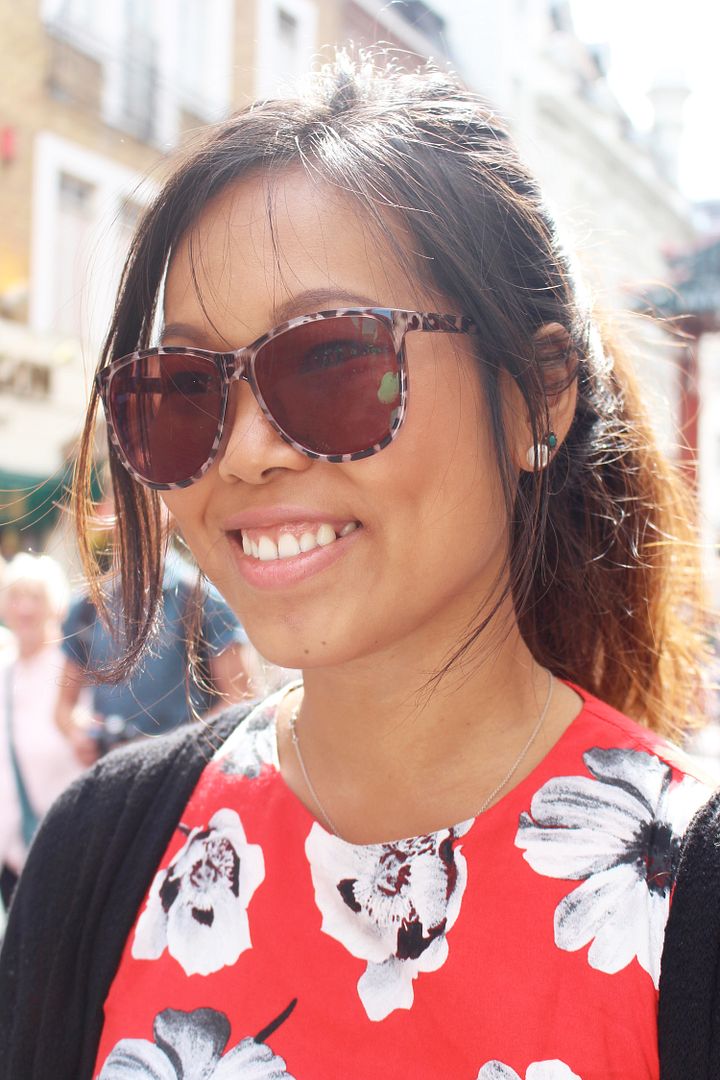 Moving swiftly on, did you spot the leopard print oversized sunglasses? Firmoo whisked over
this pair of sunnies
in time for the British heatwave and it's been living in my bag (and resides over half of my face when they're on) ever since. My mother even 'officially' announced that she'll be stealing them from me and proceeded to pluck them off my face and promptly sitting it on hers. I chose a non-prescription tinted pair but there are options for a prescription pair as well as choosing various shades and intensity of the tinted lenses. It's a $20-$50 addition should you require them to be photochromic or polarised.
The customer service was great, shipping was fast and the whole experience was nothing short of wonderful. It arrived in a sturdy glasses case adorned with a charming map print, an extra black fabric bag, a cleaning cloth and a nifty screwdriver keyring for a quick fix should the screws loosen when you're on-the-go.
If you're interested in trying out a pair of glasses from
Firmoo
, they're currently running a
'free glasses' promotion
for new customers. With the code 'FREEFIRMOO', you can choose between a selection of frames along with a complimentary case, cleaning cloth and accessories of your own. You'll just have to pay for the lenses and shipping! You can find out more details about it
here
.
I don't make any commission off the sales nor am I being compensated for this post, I was genuinely impressed with the product and level of service that I received so didn't hesitate to share it with you all on the blog incase anyone else was interested too! : )
And with that, I shall be off! The fruit bowl is calling me.
My mother brought home a case of 24 giant peaches yesterday. She bought them for a grand total of £3.99 from Chinatown (a mistake in their printing resulted in our household turning to an adaption of Shu and the Giant Peach(es)).
She unknowingly bought a big carton of peach juice earlier too.
Sending you all lots of love, I hope you're having a great day so far! :)