Clothes shopping is never simply just a 'like, drag to shopping basket and pay' scenario. More often than not, I have a tendency to conjure up elaborate situations in my mind in which the potential piece in question, plays the leading role. There's jazzy music playing in the background, day to evening possibilities and a dance with my existing accessories and complementary tops/bottoms/outerwear. Everything comes leaping out of the wardrobe and if it's still two-stepping away by the end of it, it stays. This is exactly what happened with this Oriental floral shirt.
I remember clapping my eyes on it in H&M and thinking 'oh my, that would be the perfect thing to wear to eat copious amounts of dim sum/sushi/noodles in' - I know, I have my priorities in order. I dreamed of sitting cross-legged behind towers of steaming bamboo baskets and bowls of piping hot bowls with a pair of chopsticks in hand, and a pair in my hair (because chopstick constructed buns are a must).
Shortly after that, I handed over my debit card and the rest is history (it came home with me).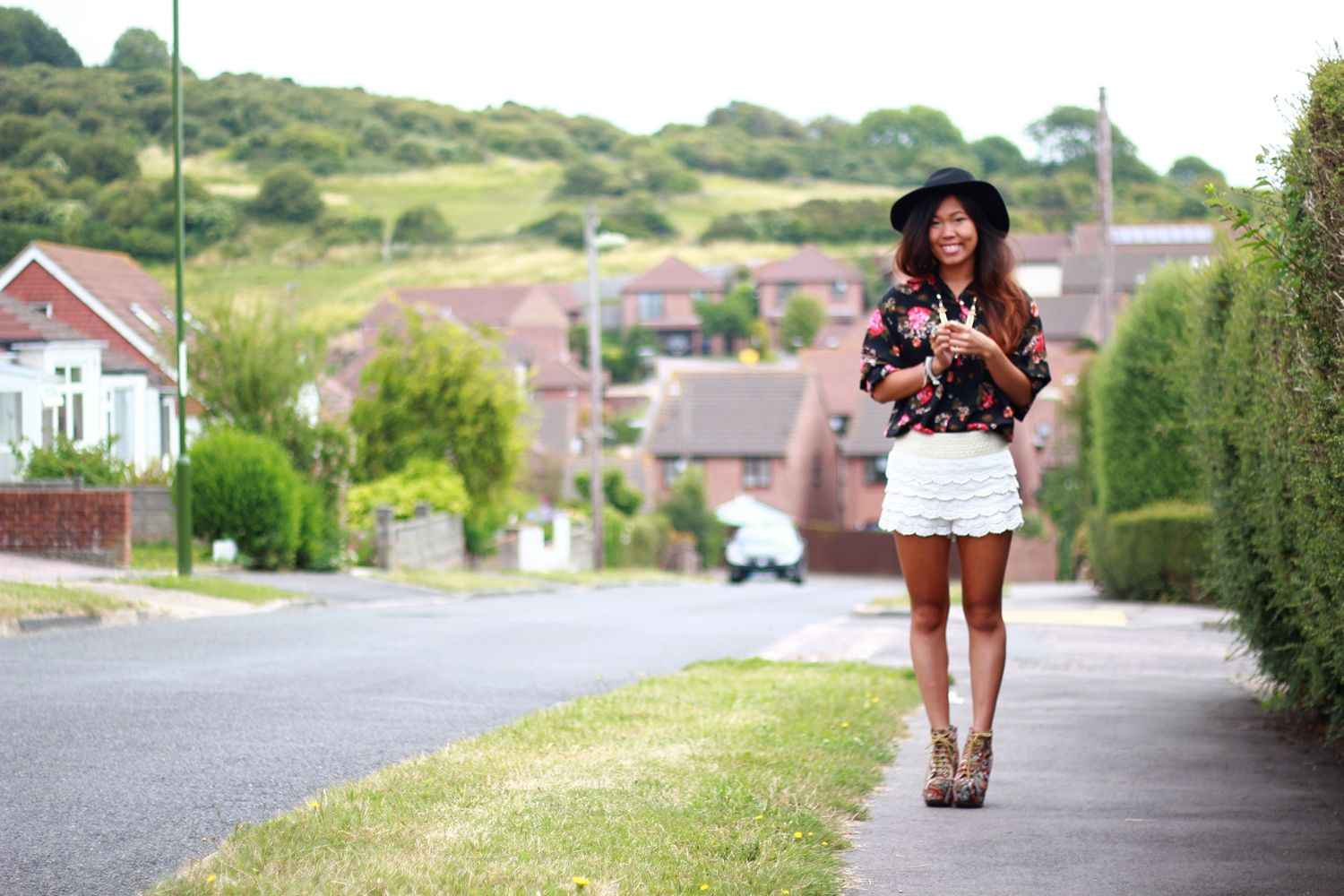 From growing up by the south coast to becoming a full-time Londoner, I had to incorporate a touch of British influence into this ensemble somehow. Layers of lace and delicate crochet have always reminded me of the Victorians. During the years of primary and middle school, we'd dress up as characters from the era, twirl around the playground in our doily dresses and pen down our thoughts in our best cursive handwriting. Whilst the length of these
crochet shorts
are a touch higher than a below-the-knee cut, I couldn't resist pairing features from both the Far East and the West together - opposites attract.
Now, is it strange to have dim sum with a side order of Earl Grey?
No, I didn't think so either. I'll stick to the prints.
Have a great weekend, everybody! :)