This weekend, Jordan and I went for a leisurely stroll along the beach.
We pulled on our walking shoes, slung on our rucksacks and took a break from being stuck indoors. The reason for our seaside adventure? I'm starting to feel a bit better and am able to walk for more than 15 minutes so we're making up for lost time. For this particular mission, there's a burrito-sized treasure pot at the end of the rainbow.
Jordan was responsible for the directions, he's a human SAT NAV and alas, I'm not.
Case and point, confused specimen A.
"This way!" Jordan exclaimed with a jolly jaunt.
Let's go!
- Super Duper Crop Jumper - Monki | Tile Print Jeans - Topshop | Dainty Converse - ASOS | Brown Rucksack - New Look -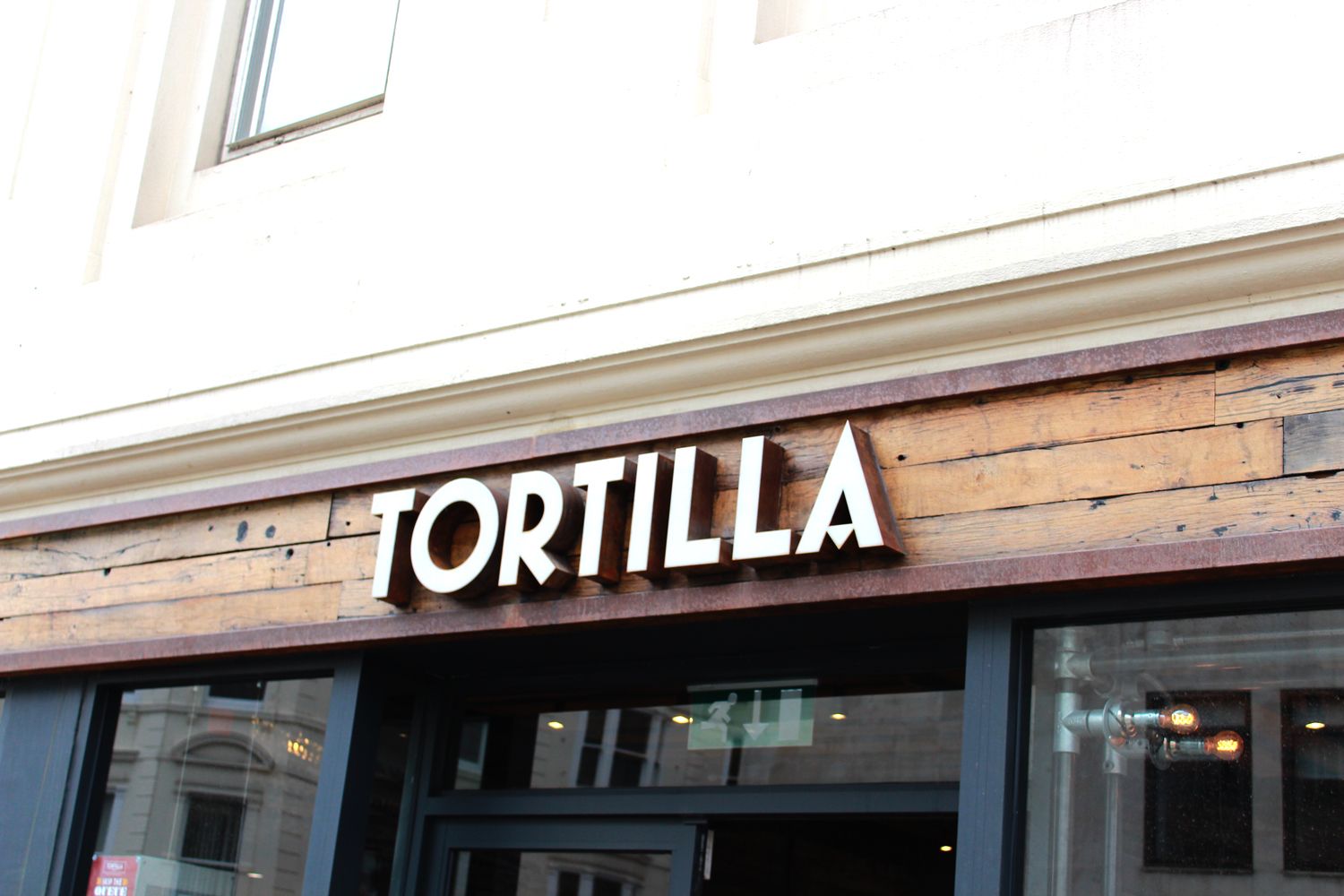 The lovely people from
Tortilla
invited us over for a bite to eat and a Californian burrito was exactly what we needed for a refuel. As I'm currently back home, the
Brighton branch
greeted us with welcoming wafts that made our stomachs flip and somersault.
Shall we take a look inside?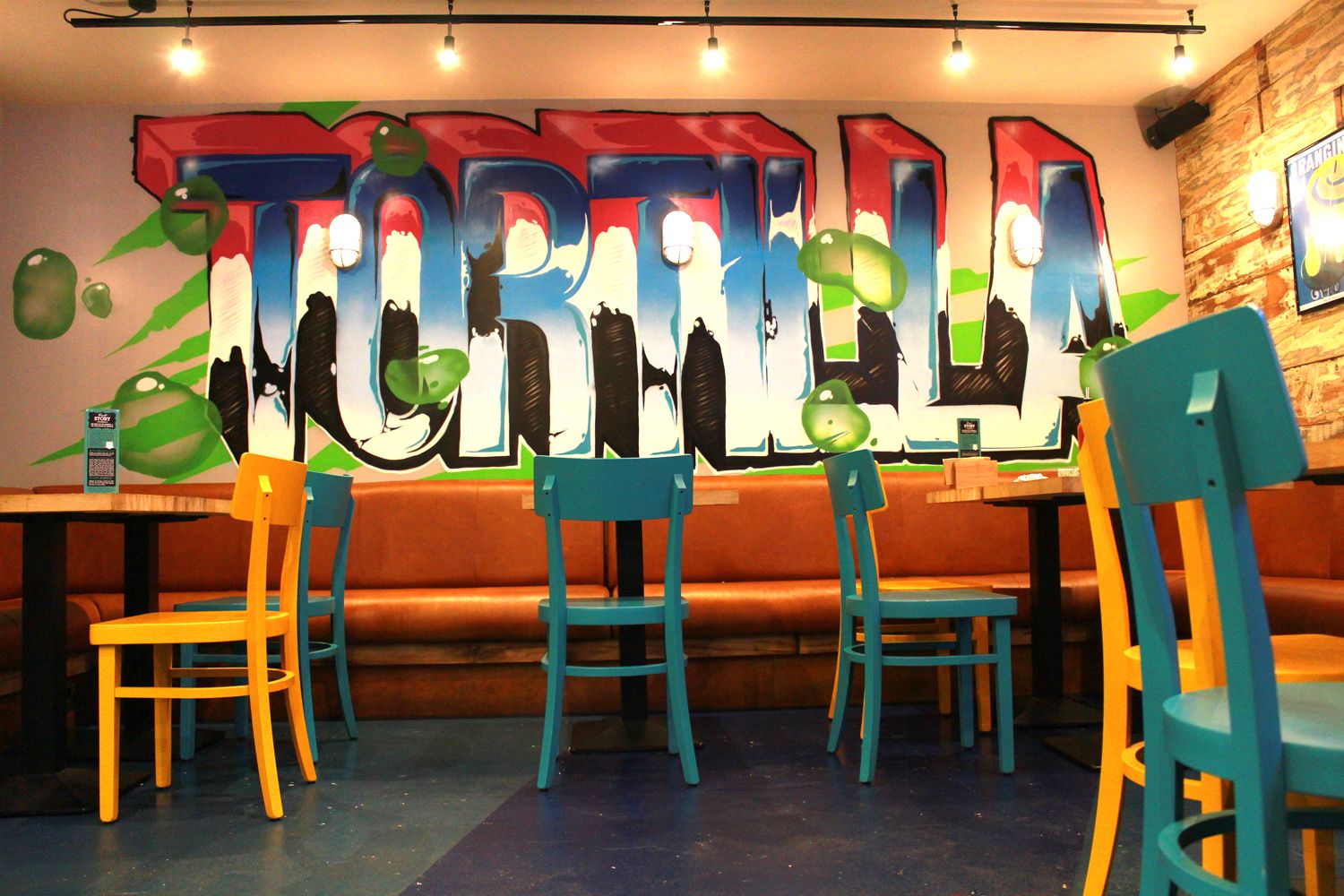 As homage to its Mexican inspiration, rows of Corona bottles settled themselves along the ceiling. Brightly coloured chairs were parked under the wooden tables and quirky pieces of artwork dotted themselves on the spray-painted walls.
After a brief look around, our rumblin' tums dragged us over to the counter and we proceeded to build our winning burritos.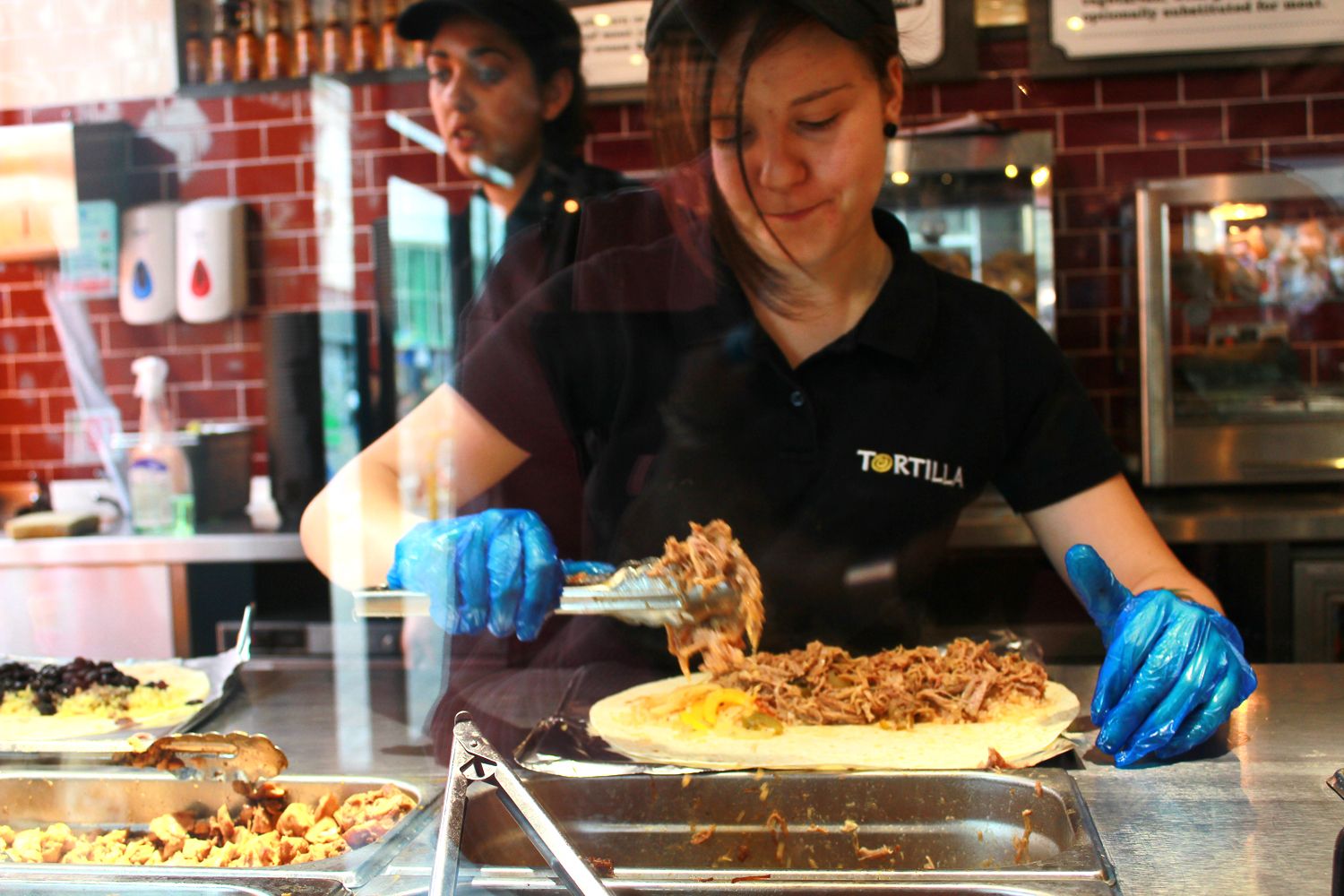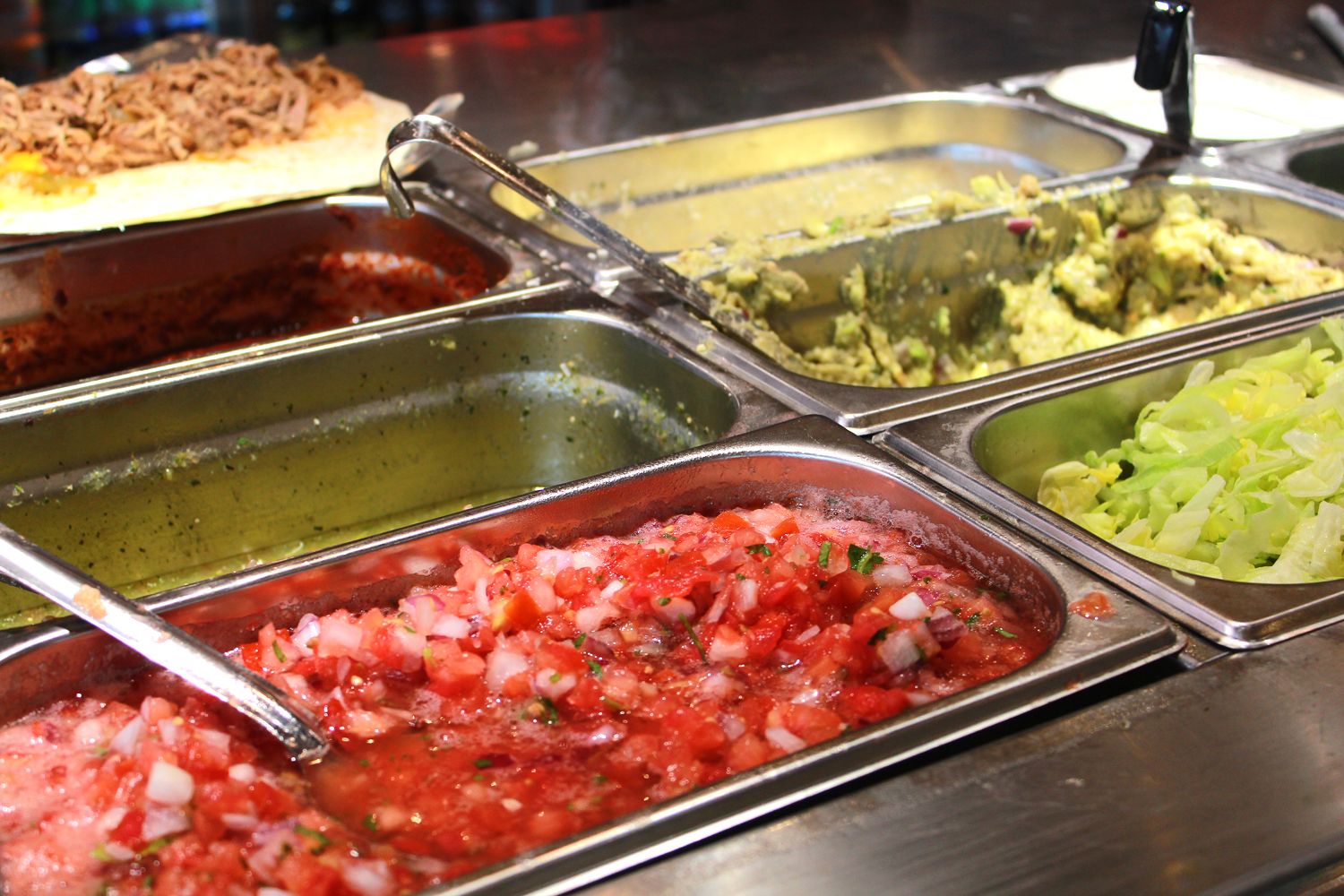 For the filling, there's a choice of chicken, steak/shredded beef (for 50p extra), pork and vegetarian. I opted for the barbacoa steak (seared beef braised in mellow adobo and then shredded) whilst Jordan chose the carnitas (pork, slow-cooked for hours until fall-apart tender)
Once assembled, it's time to stuff it.
The second station consisted of either Mexican (tomato-infused) or coriander rice. It was followed up swiftly with the choice of peppers and onions, pinto or black beans. The final stop was for optional extras of lettuce, guacamole, grated Monterey Jack Cheese, sour cream and an assortment of salsas depending on spice intolerance.
Coriander rice and a generous helping of black beans with a sprinkle of cheese (with no sour cream please) and their spiciest salsa graced my tortilla wrap whilst Jordan swapped the legumes with roasted peppers and onions.
Aside from burritos, Tortilla also sells tacos, skinny burritos (for those who want to ditch the wrap) and nachos on the side. For those who fancy a tipple, frozen margaritas and Mexican beers are on offer along with the standard soft drinks.
After it was rolled into a tin foil blanket, it was time for the taste test.
Specimen A surveying the wrap.
My first bite was met with a comforting blend of flavours and the burrito cushioned together a medley of textures. The black beans and shredded beef work together perfectly whilst the coriander rice added a subtle tang. However, I couldn't taste the habanero salsa roja at all but was swiftly met with two towering bottles of hot saaaawwwwce to give it a spicy kick.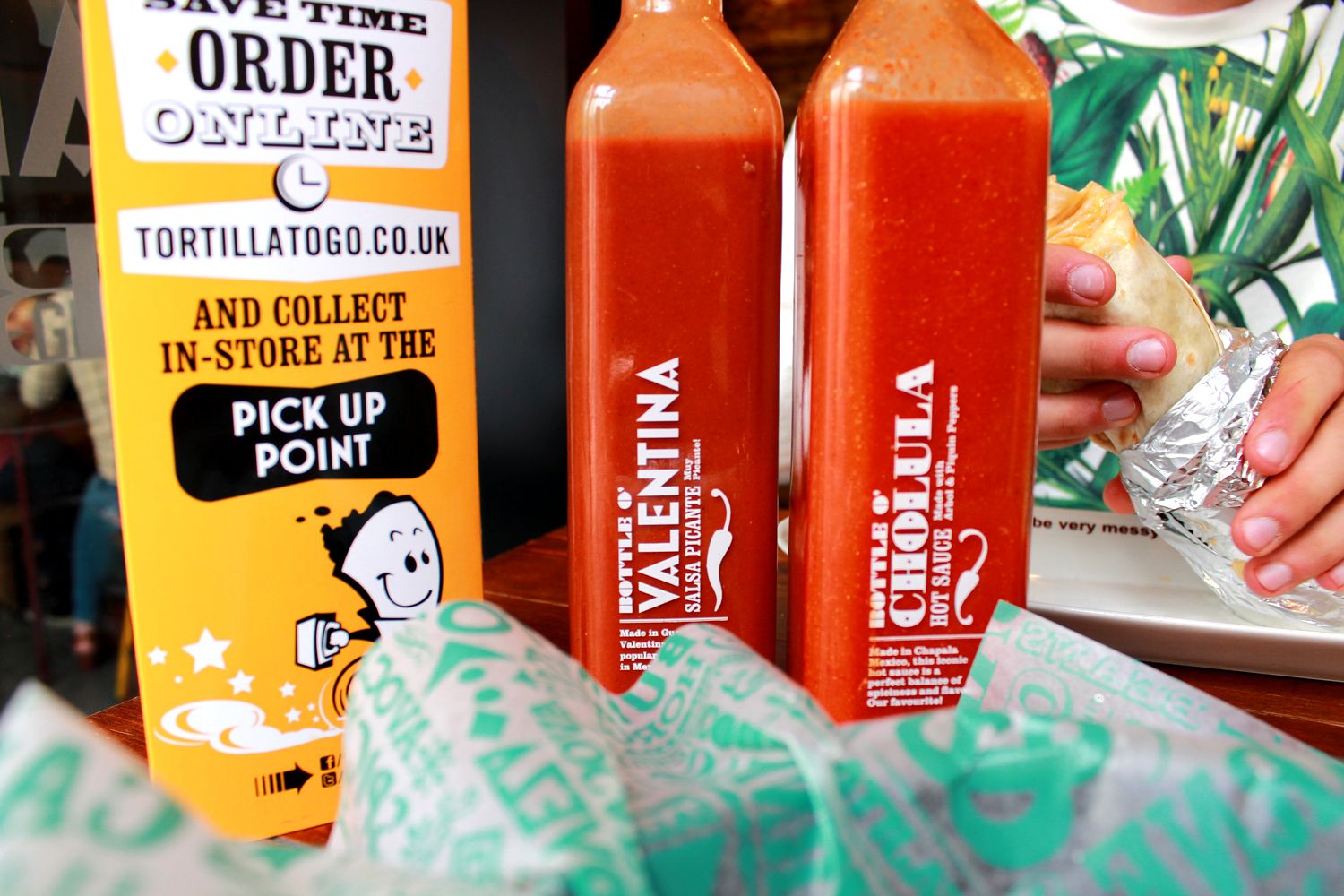 Yeah, I like to drown my food in chilli sauce.
That sneaky smirk says it all.
The sauce sat at the top and lazily drizzled its way through the rest of wrap. Luckily, there were no soggy bottoms here, folks. Fears of a soaked unravelling burrito is the reason why I previously disliked it in the first place but it wasn't the case with this one, thumbs up!
On to Jordan: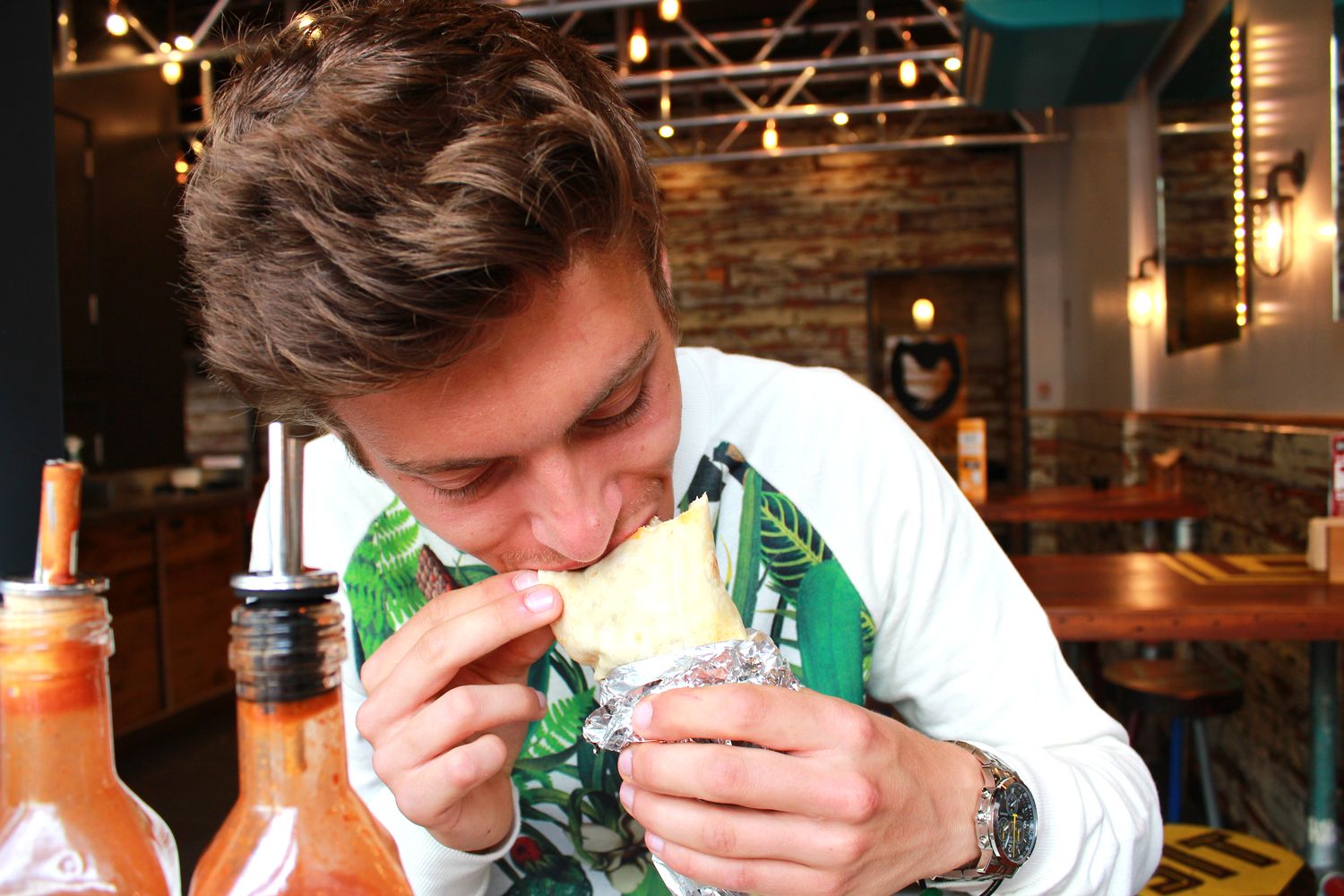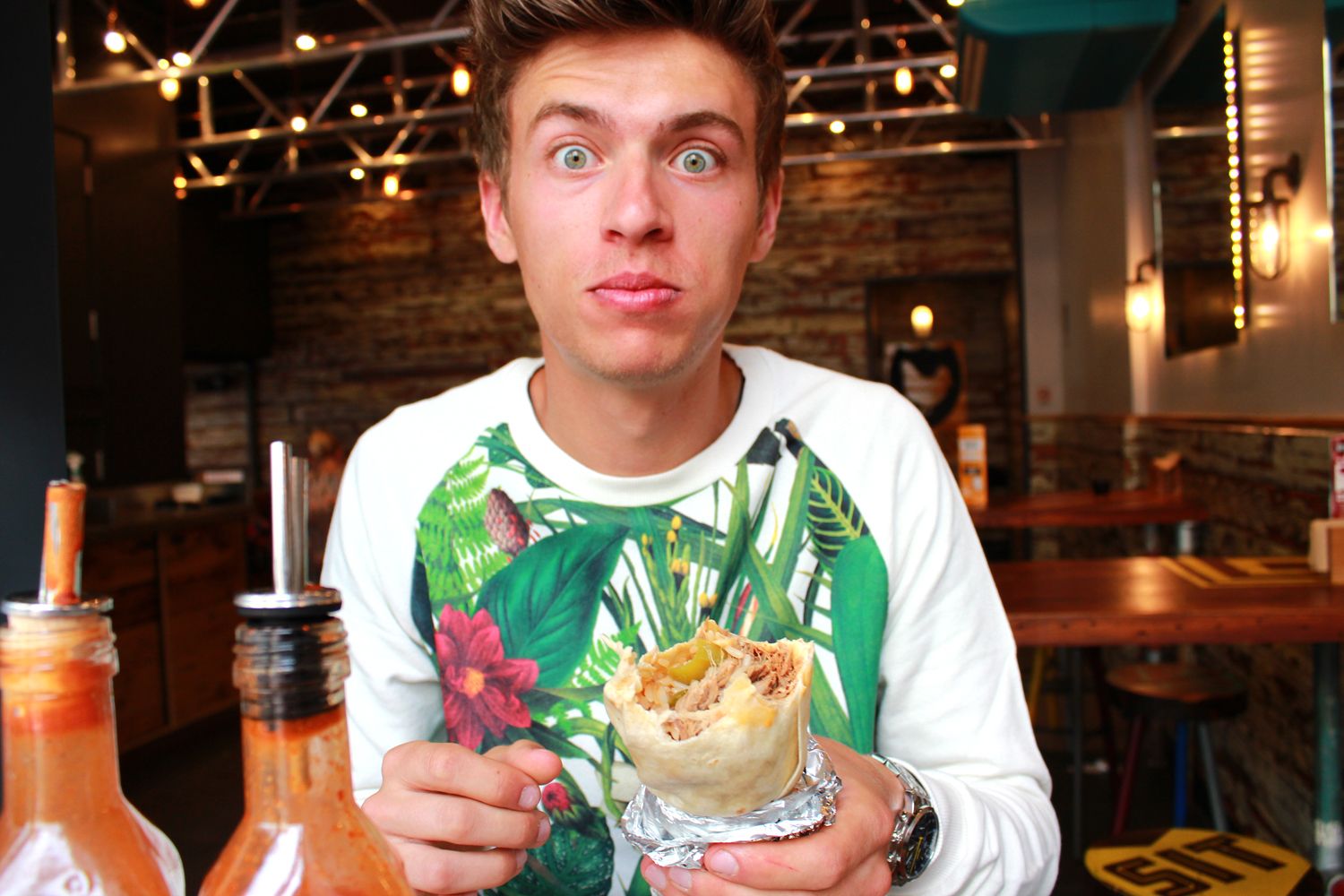 He was pleased with his choice!
The peppers and onions gave the burrito a distinct sour tang - you can spot the jalapeño nestled in amongst the pork and cheese. The flavours were on the other side of the scale when compared to mine so if you're after more of a summery zest to your burrito, opt for the roast peppers. If you want a warm blend of complementary flavours then go for the black beans!
All in all, I'd recommend Tortilla. For a chain, it's pretty good and it's worth a lunchtime visit. A medium burrito is £5 whereas a large is £6. The medium was around half the size of Jordan's, which is fine as I prefer smaller portions but for £1 extra, it'd be a good idea to upgrade it unless you have a salad or some nachos on the side! You can have a sneak peek of their menu online
here.
We walked off our lunch by returning back to the seaside and spotted these big slabs of rocks. Jordan poked and nudged for me to climb it. I gingerly tip toed across the pebbles and looked up at the big ol' boulders. Short stumps for legs meant that it took me a while to clamber up onto the rocks but several lightyears later, I reached the summit.

A victorious defeat.


I gazed out at sea spotting the coastal stretch between Brighton pier and Dover. It's a pretty remarkable view on a clear day!There were a few brief seconds that I pretended I was the king of the world (just don't look down at only being a few metres from the ground).

How did you spend your weekend?

Psssst... how do you feel about the lifestyle posts? I thought it'd be fun to include a little backstory to outfits but let me know what you think! : )