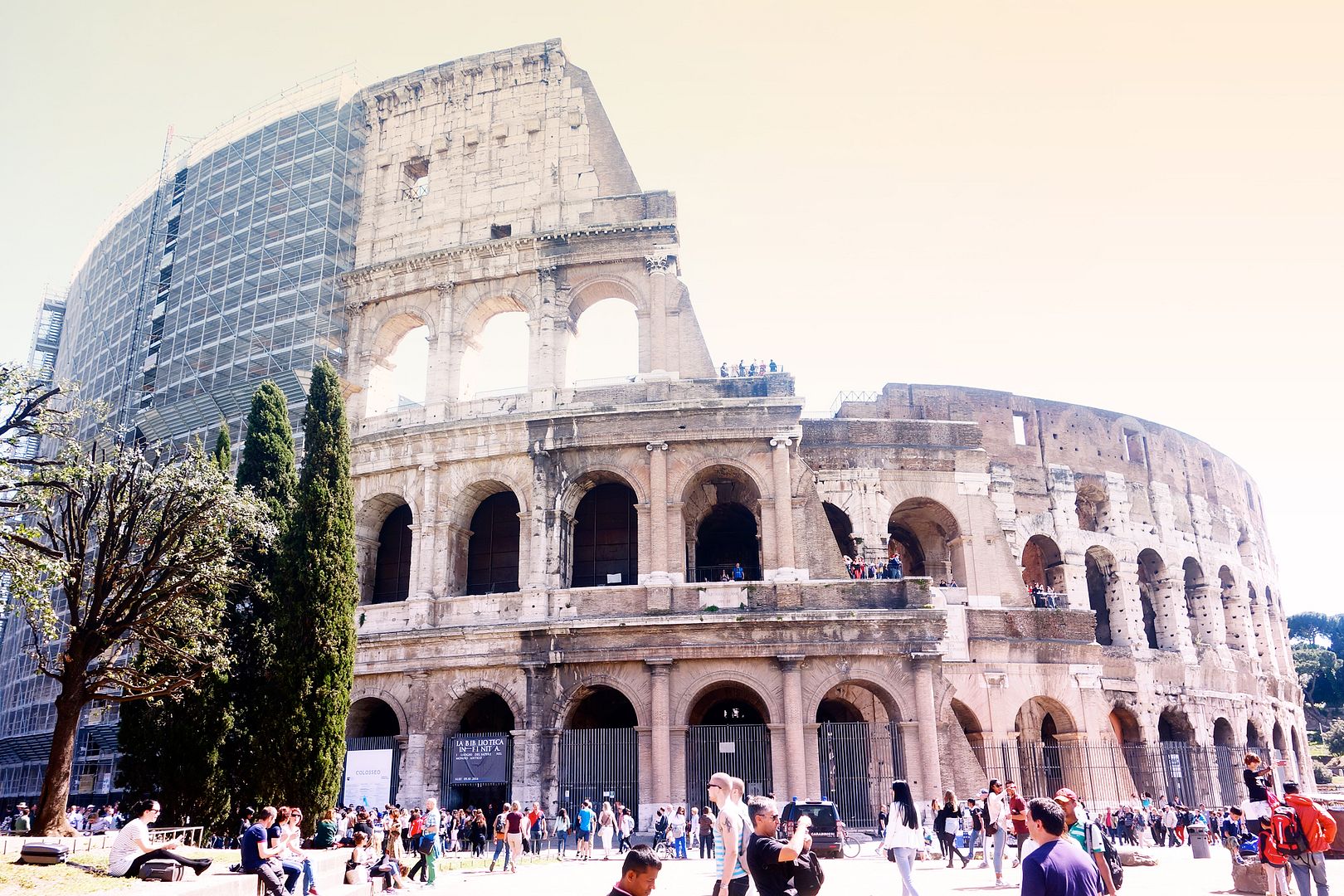 Jordan and I went on an adventure to Rome for our very own Roman Holiday at the start of April. I've been ill since (unrelated to the trip) but realised that these posts were well overdue, sorry! Being a keen little shutterbug, I've managed to whittle it down to a
million
few photos from our four days in the Eternal City and have therefore split each day into a separate post.
First up: The Colosseum
We hopped off the plane, threw down our suitcases and skipped out of our hotel with our sunglasses in tow ready to explore! We stayed at
Hotel Verona
as it was highly recommended on TripAdvisor for its location alone. It's a 10 minute walk from Termini station, a 10 minute stroll to the Colosseum and on the doorstep of the Basilica of Santa Maria Maggiore.
After inhaling our first slices of pizza al taglio, we turned the corner and stopped our mid-mozzarella chewin' in its tracks. The colosseum stood majesticly right in front of us and it was even more magnificent than I had imagined.
Ready to break this surreal moment with a selfie in front of the gladiators' stomping ground?
Here we go.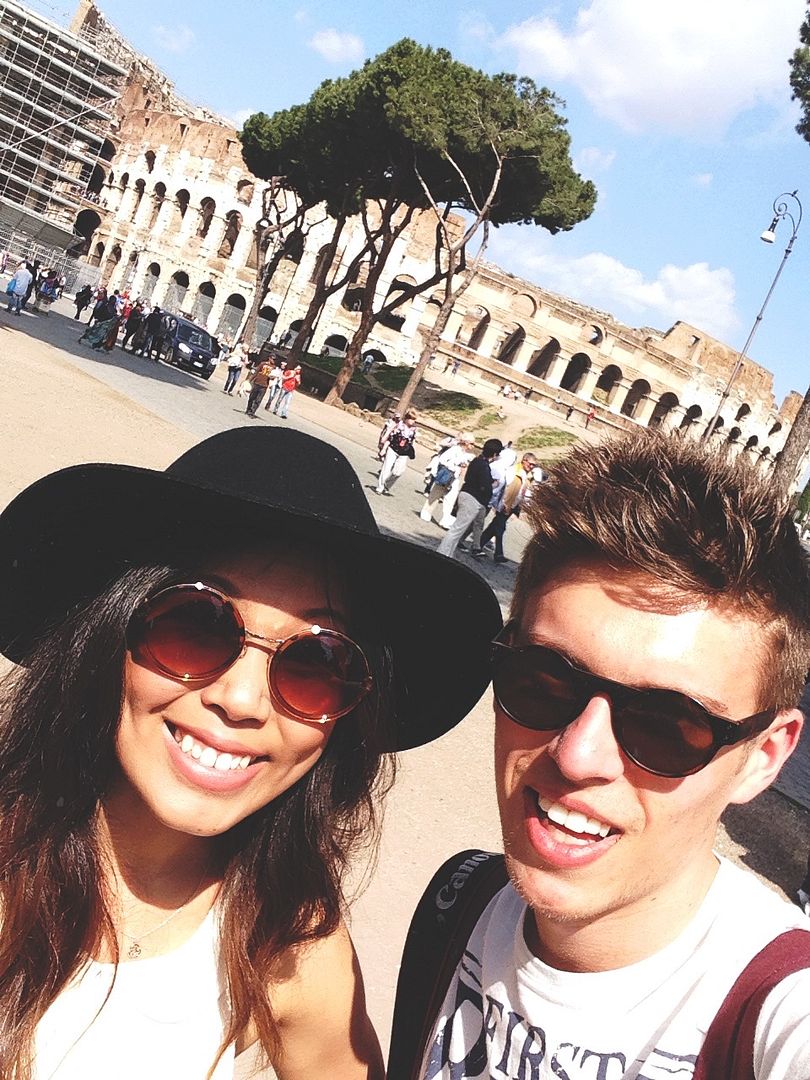 We had pre-booked tickets for a guided tour from
Select Italy
; I can't recommend it enough! Not only does the tickets allow you to skip the line but it also included access to the dungeons and upper tiers of the colosseum - areas that aren't actually open to the general public! It was a huge fraction of the prices offered from other companies too.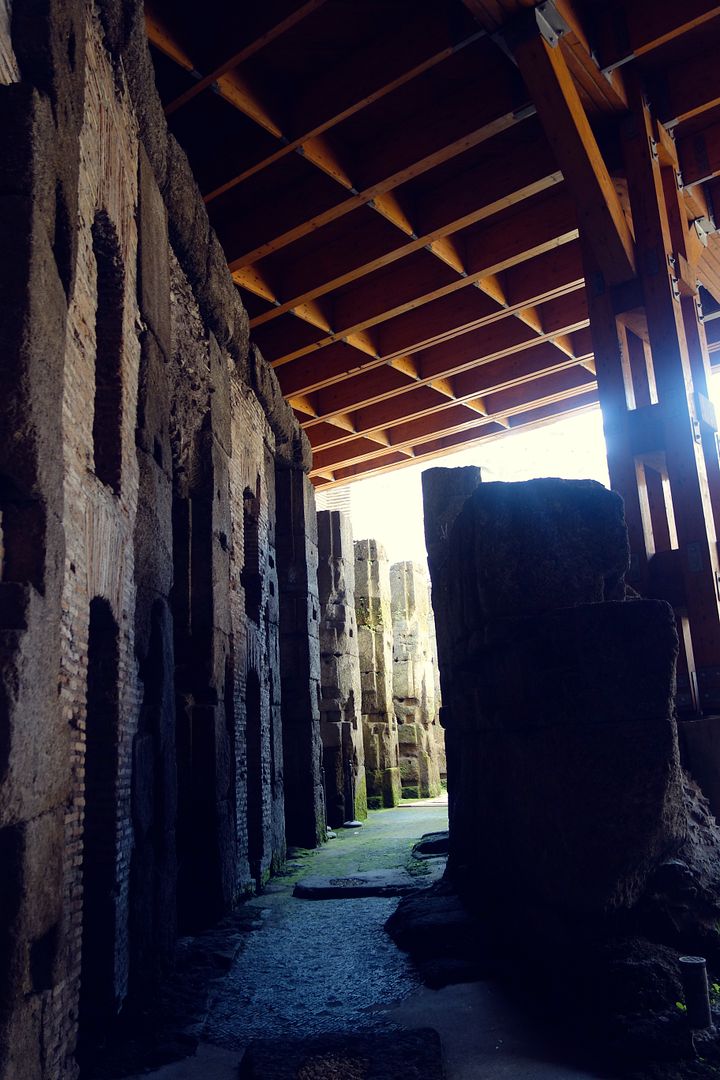 Built in 72 A.D., it's hard to imagine that this architectural masterpiece has survived to this day. At its peak, the games accommodated over 70,000 (standing) spectators and had over 80 different entrances. The chambers underground were hidden from the crowd and housed beasts and gladiators ready for their bloody battle for the audience's entertainment.
Being architecture geeks, it was incredible to step on the same cobbled grounds that so many Romans have walked before us. Whilst we grew up learning about Roman history, it's another thing entirely to actually stand inside the colosseum an
take in the sheer scale and power that it evokes.
After our trek up the upper tiers, we were set loose to explore the rest of the place. Our tickets were valid for two days so we decided to reserve our visit to the Roman Forums and Palatine Hill for the next day as we were keen to explore the rest of the city (and secretly wanted to have our first gelato).
When in Rome #1: Put on your best gladiator poses and pretend to be Maximus.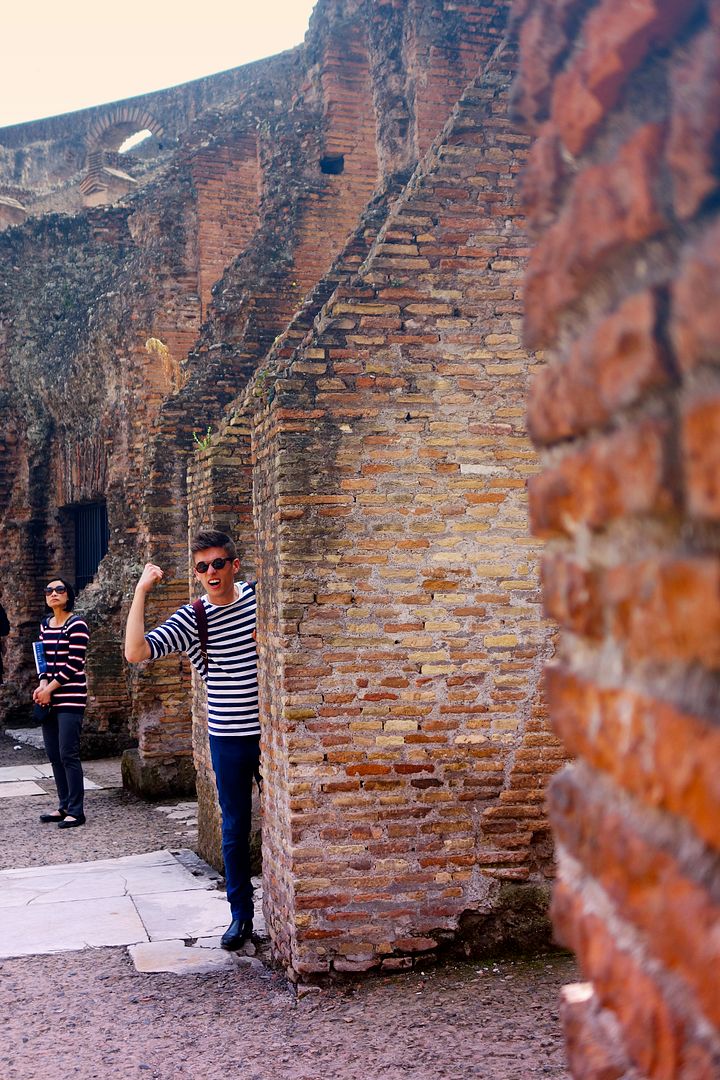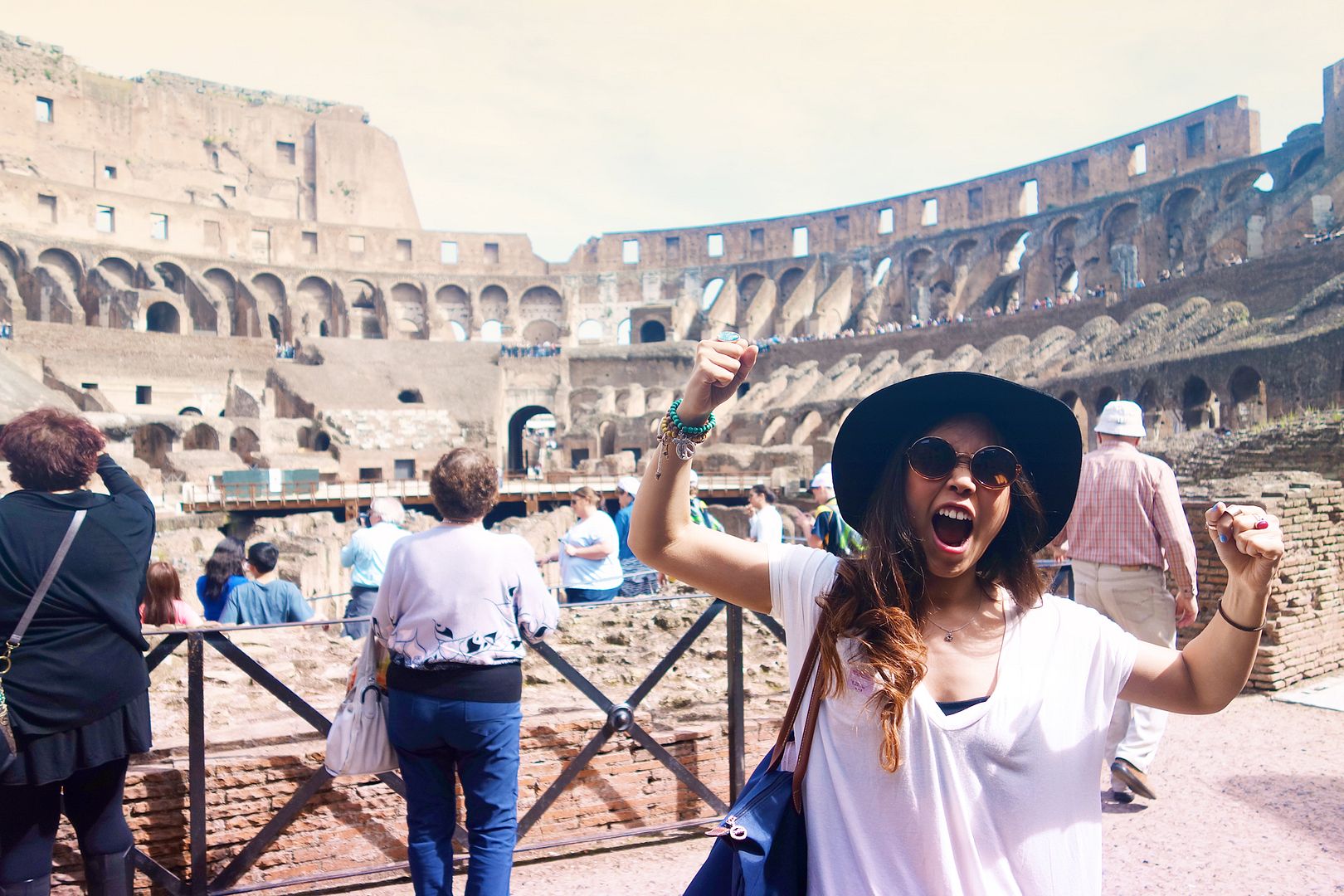 When in Rome #2: Let gelato count towards your 5-a-day.
Our first food stop to tick off my list: San Crispino.
A scoop of pear sorbet, ginger + cinnamon and honey for the lady and your finest rum + cocoa, liquorice and coffee for the gentleman please!

Whilst the servings aren't as generous as Giolitti, I'd still highly recommend it for their selection of interesting flavours. It's only around the corner from the Trevi Fountain too!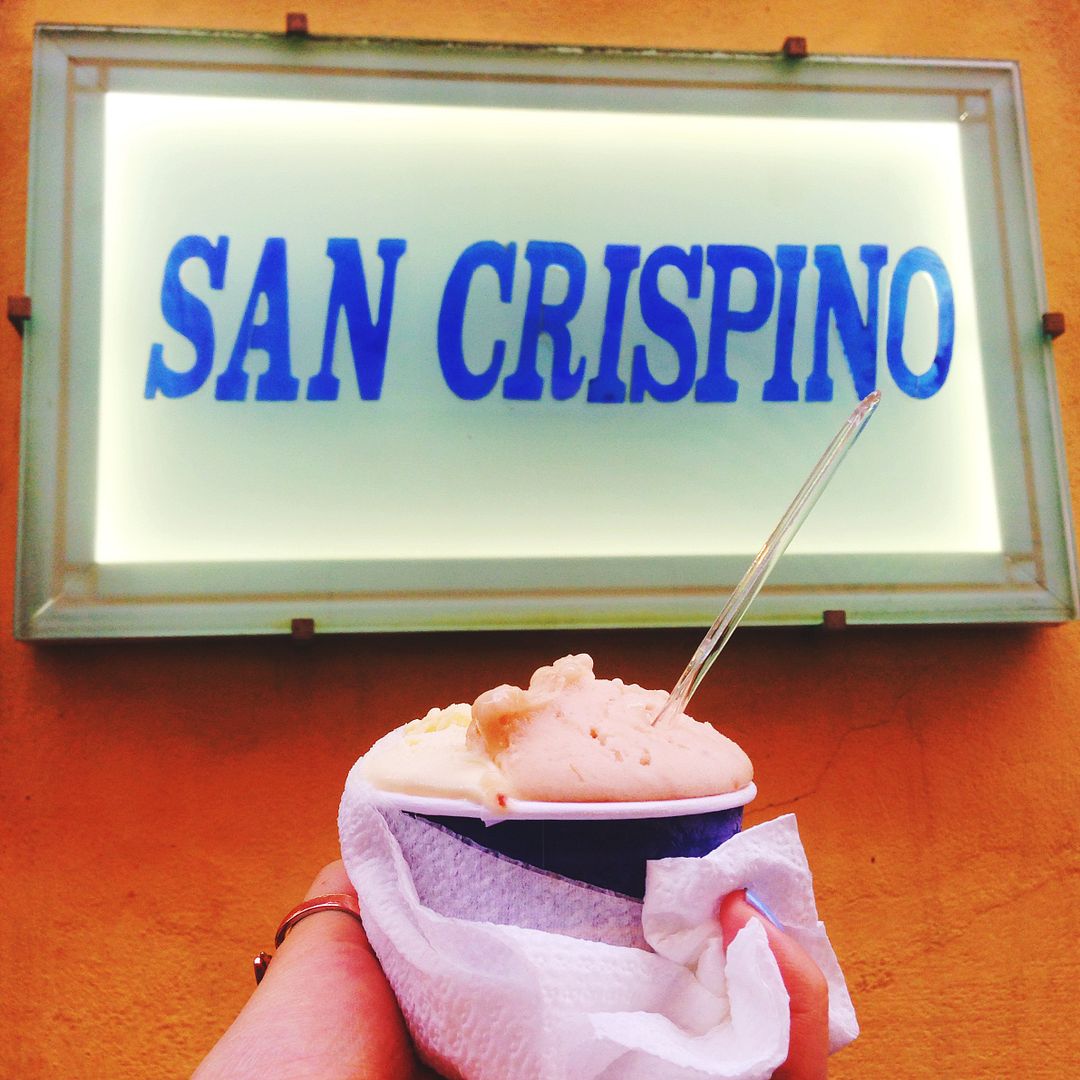 With our sweet tooth satisfied, we took a stroll over to the Spanish Steps and marvelled at the architecture before stopping for a much needed espresso to rest our tired feet.

There isn't as much of a 'coffee and chat' culture in Italy and drinking cappuccinos after 11am is generally frowned upon. We finished our espressos off in two quick gulps and hurried back outside to walk some more. I think we had done 4 hours of walking at that point and had another 4 ahead of us! As with all of our trips, we try to avoid public transport as much as we can as we prefer to source out little hidden cubby holes instead of sticking to a metro map! Rome is also a very walkable city. On the third day, we walked all the way to the Vatican from the Colosseum and back so it's definitely do-able especially with the great weather that we had!


When in Rome #3: Hug/jump with glee/propose to vintage Fiat 500s when you see them.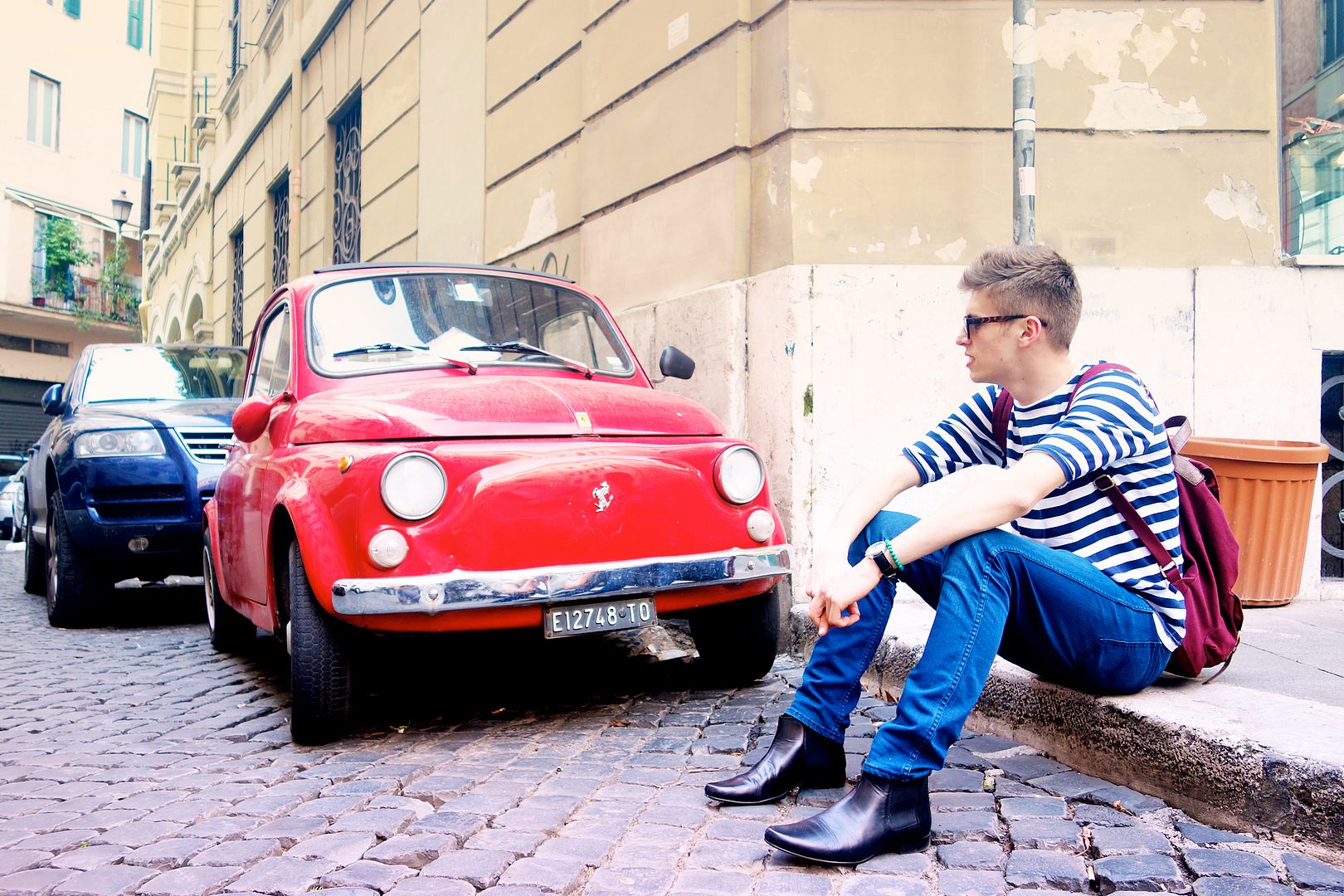 Aside from architecture, we both LOVE classic cars/vespas (vintage vespa tour comin' up in day two's post!) Jordan drives a Austin Mini 1987 but he has a penchant for a vintage Fiat 500. On another note, we'll be joining the London to Brighton Mini Run next weekend! Whilst I'm trying to get over my phobia of potential wet mud and camping, I'm so excited for the experience!
A Nutella pot the size of my head? I'll take three AND bathe in it, please.

top: Brandy Melville || jeans: New Look || fedora hat: ASOS || bag: Longchamp || shoes: Clarks


and a quick outfit of the night!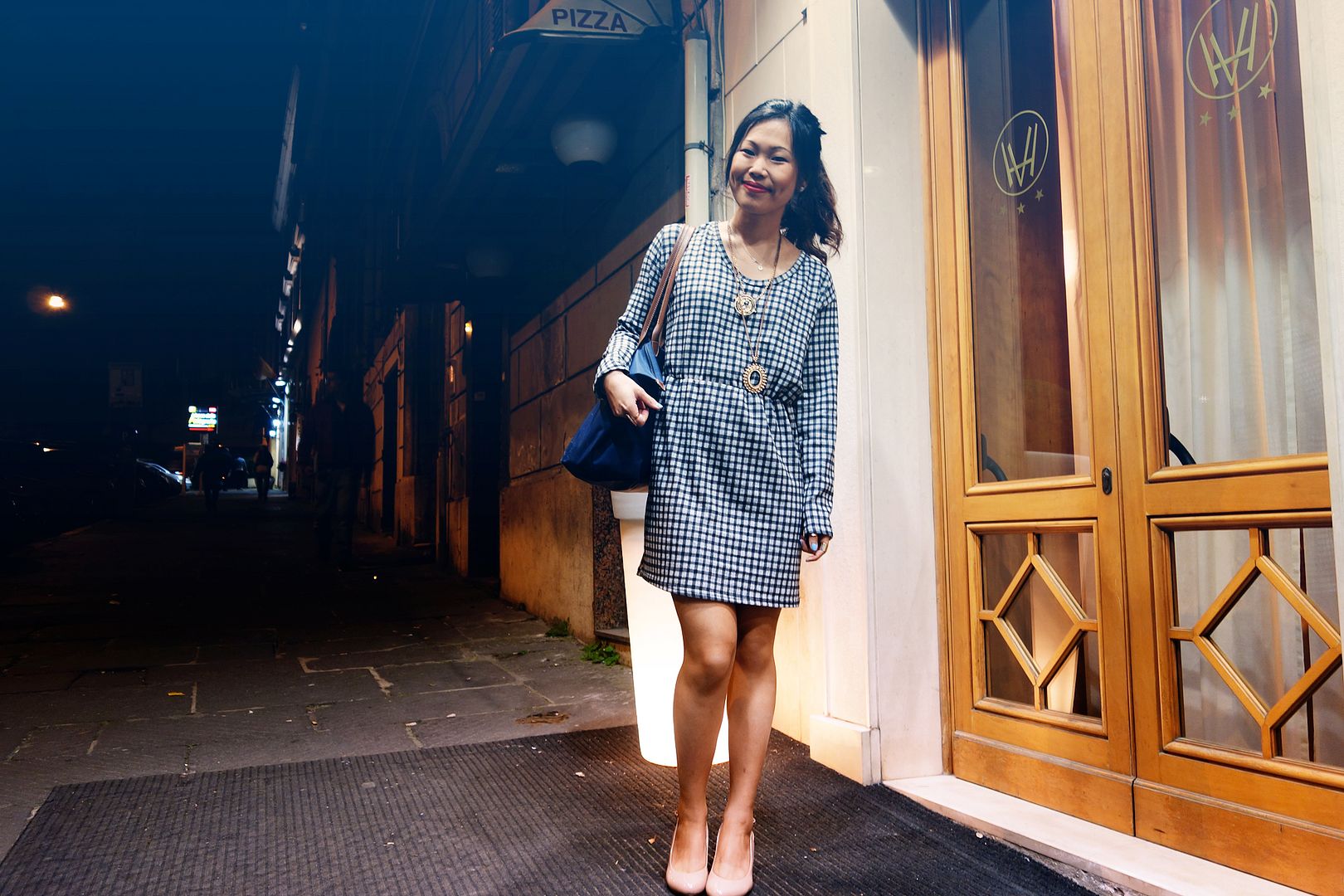 Dress: vintage || Nude sling-backs: M&S || Bag: Longchamp
Dinner time!
After checking out our local food guidebook and
TripAdvisor reviews
- our rumblin' tums and noses led us to La Taverna dei Monti - a restaurant in the heart of the Monti neighbourhood. We made sure to eat after 9PM, a time when the locals start to wine and dine. The smell that wafted from its doors were something else...
Being our first dinner in Rome, we tried to eat as Romans do but they have a LOT of courses. For blogging purposes (
ahem)
, we persuaded our tums to eat as much as possible so I could snap away at the food. Thankfully, our stomachs were more than happy to accommodate this - somebody had to do it ;)
We were presented with a complimentary bread basket and kickstarted the evening with beer for Jordan and wine for me. I decided to splash out with a 'large glass' - little did I know that it was actually a half litre jug. If it's a drunken Asian that they want, it's a drunken Asian that they'll get but first...
Carbs
.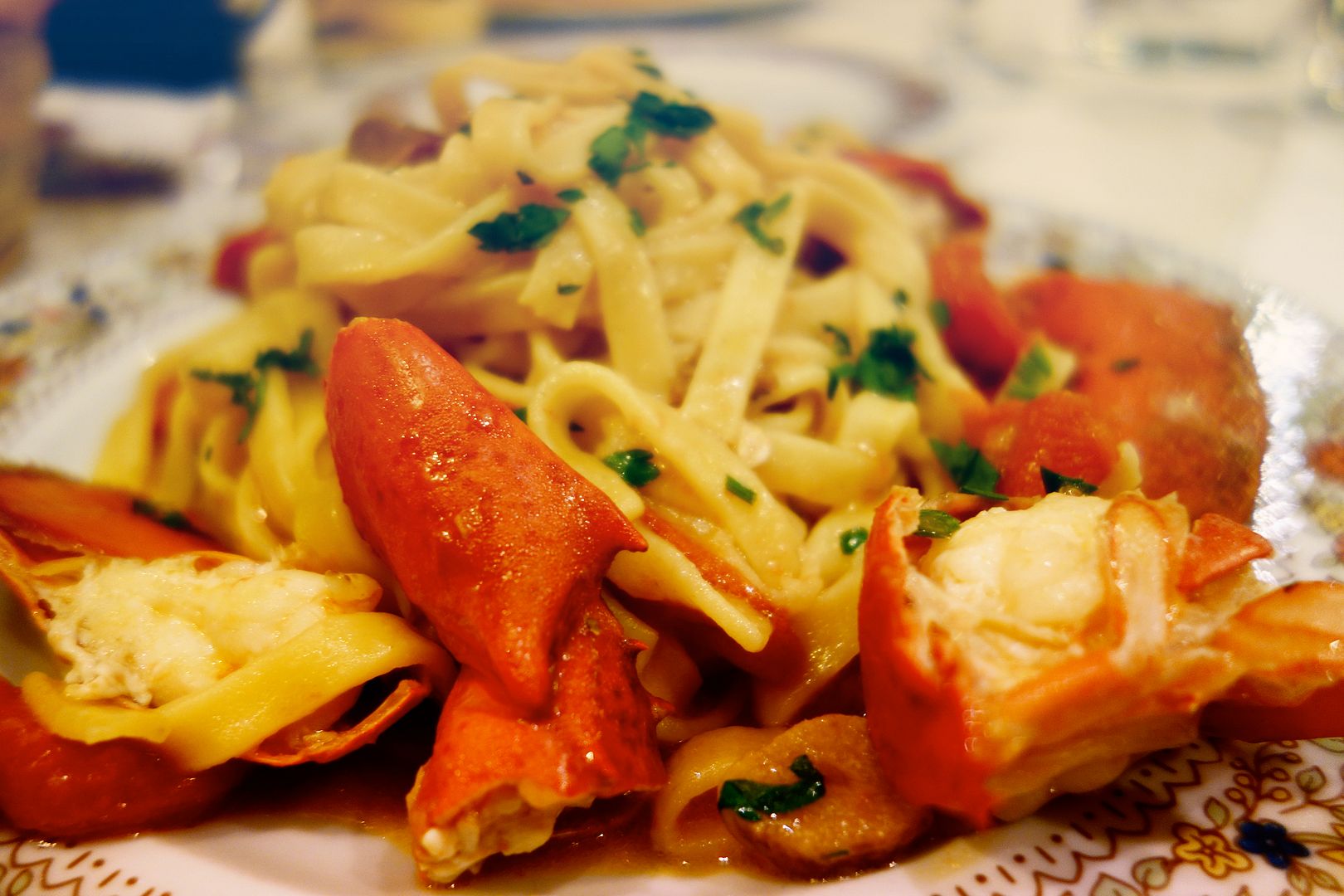 I ordered a lobster fettuccine and Jordan had Bucatini all'Amatriciana. If there's a restaurant in London/Brighton that serves bucatini - PLEASE TELL ME. I was obsessed and kept trading off my strands for a few more bites of his pasta. That sounds dodgy but the only thing wrong with that is that I'm not eating it right now.
Jordan's secondi - roast lamb with chips. You can take the Brit outta England but you can't take the country outta the Brit... only joking. We had imagined some fancy mash or seasoned potatoes so were surprised when good ol' chips were on the plate. Niiiice none the less (yes, I stole some... for blogging purposes)
Growing up with Cantonese cuisine and foodie Chinese parents, I'm not one to turn away from offal or foreign delicacy. Roman style triple (Trippa alla Romana) - some people may find it strange but it was delicious and I finished every last bite : )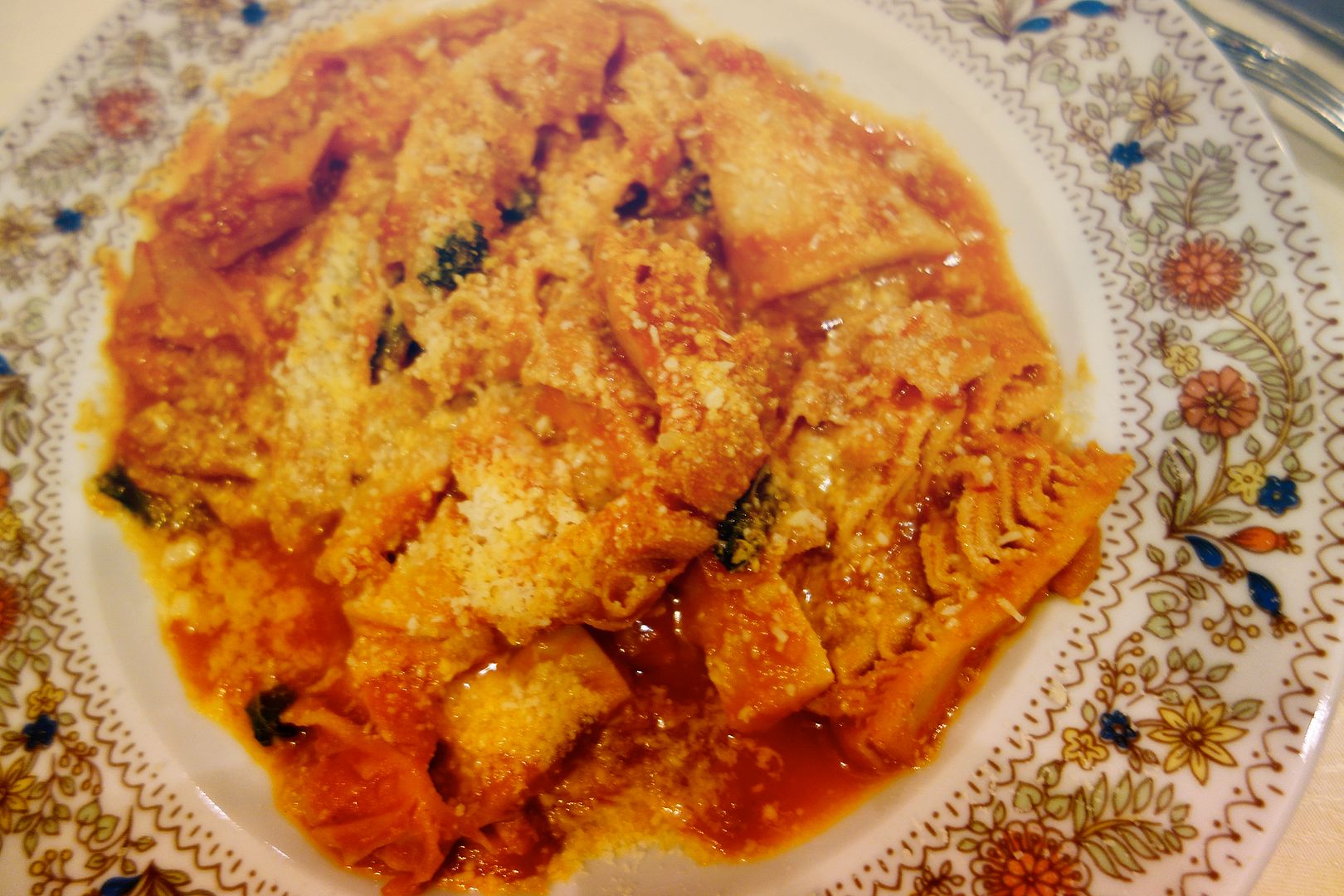 The owner must've taken a liking to us as he presented a plate of homemade biscotti and two huge chutes of limoncello which we didn't spot on anyone else's table! If you know me, you'll know that I
hate
sipping on drinks, I have to immediately down the whole thing as I have little patience to walk around with the weight of a half full glass in my hand. Please don't picture this with a hardcore '
shots shots shots
' banner around my head - the same goes for green tea (and the granny strikes again).
I wasted no time in finishing off the limoncello before I polished off the half litre of wine.
Good thing we had more carbs to soak it up.
and with that, I'll leave you with this evil face. A face that only appears when I'm about to eat very good food, fancy some grub or when I've had too much to drink and think it's an attractive face to launch onto my blog. What happened next? An empty wine jug and a loud drunken sing-song of 'I can't believe we're in ROMAAA' all the way back to our hotel.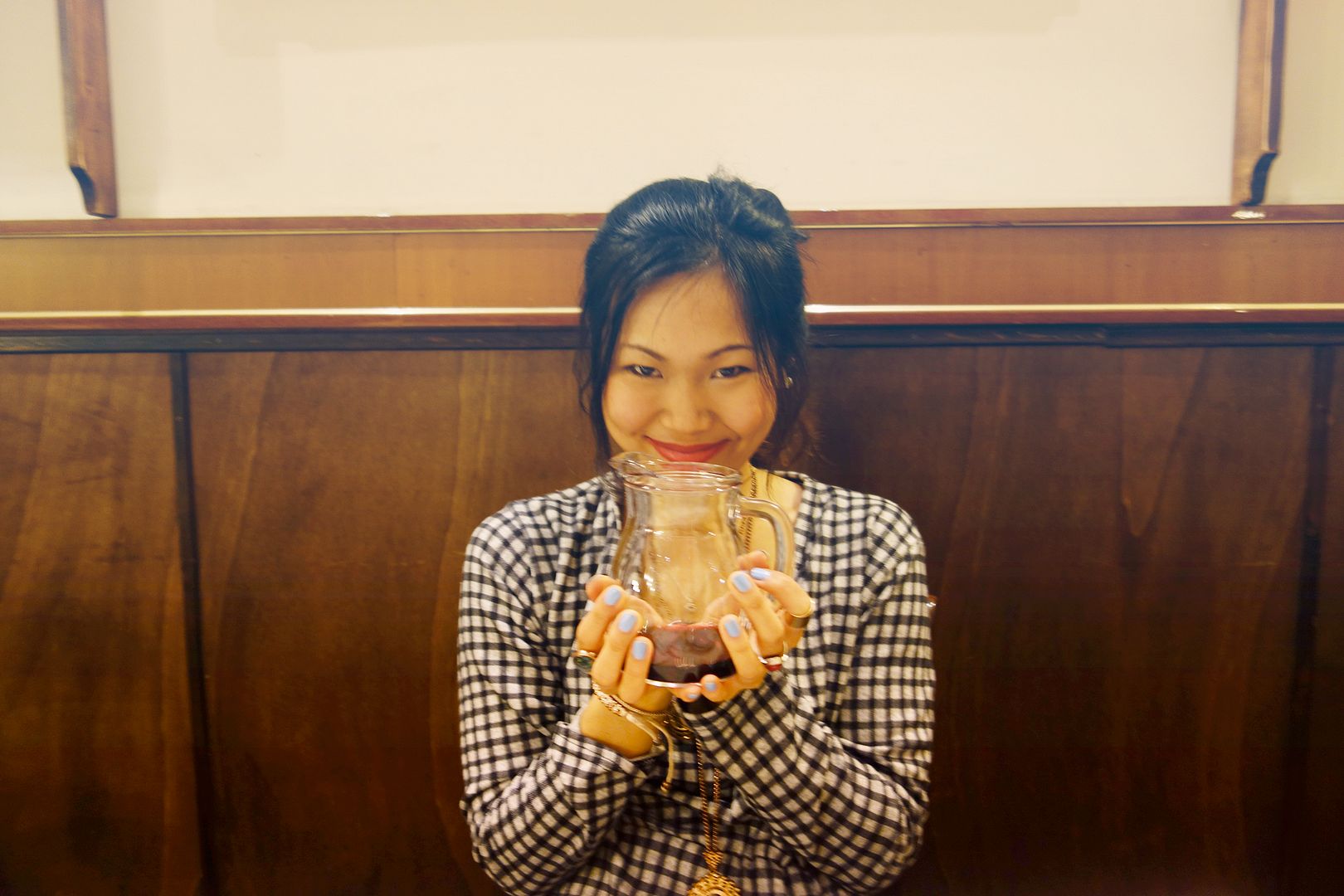 As well as being a lightweight, I luckily don't suffer from Asian flushes or hangovers so we were both right as rain in the morning ready for... OUR VINTAGE VESPA TOUR. The best experience of our lives.
I'll be back.
(Hope you enjoyed the first post - ciao!)
p.s. If you skipped the long-winded writing, saw the pictures and wanted it in video form... may I present thee my video of the trip for your viewing pleasure?