Happy Monday!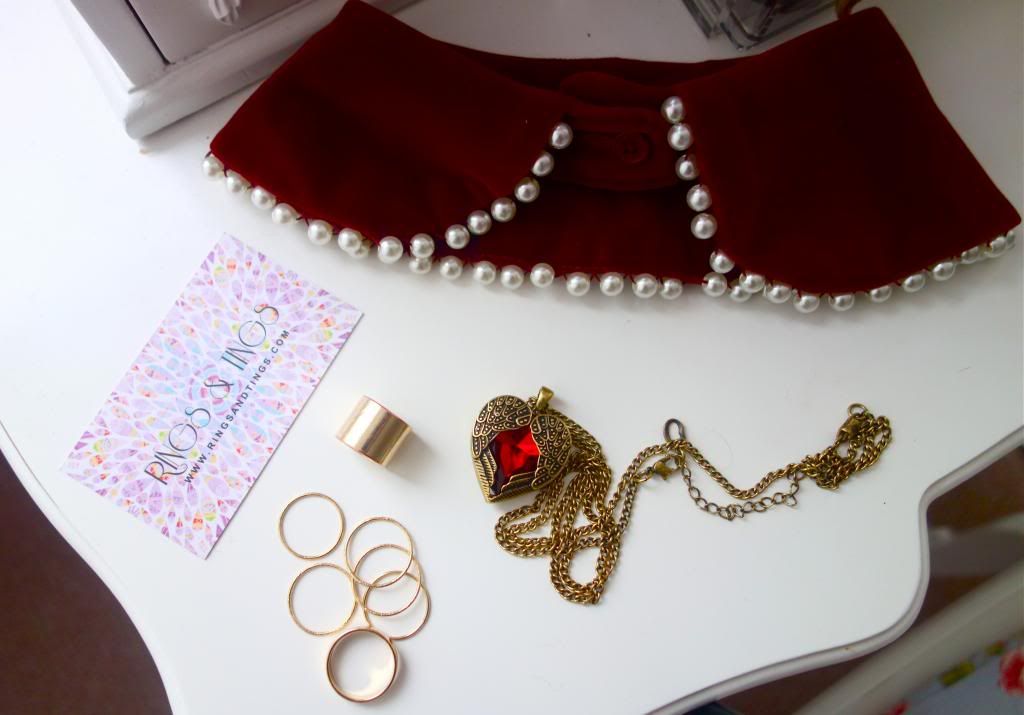 I'm a jewellery magpie. If I see a flash of gold, a silver chain or a glint of a pearlescent finish - it doesn't take long before I home in on it with a '
my prrrrrecious
' stroke. So when
Rings & Tings
contacted me asking if I was interested in reviewing some of their pieces, I leapt at the chance and prepared for the Gollum in me to take over. Everything on site is affordable and gives my usual choices of Topshop, ASOS and H&M a run for their money, the quality isn't shabby either!
You know how I like to create little stories out of my outfits or base them on characters from a TV show/film? Accessories are no different.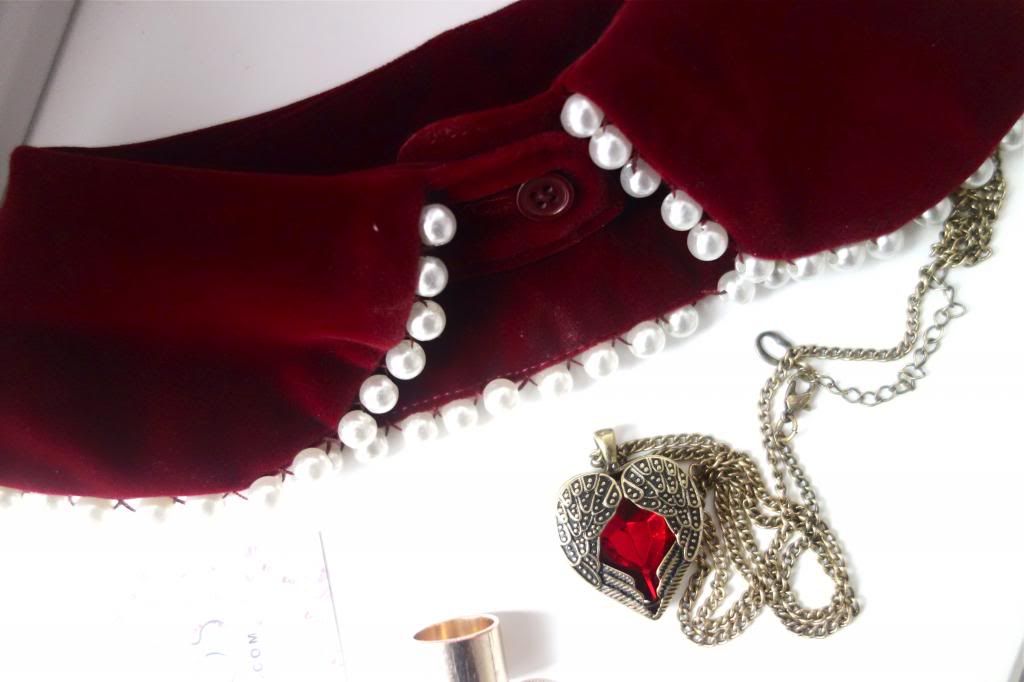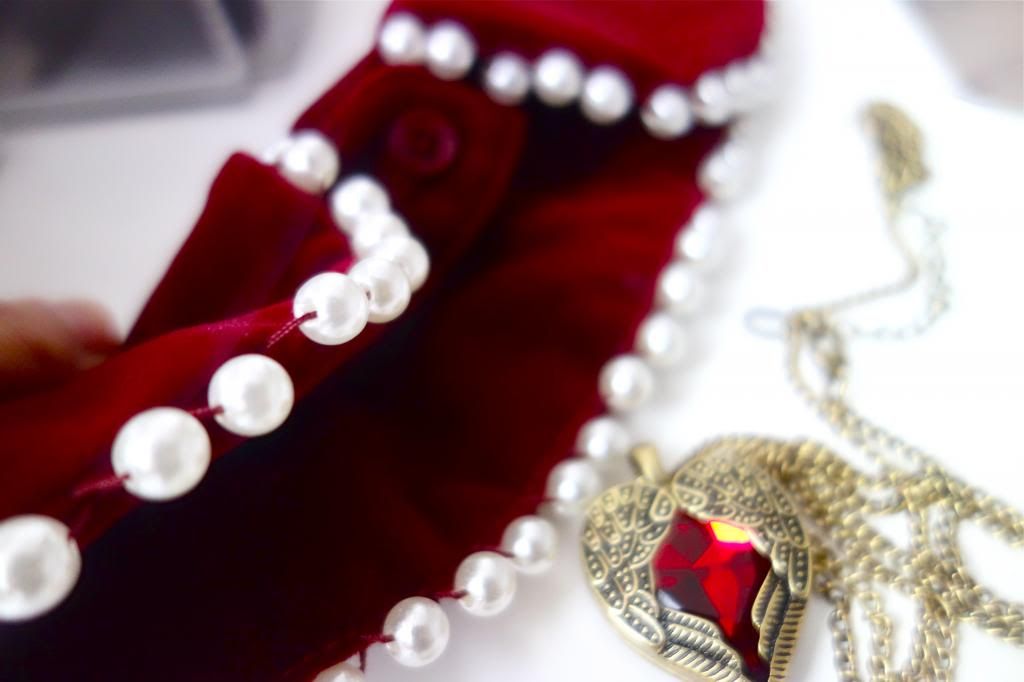 This
collar
is an absolute dream to look at - just look at the red velvet dotted with the pearls on the collar swoooon *
insert heart-shaped eyes emoji*
. It makes me feel like a lady swishing about in a fancy frock from the era of Downton Abbey or Mr Selfridge. For a more modern approach, this will dress up round neck tops and smarten the wardrobe basic; it'd be a great choice to wear underneath jumpers with a higher neckline too.
This
isn't quite the Heart of the Ocean from Titanic but it didn't stop me from pretending that it was a red crystal version of it. It's been my long pendant necklace of choice lately and adds a girly touch to my more casual/grungier outfit choices. The wings detailing makes me conjure up a 't
his is actually a secret time traveller necklace passed down from the ancient times
' tale too. Does anyone else like to think that antique looking necklaces have magical powers? Just me?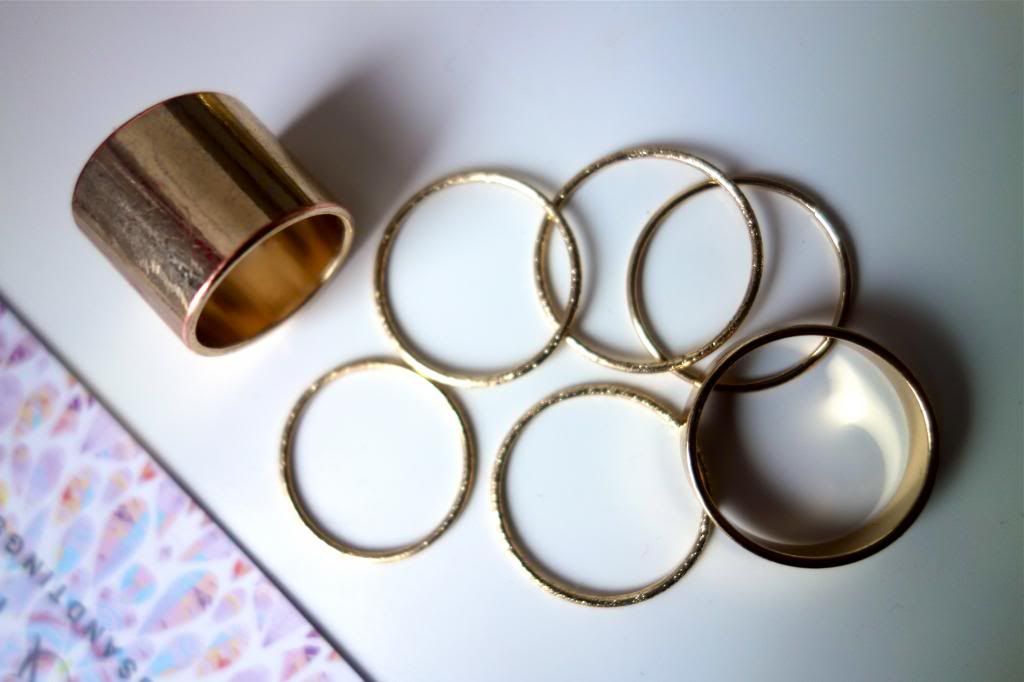 This doesn't spin a crazy story in my mind but I do have a penchant for
above the knuckle rings.
The problem is, the sausage fingers I used to possess aren't quite as plump as they used to be. Aside from the thicker gold one fitting well, the rest are too big and ended up as normal rings - something to consider for those interested! There's summin' about midi rings that makes everything look slightly cooler than it originally was.
For those based outside of the UK, Rings & Tings offer free worldwide deliver over £35/€42/$55. Don't let the name fool you, they also sell bags, sweatshirts and dresses too. Guess where this bag lady is heading to next?
Thanks to Rings & Tings for kindly sending me these pieces to review. Just a quick disclosure note, I'd like to emphasise that this would never affect my opinion on the products. If I'm not comfortable with the idea of spending my own pennies on something, I would never recommend it to my readers/viewers so you can be rest assured that this in written with complete honesty : )
Hope you all had a great weekend, pancake day tomorrow! If you fancy making a two-ingredient stack that looks and tastes like the traditional thing, may I suggest (a shameless plug) my
latest video
on my healthy banana pancakes with cinnamon apple slices? ;)
Happy eating!