(striped turtleneck jumper - muji, biker style leather trousers - asos, studded ankle boots - new look)

I've had my eye on a turtleneck jumper for quite some time now and after spotting this in the Muji sale for a mere £10, I hurriedly handed over my debit card and introduced it to the rest of the my wardrobe.
It's a size too big but I usually make an exception for knitwear and much prefer a more relaxed fit than something that's perfectly fitted to the body. Besides, I couldn't think of anything worse than a skintight turtleneck jumper. Just think about it... and now shudder at the image. Horizontal stripes generally aren't very flattering but the inclusion of a higher neckline helps to elongate my (very short) torso. Combining this with black and white stripes immediately transforms it into a piece that declares to be described with adjectives like 'classic', 'mature' and 'elegant'. That's all good until you throw the said item on somebody that decides to recreate her best 'cheesy Asian pose' after shooting her 'serious' photos and it comes out lookin' like this...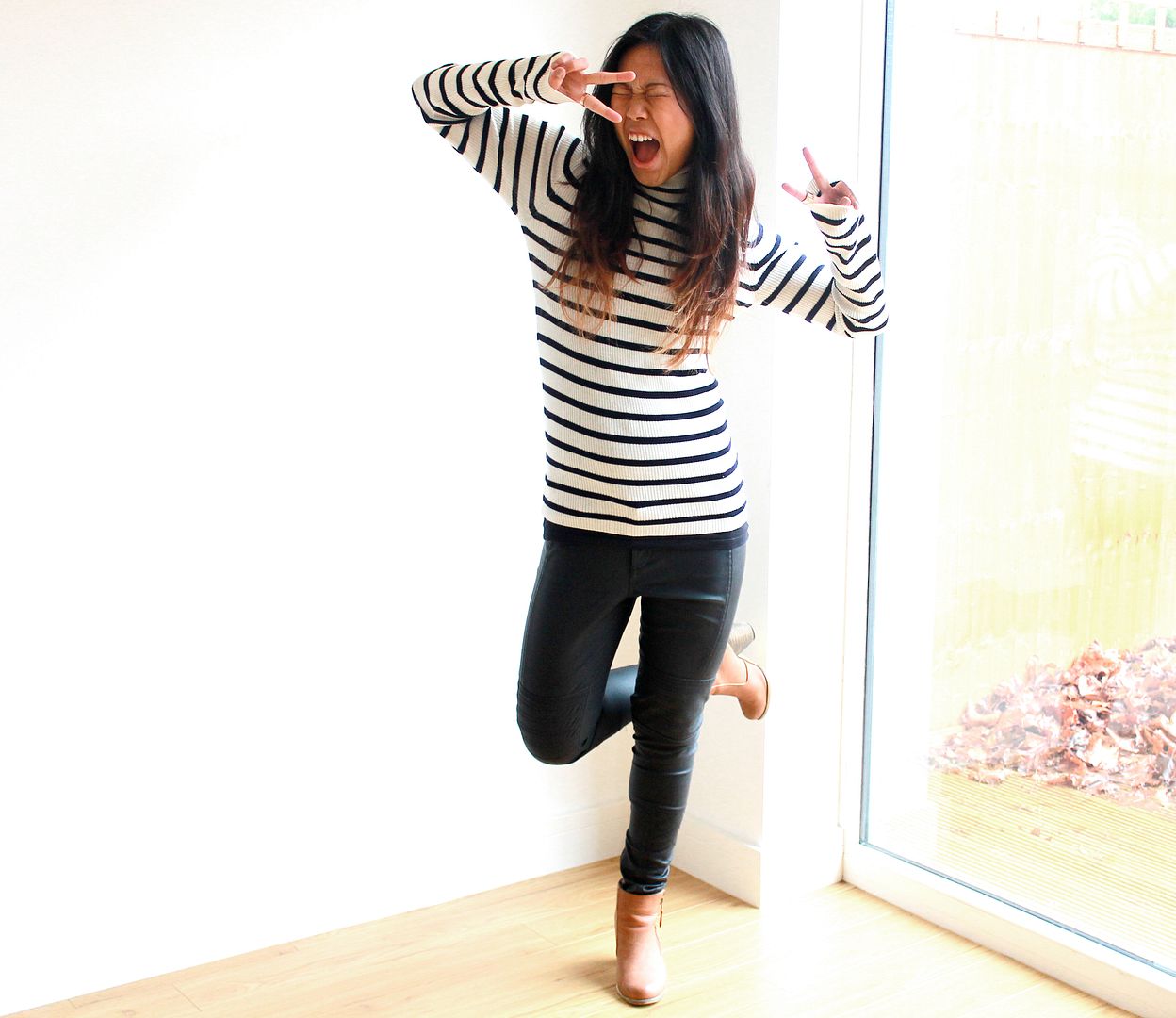 As the striped turtleneck has a way of promising you deep philosophical conversations over a double espresso, I decided to modernise it with my biker style faux leather trousers. They're fitting, roughens up the whole look yet still manages to stay within the lines of a classic pairing. That, and I still can't get over the fact that I feel a tiny bit like a vicar... a vicar that reads Vogue though.
Before I go, Happy Chinese New Year! Whilst I'm not a particularly traditional person, I can't help but smile at the Chinese festive music and imagine the atmosphere of this holiday when my mum excitedly recalls her memories of it in China when she was a child! Looking forward to celebrating it later this weekend - it'll be the first time in 7 years that I'll be spending it with my mum! I'm expecting a red envelope ;)
Wishing you all a year of health, happiness and good fortune!

May the Year of the Horse be the best one yet! : )