Weekend round ups, it's been a while. Forgive me for not storing your last few weeks' worth of memories online but our pal BT Infinity will be comin' to stay for good next week. Just hold on and make yourself comfortable for summary #6.
You know me, I often remember my events from the food that I've eaten. This one has been no different so I hope you've had breakfast (or at least plan to after this post). Friday's usual porridge after my train journey was replaced with a warm cinnamon roll from Nordic Bakery. I thought I'd surprise my sisters and Jordan with their favourite pastry to start the weekend off nicely so off I trotted to Golden Square after work.
Saturday was the most exciting. It started off with holiday shopping, Christmas decorations gazing and dim sum - my long lost friend. Oh, how I've missed the dumplings and buns. We feasted on a lunchtime banquet and I'm drooling at the thought of it. It was lovely to catch up with my sisters and mum over croquettes, steamed cake and a cup of jasmine tea.
The evening was what I've been waiting for all week... Eeep. Jordan had booked a surprise for me at 7pm that night for my post-graduation present. He remained tight-lipped about the gift but thankfully gave me one clue to tide me over for the two weeks prior to the event: the theme was nostalgia. I was convinced that I had cracked it but he always wins, that clever man.
We walked right past my guess, walked along the Brighton promenade before he stopped, paused and slyly exclaimed:
"I said the theme was nostalgia... But not for the both of us. It's nostalgia for... You."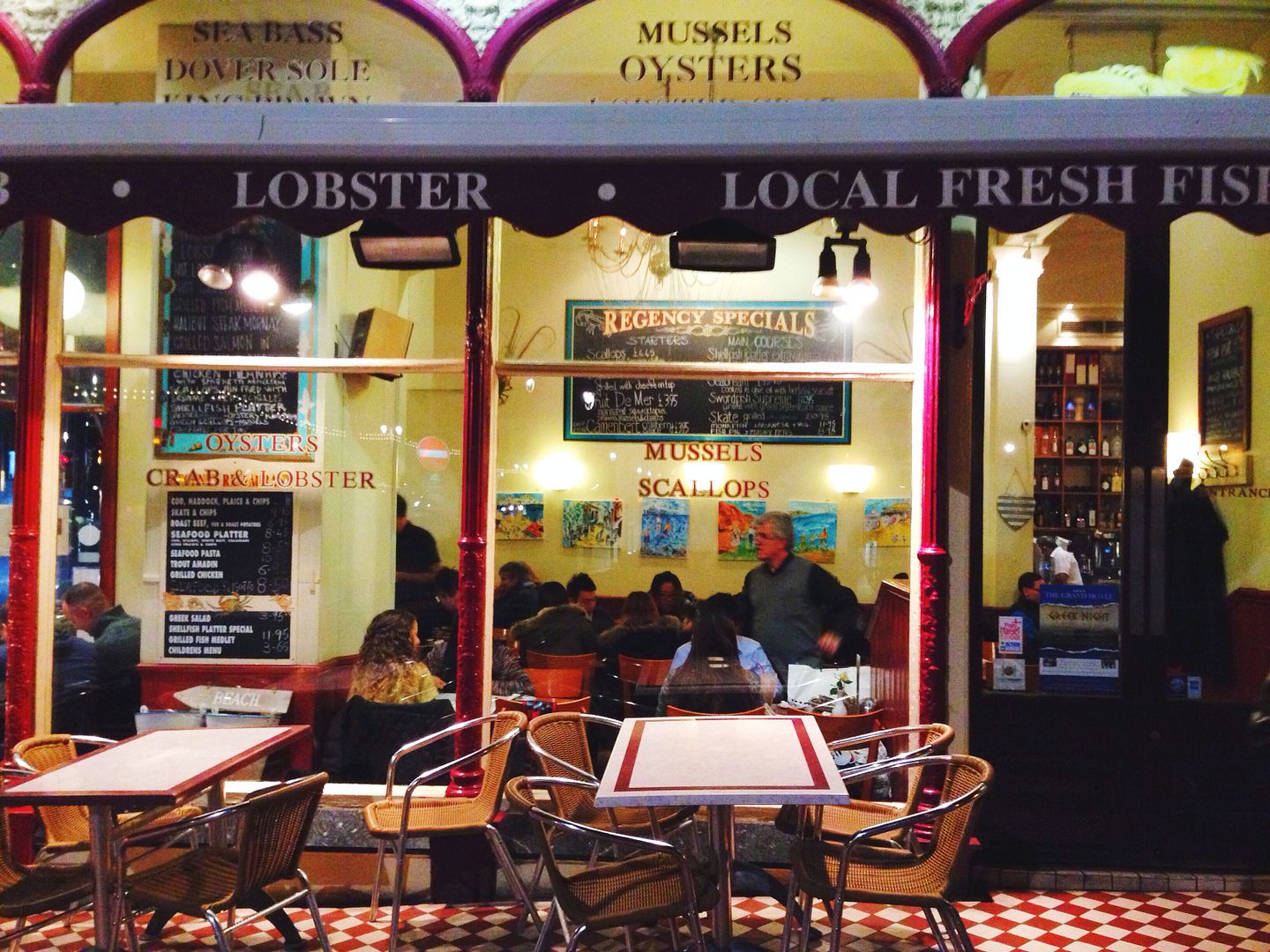 I looked up and The Regency restaurant positively beamed at us. It welcomed us with twinkly lights and an invitation for us to try the tastiest local seafood the South Coast has to offer.
SQUEEEEE. It's been my favourite seafood restaurant since I've been little. I have been raving about it to Jordan for the past 4 years and we've always said that we'd try it. We never got round to it... Until now. Can we all pause for a minute and collectively appreciate Jordan's effort into organising all of this? Can somebody get the man a medal?
We kickstarted the evening with calamari (his favourite) and smoked salmon (mine) with a swig of cranberry juice (and coke for the gentleman).
The main course was a no brainer. My childhood favourite: Lobster Thermidor. Although I'm not normally a cheese kinda gal, this dish has been done right. A whole lobster divided into halves, mixed in with herbs and cheese sauce before being baked for a crisp cheese lid. The lobster meat has been perfectly cooked, it's tender and the sauce complemented it completely.
We ordered a side dish of garlic bread to mop up the last remains of ze juices - it would have been rude not to, ey?
We'd normally stop at a two-course meal but Jordan wanted us to have the full experience so we opted for dessert too. Yay! Definitely gold medal material. The most hilarious waiter (with a posh ol' accent) recommended the pistachio belladonna and homemade rhubarb crumble with custard. It was heavenly. The ice cream was strong with flavour and had been dotted with pistachio nuts too. It took us right back to the gelato from Milan last summer.
The rhubarb crumble was a British classic and each bite was met with a 'MMMmmmm...' And closed eyes. It's Jordan's favourite dessert and ugh you so! The custard was thick, luxuriously creamy and warmed up our cold winter evenings.
With a full stomach and a grin from ear to ear, we left hand in hand with the promise of coming back to visit again soon. Date night wasn't over yet... Jordan drove to Brighton marina in his recently refurbished Austin Mini (a true beaut and a prized possession of his after spending the last five months giving it a face lift. The reward is a masterpiece for the eyes with its polished paintwork and sleek metallic interior). What was our plan? Thor 2!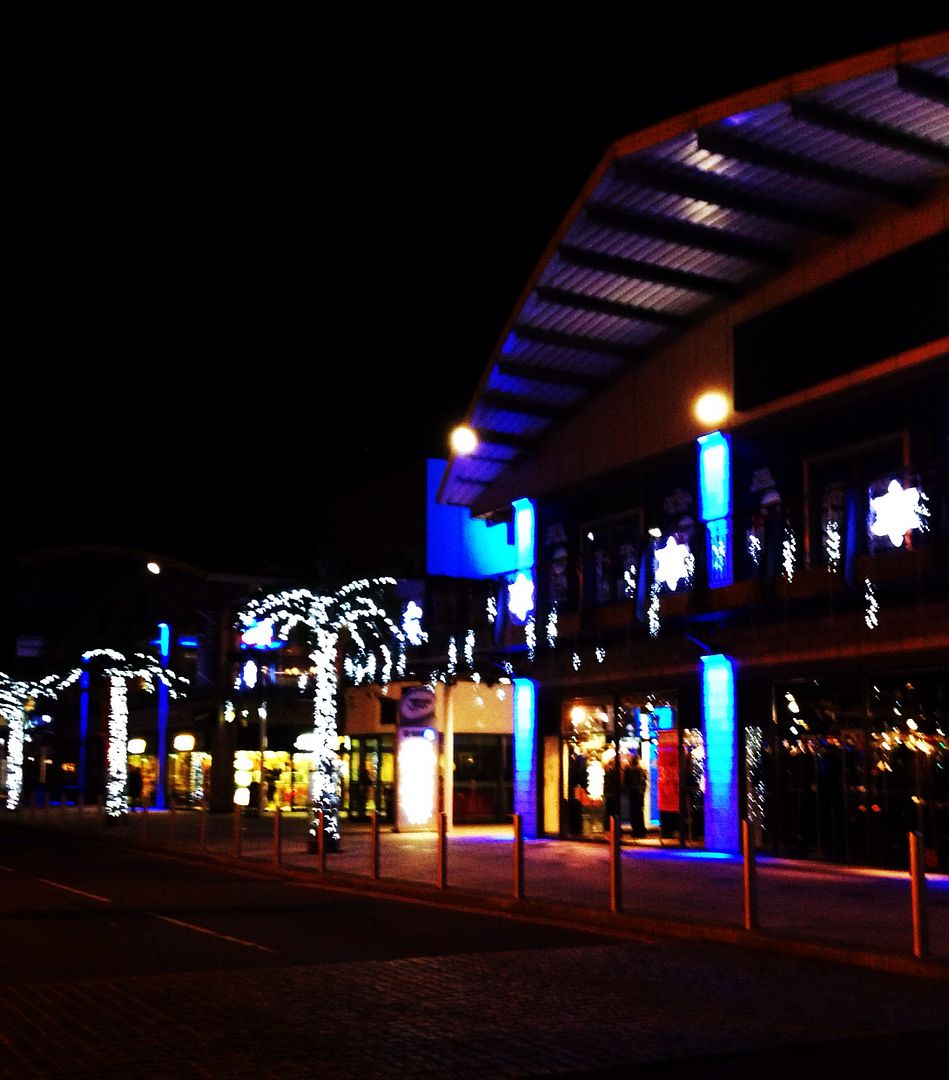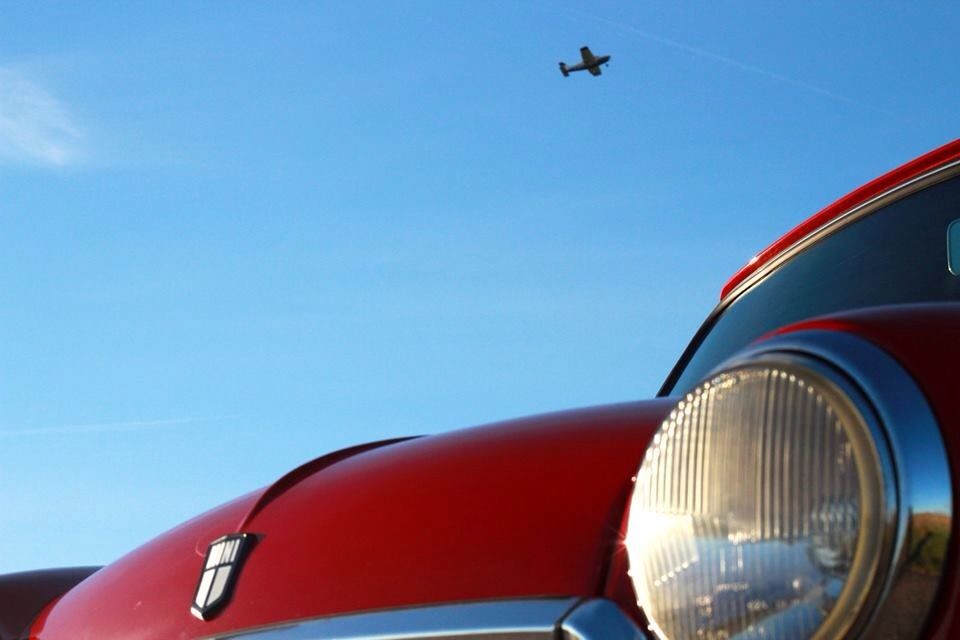 We were armed with popcorn and a Terry's chocolate orange. The Marvel creation didn't disappoint as expected and we were both pleased with Zachary Levi's appearance. The man can do wrong!
Sunday was a festive day. Over ripe bananas only meant one thing... Wholemeal honey banana bread. We baked it and Jordan's mum experimented with a gingerbread men recipe... They turned into abominable snowmen but were tasty all the same!
The rest of the evening was spend in my Pikashu onesie and a lazy evening with a home cooked meal with my sisters and mum. Can weekends forever be like this one?
It's true what they say, it's always the little things that matter the most and for me? Nothing beats great food with even better company on a cold winter's weekend.