Happy Monday!
Weekend round up this week is focusing solely on Saturday's events - a delayed pumpkin carving party is better late than never, ey? It's an annual tradition with Jordan's family (and my sisters) whenever his aunty from America visits and it's a night I spend all year being excited for. You'll see why - their house is decorated into a Hallowe'en haven and I turn into a squealy five year old. Sounds good to me.
Below: Evidence that Jordan's mum needs her own bakery. If you saw
my 21st birthday cake
made entirely of tiered watermelon and fruit, you'll know what I mean. These cupcakes have the cutest ghost cocktail sticks!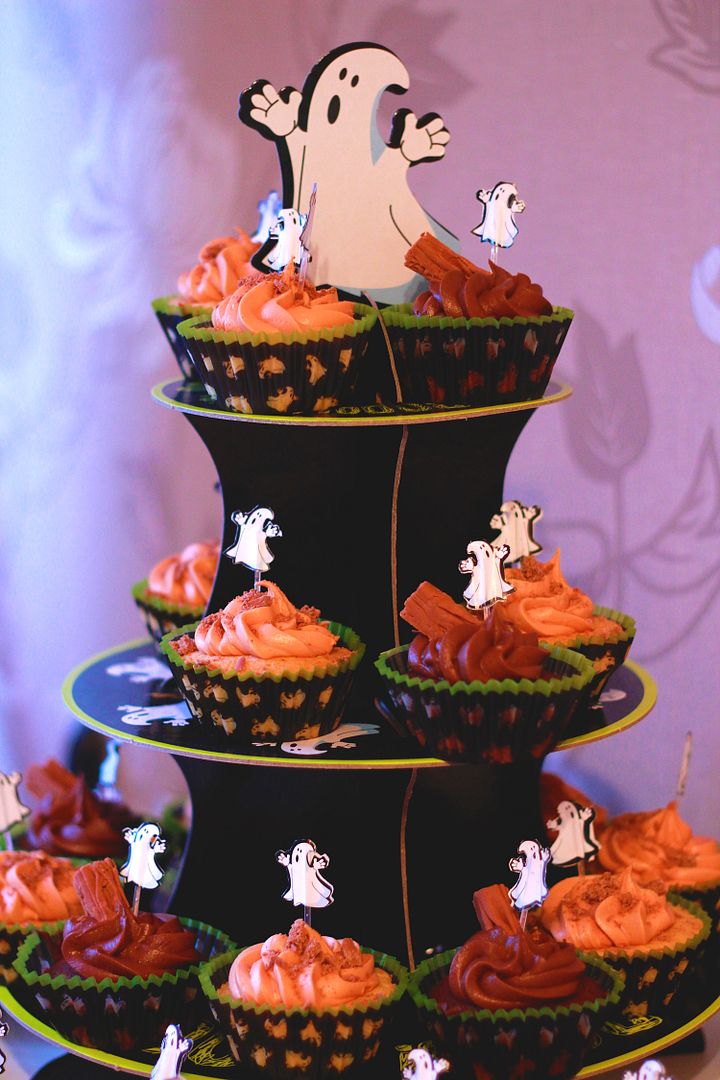 Above: Pre-pumpkin carving energy boost. I only have steamed vegetables, stir fries and salmon/a small fillet of chicken for my lunch and dinners on Monday - Friday and Sunday so Saturday is deemed as my cheat day (aka carbs day).

Another tradition is for everyone to make their own pizza at the dedicated 'pizza station' in the kitchen.


1. Collect your base and add ze tomato puree/chopped tomatoes.
2. Go crazy with toppings.
3. Bake/take pictures/Instagram/fly to the moon.
4. Eat.
Mine turned into a mushroom supreme with a smattering of peppers, tomatoes and a few bits of chicken/salami. I think I've since turned into a mushroom.
Above: I think my sisters' should change their career plans to professional pumpkin carvers. One of them created Dobby and the other... Mario. The pictures above says it all - you can never go wrong with anything Harry Potter or Nintendo related.
Above: Simple yet effective (Jordan and I were just lazy). Jordan opted for a spooky face which reminds me of Jack from 'The Nightmare Before Christmas' whilst I err... really wanted to make mine literally throw up. I saw it on Instagram and the fact that it pukes out pumpkin seeds and its own filling amused me greatly. It made me a bit too happy.
Above: Accepting cuddle donations for Bud. He heard a few fireworks outside and promptly ran to hide down the side of Jordan's bed. It took us ages to coax him out and we proceeded to build him a den to protect him - cutest dog.
Above: Obligatory pumpkin line up pictures. Evidently, I got a little carried away but seeing the lit-up designs whilst the room is pitch back is my favourite moment of the night. Everything looks so amazing!
I went home to have some much needed catch up time with my sisters - PJs, fairy lights and a magical looking bedroom are the ingredients to finish off an already amazing day. Lazy weekends at its best!
I'll be graduating tomorrow... eek!

It's strange to think that the educational chapter of my life is finally coming to a close. I'm glad to see the end of text books, Harvard referencing and essay deadlines. I've welcomed a new found sense of independence but it's still strange to say goodbye to my childhood/teen years for good! As of tomorrow, I'll officially be a graduate! : )

I keep picturing myself tripping over whilst walking to the Vice Chancellor. Please cross your fingers and toes for me! I manage to fall when I have flat shoes on so these 3 - 4 inch heels are just a recipe for embarrassment.Expect an outfit post of it this week!

I hope you've all had a lovely start to your week so far :)