Hello!
I hope you're all having a lovely day so far!
I'm at home this weekend and am about to make 2-ingredient banana pancakes with baked cinnamon apple slices for a late breakfast/early lunch! My sisters are in for a (healthy) treat. Enjoying my lazy day as it lasts before I hop back on the train to London! Although I'm a crazy ol' bag lady, I'll thankfully be armed with something more stylish than an army of plastic bags.
Primpin
recently contacted me and kindly offered to send me a product to review. Now, as a quick disclaimer, I'd only ever promote a product if I genuinely enjoyed using it and felt like the quality is great enough to recommend to those interested - this being one of them! :) Primpin specialise in discounted sportswear so if you're after some new clothes for the gym, it's worth checking them out!
Whether it's two days back home to the South Coast or a quick visit to the Midlands, I travel every weekend and as an Asian Mary Poppins, you can imagine the things I cram pack in my overnight bag. I need something sturdy yet lightweight with a good versatile design that would suit most outfits/winter coats! The Rockport Fashion Tote Laptop Bag ticks all of those things. It even comes with a shoulder strap so when it starts weighing like a hundred bag of rocks (after filling it with my laptop, toiletries bag, clothes, food and other essentials...), your right arm is saved from snapping off! Woops.
It's a simple shape with a hint of a classic satchel design in a travel friendly holdall form. What made me choose this particular bag? I love the cut-out detailing and the cute triangular edges lined around the bag. It instantly makes it look a lot more feminine (and won't be confused with your boyfriend/brother/dad/male puppy's travel bag). It's not overpowering sweet too so no diamantes and hot pink 'angel baby' embroidery on this! As it's primarily designed as a laptop bag, the two separate compartments provides a comfortable cushion for it and have room for my other things too. My electric toothbrush won't be getting cosy with my Macbook!
I've been testing it during my weekend travels and it's been holding up well (my shoulder is still intact!) If you've been after a laptop/weekend bag for travelling about, I'd recommend this : )

If you're interested in seeing the Mary Poppins bag in more depth... I filmed a 'What's In My Travel/Weekend Bag' video on my channel. It's embedded below if you'd like a peek! Watch until the end for a few surprising items... ahem, the thumbnail picture may give one of them away. *whistles and twiddle thumbs*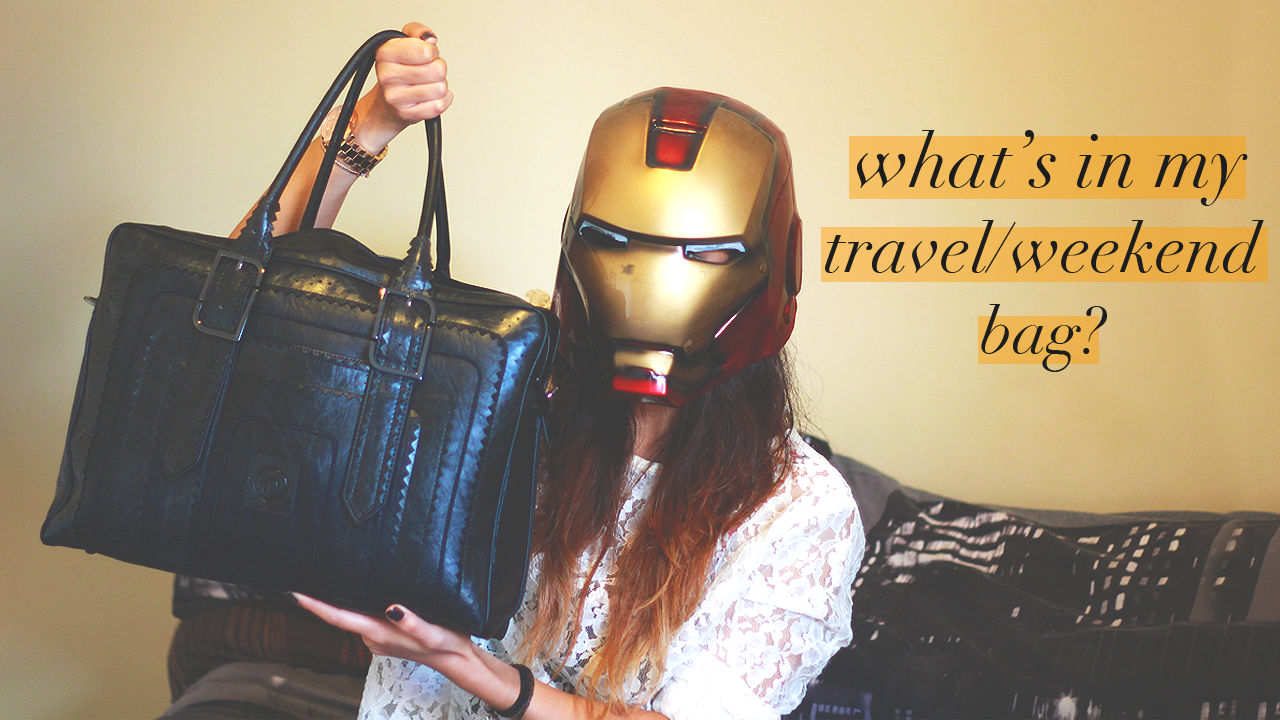 Have a lovely rest of the day! :)
*Items marked with an asterix (*) are sent either for consideration, a PR sample or a gift. I'd only promote a product on my blog/YouTube if I have no doubts with purchasing it with my own pennies and think that my readers/viewers would enjoy using the product too. : )