Mornin'!
Friends, food, fashion and filming? Four glorious 'Fs' that's bound to make anyone's autumn afternoon just that much better. If you follow me on Twitter/Instagram, you'll know that I took a lunchtime trip last Thursday to meet
Onna
,
Carly
and
Rhiannon
at Borough Market for lunch with plans for pizza, cocktails and plenty o' frolicking in the evening. It was the first time that we had met but it most definitely felt like we had all known each other for longer. I'm also pleased to report that they're just as beautiful in real life (and a lot weirder than they are on video but that's why I love 'em ;D)
We feasted on brownies, browsed the cheese stalls (the others inhaled the scent, I gingerly stepped away from the wheels of cheddar), gulped down hot spicy cider and munched on salt 'n' pepper chilli squid. Let's not forget about the amount of free food samples available too - Rhiannon and I took a sneaky detour away from the others just so we could eat some walnut turkish delights. We regret nothing.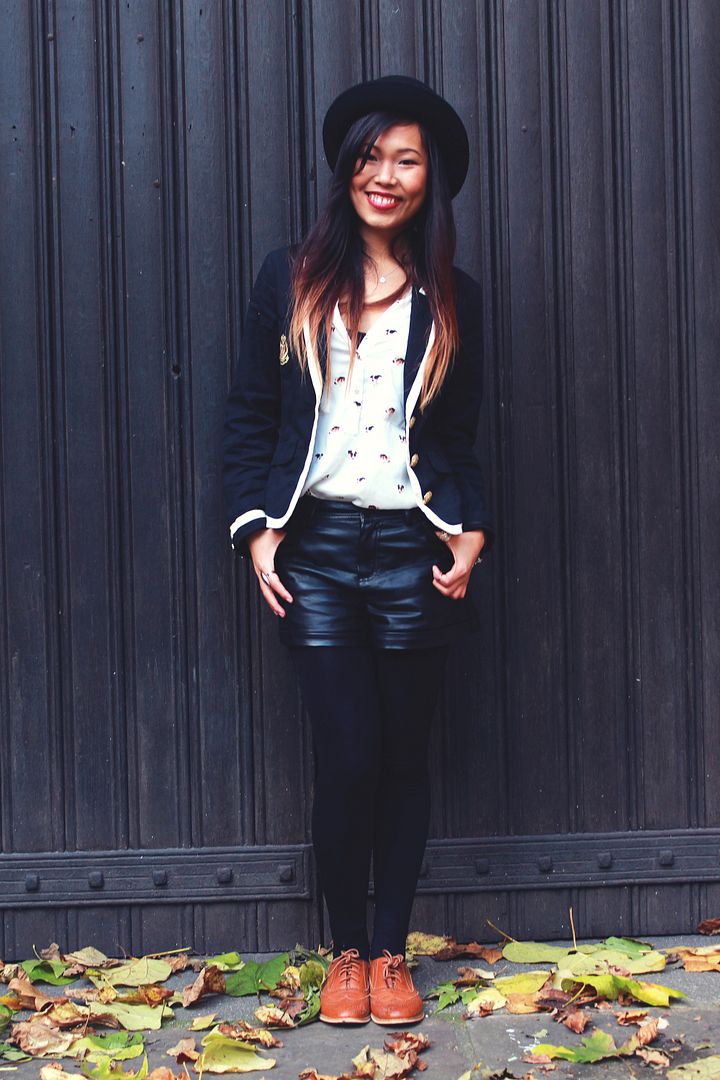 [dog printed shirt - zara, school blazer - h&m, faux leather shorts - new look, brogues - simmi shoes*, trilby hat - urban outfitters]
After lunch, we found a quaint and quiet cathedral situated near London Bridge, dumped our bags and proceeded to 'do our thang'. Lookbooks were filmed, vlogs were... vlogged and a bit o' twerkin' even happened. Innocent bystanders watched us with bemusement and it felt so refreshing to be able to film with three other girls who just... got it. There were no 'oh, could you just erm... take a picture of my outfit to put on... my... blog' moments nor were there raised eyebrows when one of us would exclaim 'Stop! I need to put this on Instagram.' They are definitely signs of social media addicts though.
Quick note:
I'm very picky when it comes to squid... especially salt 'n' pepper squid at that. It has to be fried
just
right and this was a perfect example of what I mean. Lightly battered, golden, crisp on the outside with a tang of the lemon sauce to complement it. Beautiful. Definitely recommend you to grab this from the paella stand! The owner was lovely too!
*sobs* My favourite pastry of them all. I watched from the sides and my stomach fought to have it. Alas, I resisted and can only gaze at its beauty in photo form instead. Until next time, almond croissant. Wait for Paris next month until I can justify eatin' you (and your pals).
After this, we all headed back to Onna and Carly's hotel room, filmed some videos in bed (ooo-er), headed to Soho for pizza at
B-Soho
(the Donna Vegetariana was extremely good value for money, had a great 'smokiness' to it from the wood oven method and wasn't greasy in ze slightest!) We met up with
Brooke
,
Milly
,
Liz
and
Jen
at the restaurant and it was so lovely to meet them all and get to know each other over cocktails and food! One of my favourite moments? The few minutes of concentrated silence when the pizzas first arrived - our table was lit up by all of our iPhones focusing on the food for an Instagram post. Oh, bloggers ey?
Want to see this whole day wrapped up in a 5 minute video? Onna, Carly and Rhiannon's outfits included? Well, of course you do, old sport! I've embedded it below. Let me know what you think if you do have a peek, I hope you enjoy it! : )
What are your favourite spots for lunch?!

I hope you're all having a lovely day so far!