Hello!

Since I've been in full-time employment, I've discovered a new found love for Friday evenings and weekends. I've realised that the flexibility of time at university had been a very, very generous gift and long stretches of summer holidays from May - October will forever be a thing of the past. Oh, lazy days are definitely a rarity now.

I hereby present a brand spankin' new feature - 'weekend round up's! I thought it'd be a great way of appreciating the big/little things that we do (or don't have to do) on our days off. Plus, it'd be lovely to look back on in the future. If you write similar posts, link me to your blog! I'd love to have a nose. It'll be a mix of Brighton/Midlands posts as whilst I love London, it's great to be able to leave the big smoke to be greeted with a change of scenery until Monday morning creeps back round. Jordan and I often target new restaurants/places/street food stalls so expect to see a LOT of food orientated photographs. Let me know if you'd like me to continue this feature about next weekend! :)

FRIDAY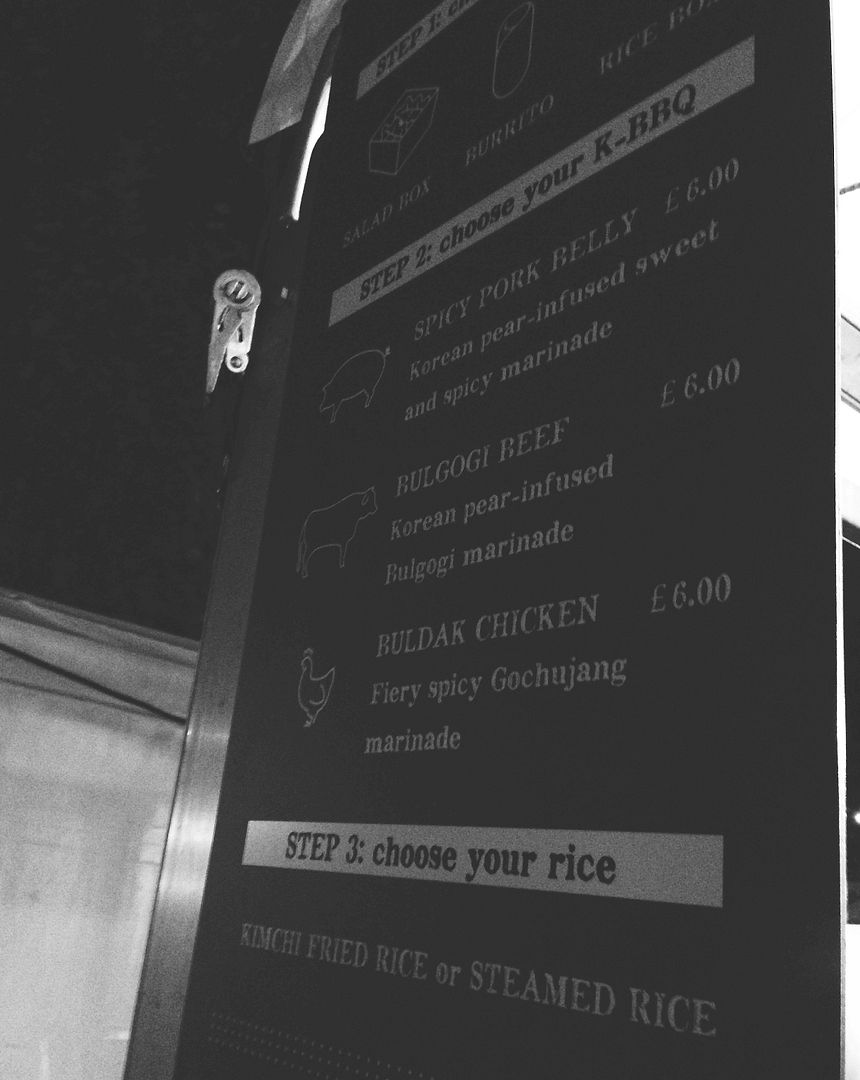 Jordan and I LOVE the Real Food Market at Embankment (South Bank) so didn't hesitate to visit it after work on Friday as it runs on until 8pm! I absolutely LOVE street food and it's a great way of trying something new without forking out for a 3-course meal at a restaurant. I personally think the food is nicer at the stalls anyway and combined with views of the London Eye, the Thames and the twinkly lights of South Bank ... come on now, who can resist?

For dinner, we visited a new Korean stand called Konito (?) and opted for the spicy pork belly burrito with kimchi fried rice. We were told that our combination was a crowd favourite and it wasn't hard to see why. Melt-in-your-mouth meat mixed with sweet chilli sauce and a hit of tangy sour kimchi rice. An explosion of flavours and a palette of spices - delicious. I normally despise sweet chilli sauce but this one was done perfectly. All of that for £6. We'll definitely be visiting again!

Conveniently, Churros Garcia was a few stalls down just as we were toying with the idea of dessert. I'd read raving reviews about their churros and was pleased to see that the traditional dish did a pretty good job of replicating the ones that we had in Madrid. Freshly deep-fried strips served with hot chocolate sauce and cinnamon sugar on top. It made us feel nostalgic for the churros in Madrid! £4 for a cup full :)

After that, we rushed home on the train before settling down to watch the Dexter finale. Does anyone else watch the show? What were your thoughts on the last ever episode?! I wasn't pleased with it at first but the more I watched it, the more it made sense that it'd be completely unrealistic and morally incorrect for Dexter to ever have a happily ever after with everything that's happened!
SATURDAY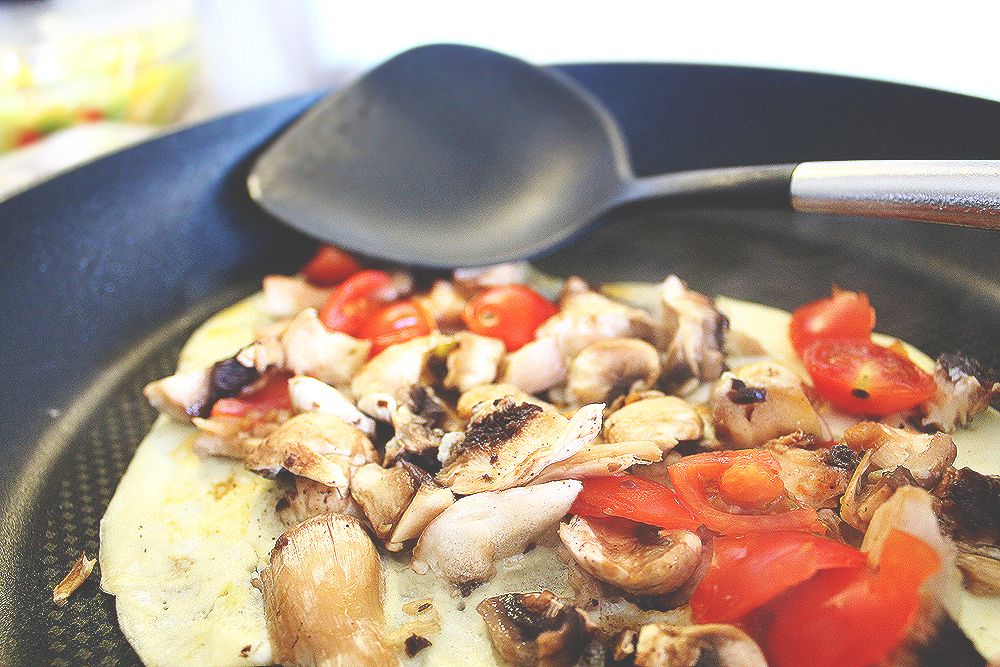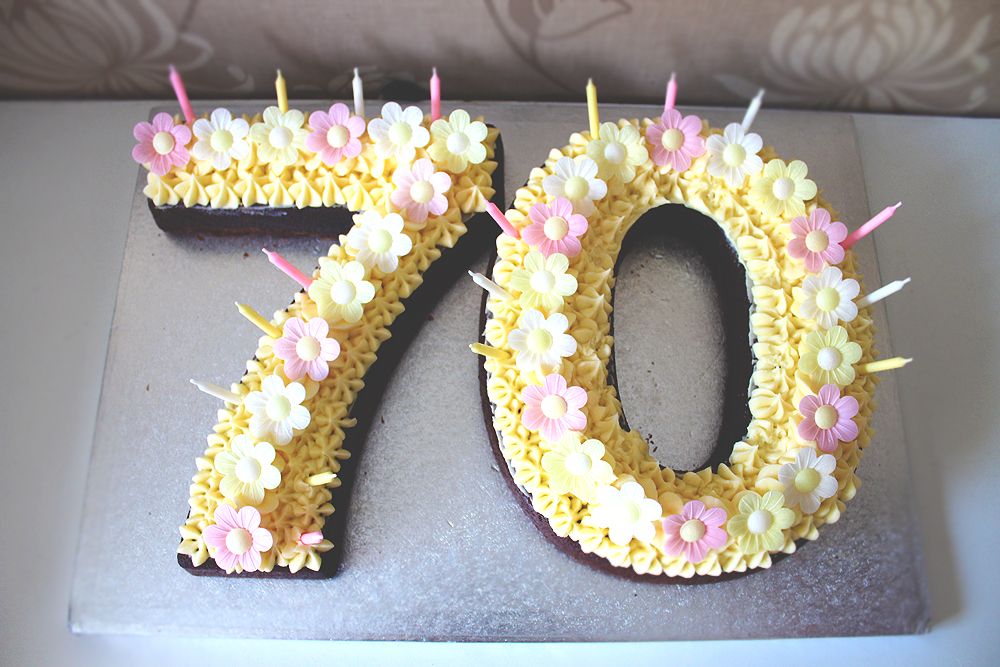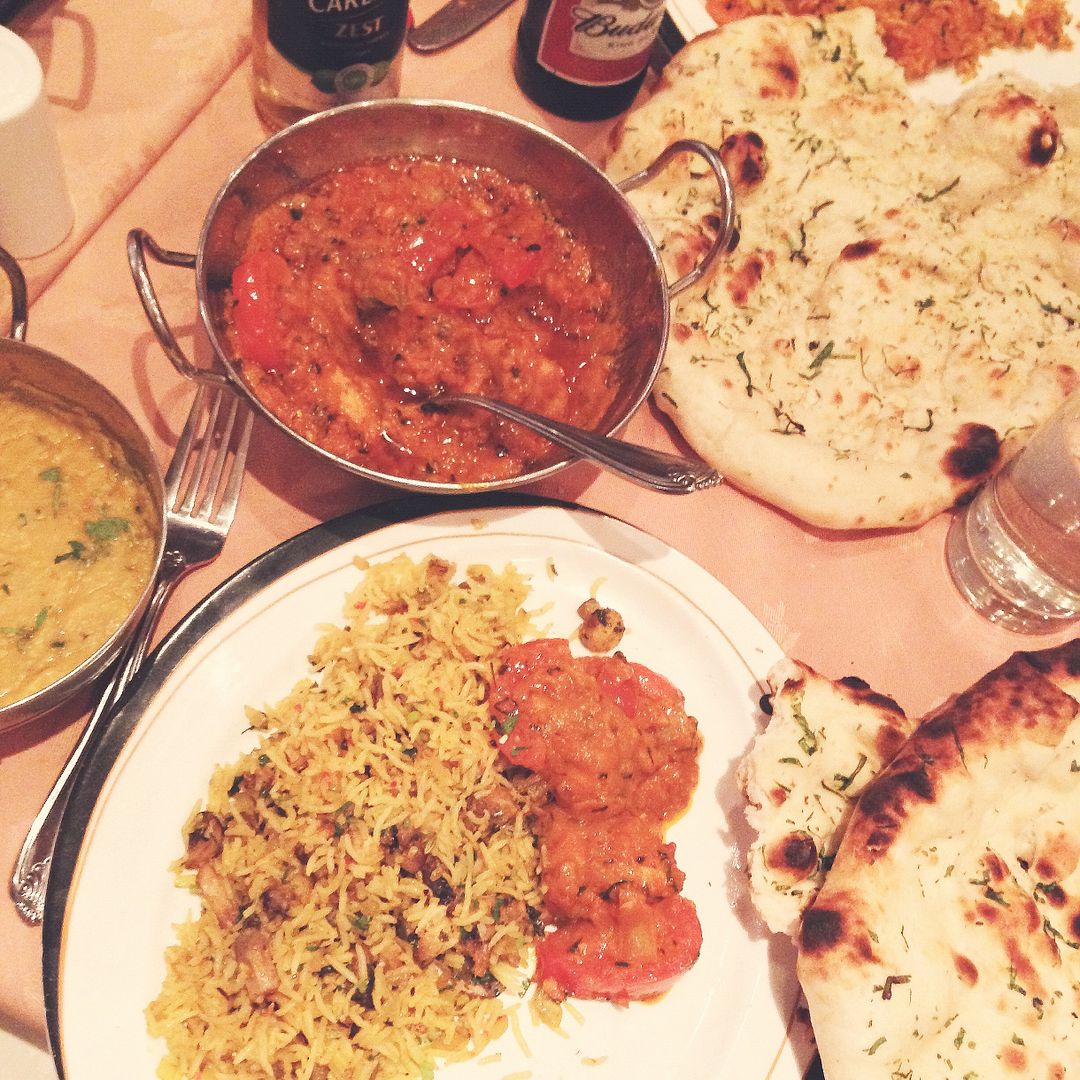 Saturday was another day of food. I kickstarted it with a bowl of muesli followed by an hour workout. Lunch was a one-egg omelette with cherry tomatoes and chestnut mushrooms served with salad and sriracha sauce.

- Filmed an 'Autumn Trends' lookbook so look out for that this week on my channel!

- We were celebrating Jordan's grandma's 70th birthday that evening so Wendy made a brownie cake complete with wafer daisies and buttercream icing! As a self-confessed brownie addict, I couldn't resist. It was amazing.

SUNDAY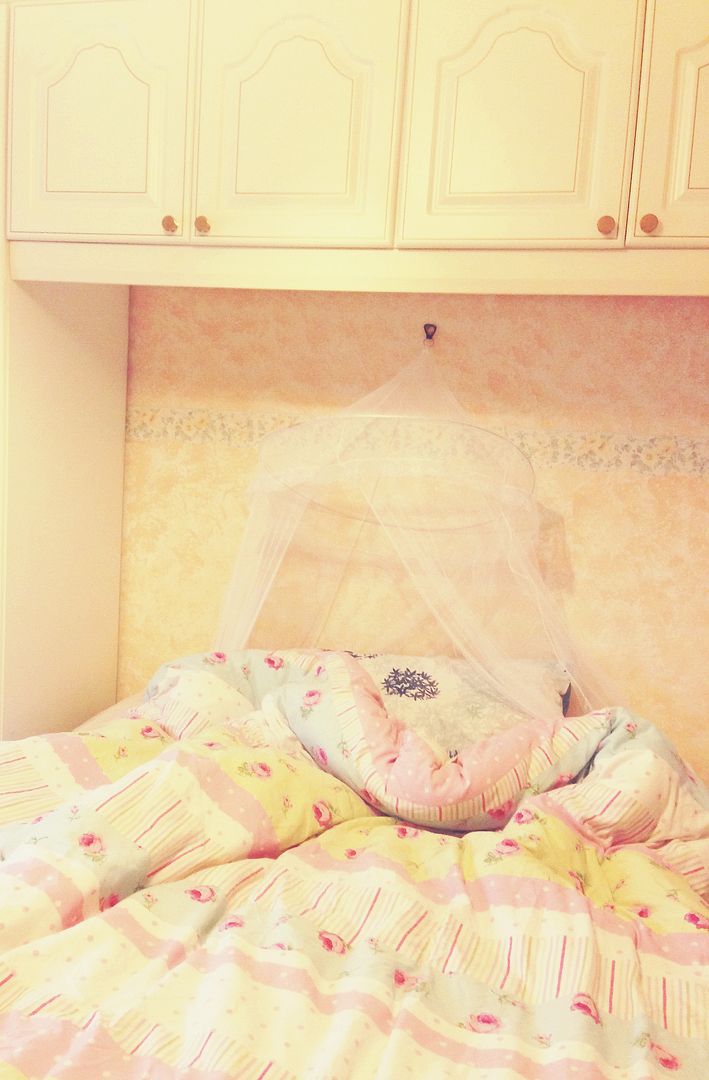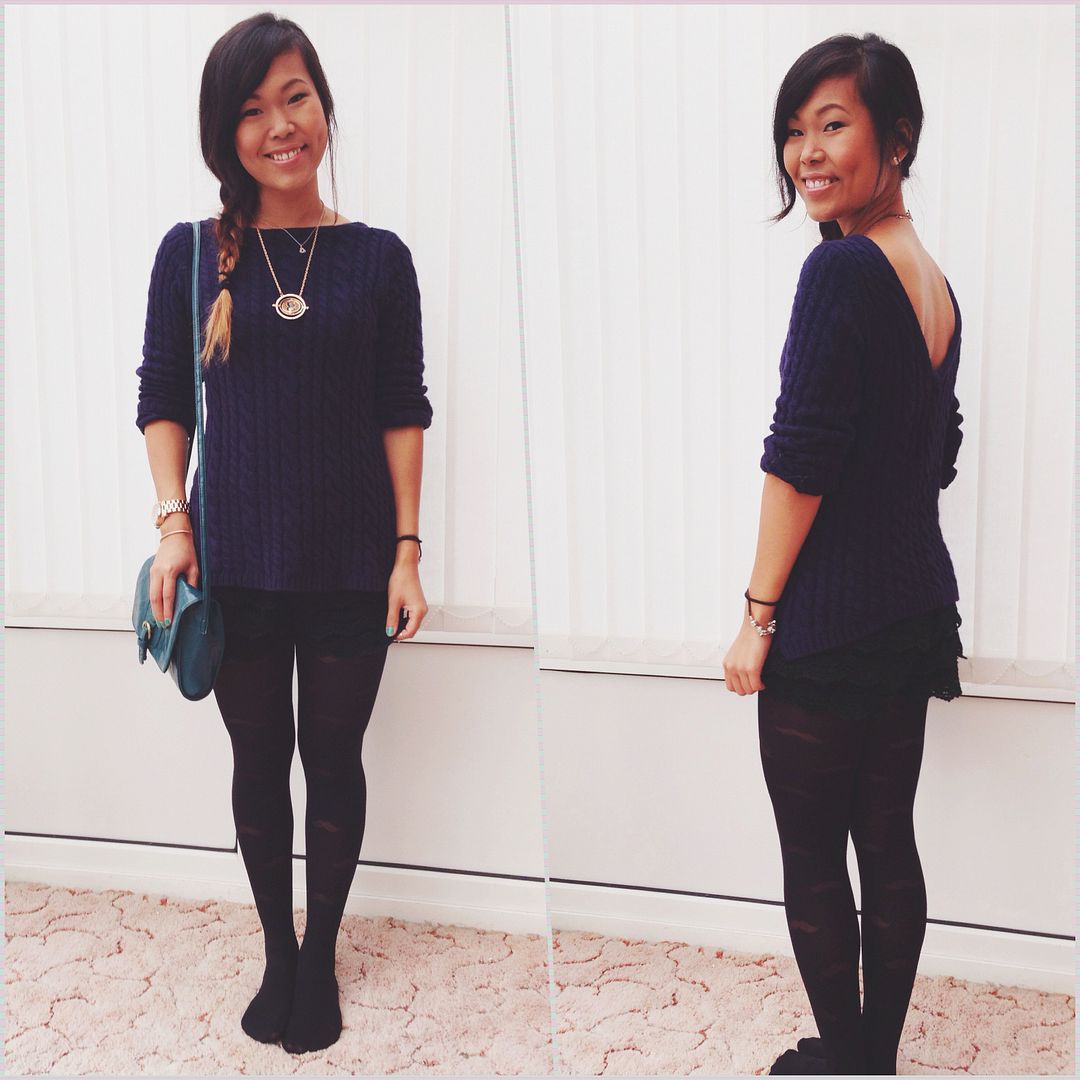 - 9am lay in in my beaut of a bed at home! I can't wait to decorate it with fairy lights when Christmas comes!
- Livvy invited my friend Katie and I over to her house for a homecooked vegan meal. The occasion called for 'comfy' wear with a low back navy knit, moustache printed tights and a side plait. Spinach pasta with marinated tofu, roast peppers, tomatoes and mushrooms - yum. The evening consisted of comfy blankets in front of The X Factor, JT Live Lounge (marry me, please) and catch-up chats. Crazy to think that we've known each other for 9+ years now. Grateful that we're still in contact and have mini dinner parties!

MONDAY
- Livvy, her brother Doug, Faye and I visited Thorpe Park yesterday! I recommend going to the theme parks during this time of year: the kids are at school, it's as quiet as it's going to get and the weather is still perfect. We ended up going on 17 rides and our longest queuing time was 20 minutes! Amazing company and I think my voice is paying for the screaming.
Tada!
That's my first weekend round up!
Let me know how yours went and if you'd like me to snap some pictures up this weekend! I'll be visiting Jordan at university so I'm expecting film nights, food and PJs.
I hope you're all having a great week so far! :)