Happy Friday!
As there's only one working day separating us from the weekend, I thought it'd only be fair to kickstart it with a grand ol' post about burgers. I hope you're feelin' hungry because these pictures are worth salivating over...
Shake Shack and Five Guys are renowned burger joints over in America. Aside from California's In-N-Out burgers, they're the two I had listed to eventually visit in the near future. Wait no more, they both opened their first London stores in Covent Garden on the 5th July 2013 (cheeky, cheeky). Now, bear in mind that these are marketed as fast food rather than gourmet burgers. They seem to be in a different league to Patty & Bun, Burger and Lobster, Honest burgers and Byron but they sure are a lot better than McDonalds.
How do they both compare?
We'll start with Shake Shack first.
SHAKE SHACK
Ordering experience: Situated in the Market Building within the Covent Garden Piazza, they've done a dandy job of turning a fast food joint into one that looks a lot fancier than it actually is. The seating is located outside amongst the other restaurants and occasional street performers although you're on my own when attempting to find a spare table. The actual interior is relatively small and after ordering, you're given a remote and told to wait outside the open kitchen until it starts beeping/flashing/dancing away at you to signify that your food's ready.

Queuing process: We've been twice at around 7:30PM during the week and the waiting time has been around 10-15 minutes. It'll be a different story during weekends though, I've seen a 60+ people queue form right around the Piazza on a Saturday afternoon, eek! Try and go on a weekday/during off-peak times.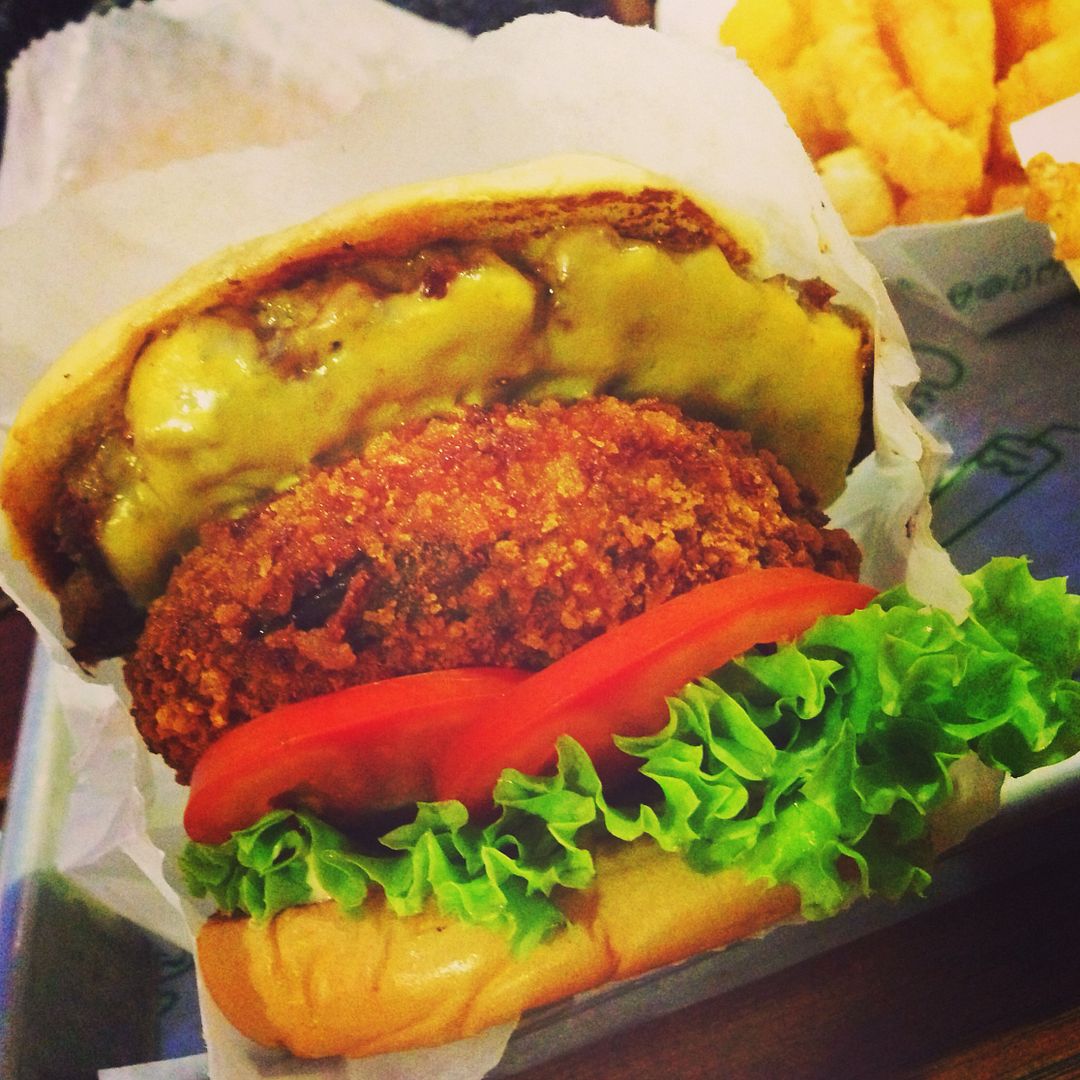 THE FOOD: I ordered a Shack Stack - Cheeseburger and a 'Shroom burger topped with lettuce, tomato and Shack sauce (£7.75). The picture above makes it look HUUUGE but it's just their clever open burger layout. I'm not a big fan of bacon/cheese but I do love me some mushrooms. This has it all (and changed my mind about cheese explosions in dishes). It features a deep fried Portobello mushroom sandwiched between a beef patty, processed cheese and 'Krabby Patty' look-a-like lettuce and tomatoes.

I took one bite... and was sold.
It is honestly one of the best burgers that I've ever had.
I normally opt for chicken burgers as I find beef is difficult to get right and a meat that I'm very picky with. If the bun is too thin or absorbent, it ends up crumbling away with meat juices running down your fingers along with their soggy tomato pals joining the party too. Not good. Shake Shack are known for their griddled potato buns though and they definitely do not disappoint. Despite the amount they've tried to cram into the burger, it seemed to hold its own (and their patty pals) rather well with no spillage involved.
The beef was tender and wasn't dry or overcooked. The mushroom completely complemented the flavours of the meat and the gooey cheese housed within the battered fungi added the perfect creamy addition to the overall taste of the burger. I definitely recommend this.
Jordan ordered: a Single Smoke Shack - Cheeseburger topped with British free range Wiltshire cured smoked bacon, chopped cherry pepper and Shack sauce (£6.50). The only burger that offered a chilli topping (darn it), the cherry peppers were awesome. The sweet but hot peppers went hand in hand with the smokiness of the bacon and the patty. I think this is their most famous burger and if you're all about the meat, I'd go for this option!

Jordan and I both made some pretty inappropriate noises when we first bit into our burgers but our neighbours did too. That's how good it is. We had crinkle cut potato fries (£2.50) to share and these were amazing too. It didn't have a greasy layer on top, were crisp and were definitely very moreish.
FIVE GUYS:
Ordering experience: Housed in an enormous red and white checkered two storey restaurant, the interior is a lot bigger than Shake Shack and sits more people in too. You order as you would at a normal fast food restaurant before being given a numbered piece of paper. Wait your turn for the red polo neck cladded staff member to call yours out and you'll be presented with a brown paper bag brimming with burgers and fries. It all seems very American and they seem keen to market their success over the pond with giant posters filled with loving quotes from popular blogs and news publications about their food.

Queuing process: We went at 7:30PM on a Wednesday - waiting didn't take longer than 10-15 minutes but we did have to queue outside at the start. It wouldn't be fun in the rain, that's fo' sho.
THE FOOD: I ordered a Little Cheeseburger (£4.75) with grilled mushrooms, hot sauce and onion. Jordan ordered a Cheeseburger (£6.75) with hot sauce and jalapeño. The difference between a 'little' cheeseburger and a regular? Just an extra patty! We ordered the Regular Cajun Fries (£4) to share and it's more than enough for two people. Unless you're a massive potato fries machine, don't order the regular version if you'll be the only one munching away at it! Whilst the fries were chilli and tasted nice, they were very salty after your first handful. Keep water at hand or opt for the regular (with the hopes that the sodium levels are lower).
The good thing about Five Guys is that all toppings are free. From a large array of sauces, relishes and peppers/mushrooms/onions - it's completely customisable to suit your personal tastes than having preset burgers.

The burgers were... pretty good and that's about as far as it goes. Sure, the ordering process and actual interior of the place beats Shack Shack but when it comes to the food, it just doesn't compare (for us). The buns wouldn't look out of place in cheaper places and it didn't help that tin foil was wrapped tightly around the burger further flattening a bun that was already pretty thin. It was greasy too and the oil slowly started to ooze away as I was eating. This didn't seem to happen with my Shack Stack burger. However, the flavours were nice and I liked that the grilled mushrooms were cut into smaller pieces and evenly spread. No big awkward chunks of it to report.

We would definitely visit again but it wouldn't be our absolute first choice... especially if Shake Shack is only a 10 minute walk away.
There are some redeeming points though. First up, for fizzy drink lovers - there are 100+ different flavours on unlimited tap for £2.50. As I've stopped drinking coke, I opted for a mix between Sprite Zero Grape with Fanta Zero Peach. Oh, artificial sugary goodness. The flavours were awesome and it was amusing to play with the touch screen to increase our sugar-infested excitement. Jordan got a bit carried away with 4 refills... and a very bloated stomach afterwards. You've been warned.
There's also plenty of boxes dotted around with recyclable boxes and monkey nuts. It's a 'help yourself' service and a great way of beating queue time blues/a nice snack after your meal! Thumbs up for this lovely addition :)
All in all, Five Guys is good but we both preferred Shake Shack instead. If you're after a burger that offers something slightly different to the usual McDonalds/KFC then I'd go for the latter. They're both definitely worth a try though! :)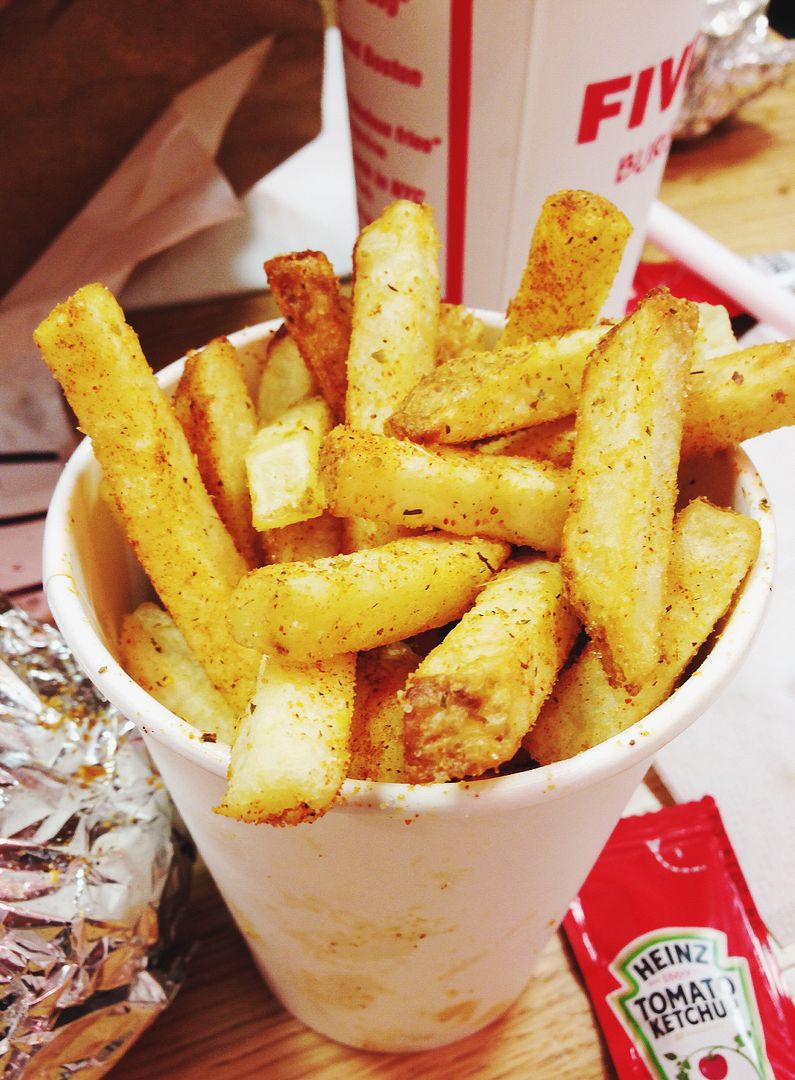 And now a bonus...
After exhausting Google Maps and giving up on Yelp searches (
ahem, example being 'waffle places in Soho / brownies in Soho / hot 'anything sweet' in London / i just want big fat american desserts in london!11one11!'
)
, we finally found a diner called Ed's that promised us warm waffles with hot Hershey's chocolate sauce served with vanilla ice cream on the side... for just under £5.
- cue a stampede of footsteps, the sound of unbuttoned coats and a shrill 'we'll have a portion each please! -
The waffles were incredible. I'm not normally a fan of Hershey's chocolate but I definitely am when it's hot and slathered over generous portions of waffles. It wasn't too sweet and provided a much needed richness and burst of cocoa. I'll just leave the picture below and slowly step away...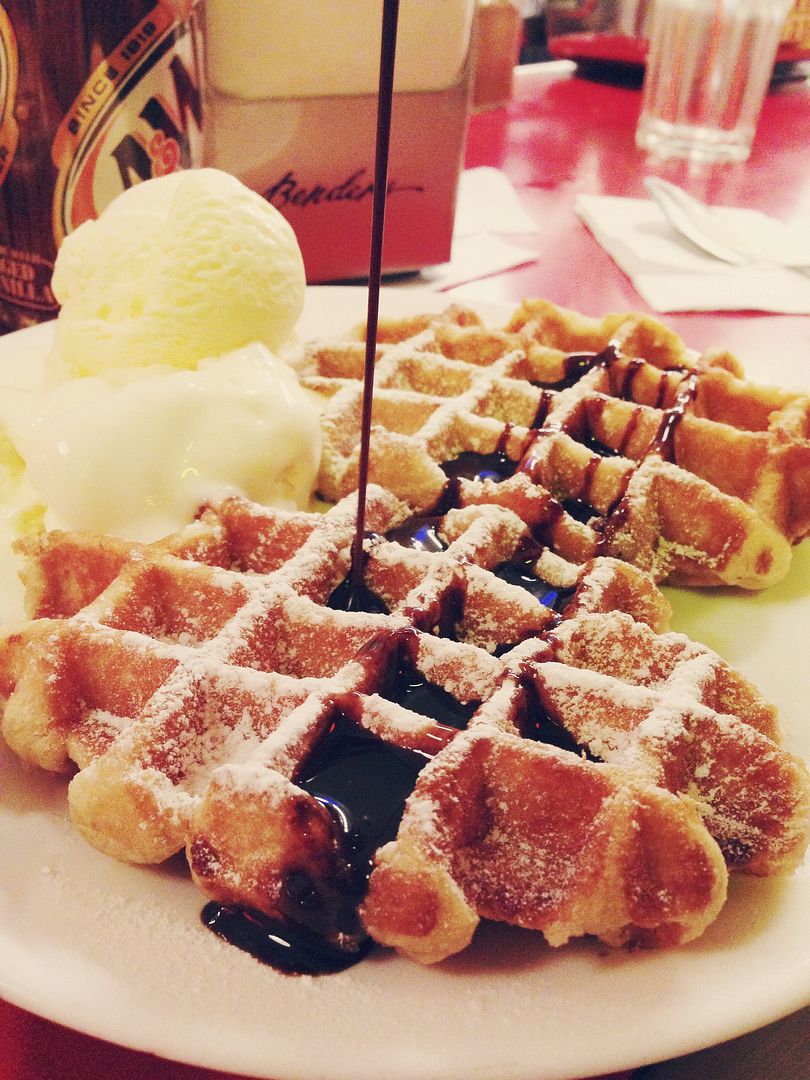 We're finally at the end of the post! Apologies for it being so long but I wanted to describe it the best that I could! For fellow burger lovers out there, I hope this has helped!
If you've been to either of the burger joints before, let me know what you thought of it!
If you have any food recommendations for us to try out, pop it in the comments below too ;)! I'm heading to Embankment Real Food Market for the second Friday in a row for dinner tonight. If you enjoyed this post/general food posts and would like me to continue them, let me know and I will! Any excuse to pretend to be a food blogger.
FUN FACT: when I was younger, all my friends grew up wanting to be princesses or firemen. I always answered with 'I want to grow up to be a food taster'. That speaks for itself really.
I hope you're all having a lovely day so far! :)