hello!

Whilst it isn't Aladdin's magic carpet, fluffy 'rug' jumpers have been gracing the high street as a frontrunner for autumn/winter wardrobes. They didn't give me their best first impression though. I remember spying a bright green representative in Primark in May and my eyes widened with horror.
"What is the Incredible Hulk's hairy chest doing on a jumper?"
Five months later, I'm the one with the hairy chest and I couldn't be happier.
This New Look purchase (£23?) ticks all the right boxes:
- Is it unbelievably warm?
Think of the biggest hug and plates of freshly baked cookies when you wear this.

- Is it crazy soft?
I've stroked the sleeves of this jumper against many cheeks. They all love it.
- Is it versatile?
Surprisingly, it actually is. Although the material may initially throw you off - this fluffy piece has actually allowed to experiment with different textures/colour combinations a lot more.
I uploaded a new lookbook video on my YouTube channel yesterday with four different ways that I'd style this jumper. It's embedded below so I hope it's helpful if anyone's been hunting for inspiration on how to wear it. I thought I'd briefly describe the looks too for those who prefer blog reading over video! :)

OUTFIT #1: All Black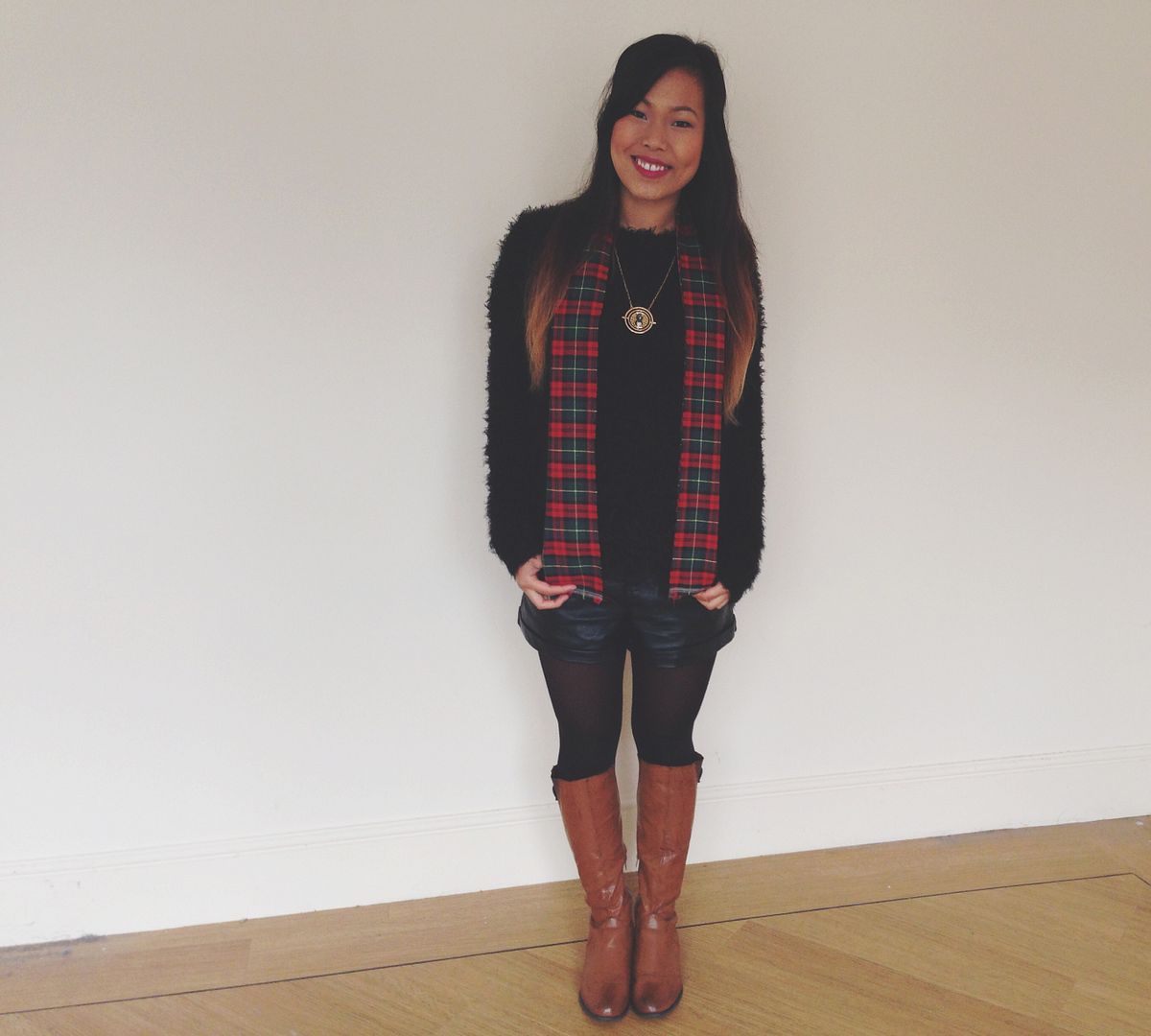 Oh, I'm a sucker for wearing head to toe in black. Whilst it's not the uniform to become a Sworn Brother of the Night's Watch (yay GoT), it'll still do a dandy job of keeping me warm during the cooler months. Mixing the textures of the fluffy jumper and faux leather shorts together really helps to emphasise each material. I feel like the shorts have an extra 'sheen' to them and are a great alternative to tailored shorts and skinny jeans.
For an extra injection of an autumnal palette, I've included a tartan scarf and brown riding boots to keep cosy and still look season appropriate.
[fluffy jumper - new look, leather shorts - new look, riding boots - simmi shoes*, timeturner necklace - gift, scarf - brick lane]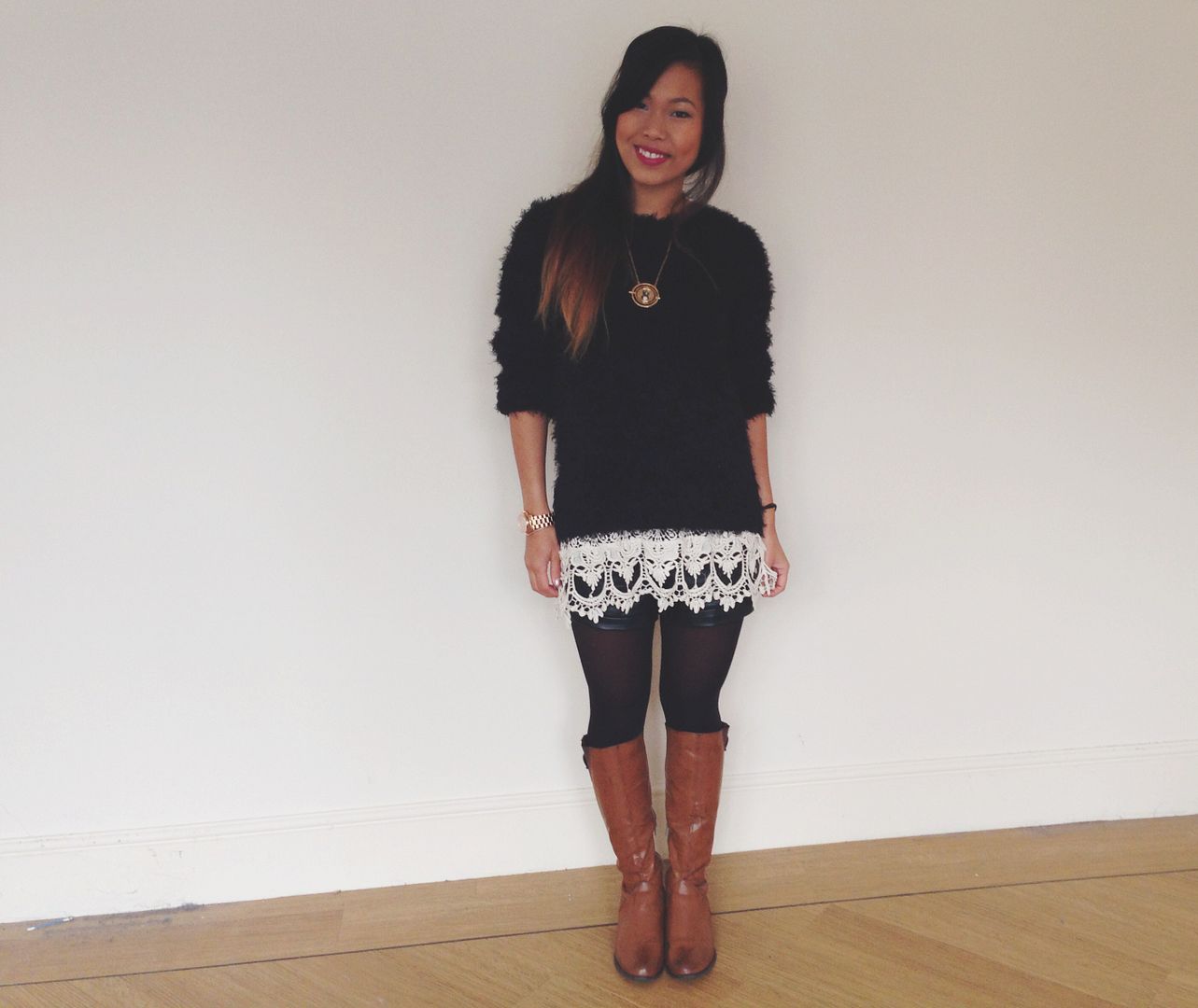 Recognise the crochet vest from
this outfit?
I was determined to transition a
very
summery cover up to something that would work equally as well for autumn/winter. Pairing it underneath the jumper was perfect - layering up during this time of the year is the best way of experimenting with unusual combinations in your wardrobe!
As a lover of coloured/patterned bottoms, I couldn't resist sneaking in this bright orange number in. Tucking an oversized/slouchy knit into a skater skirt with a fitted waist helps to control the bagginess of the top. It creates the illusion of a slimmer waist, longer legs (achieved from the higher waist line) and transforms the longer jumper into something more 'cropped'. If you want to incorporate more colour into your wardrobe, this is a great way of introducing it!
My all-time favourite way of styling high neck jumpers is to layer a shirt underneath and to have the collars pokin' out. It can be as girly/classic/androgynous as you'd like depending on the style/print and colour of the shirt chosen. Khaki skinny jeans are an autumn staple and a lovely alternative to your generic blue washed denim. It's also refreshing to pair earthy colours against a monochrome upper half too.
So there we have it!

I now present the lookbook for these outfits! Please excuse the quality of the video, I didn't have my DSLR with me but still wanted to film it to share it with you all!
How would you style a fluffy jumper?

I hope you're all having a great day so far! :)