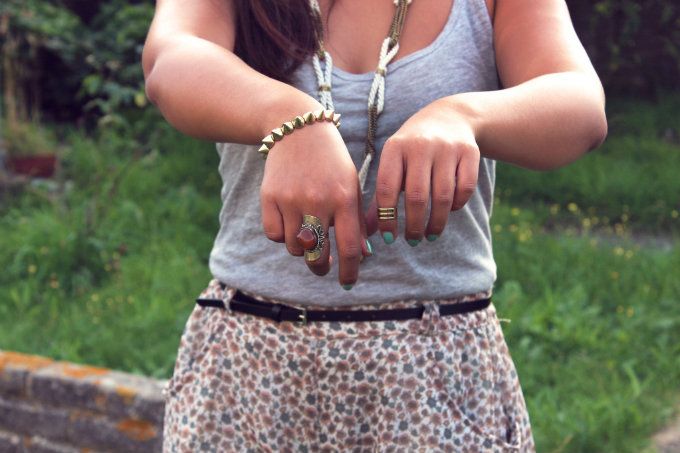 leafy shorts: h&m
belt: h&m
alibi mid-ankle boots: topshop
brown stone ring: market stall
above the knuckle ring: topshop
hihihello!
so... this isn't the outfit i wore for my birthday meal but in fact, an outfit from my new
video
. as usual, i left too little time to get ready and had less than an hour to decide what to wear, do my hair and makeup etc etc and wasn't able to take a photo or video :( i may recreate the outfit just so i can show you though! in the end, i ended up wearing my sister's green dress. it's beautiful green backless number but there were three things very strange about it:
a) it's a size 6. i'm not a size 6 and very much far from it so ASOS sizing can be very, very, very generous. it just puzzled me greatly.
b) it's backless and i rarely wear things that are as i realllly do not like my back.
c) it was a shift dress that ended just above the knee. i also rarely wear shift dresses as it never does my arms any favours as it's usually quite tight around that region! i also hardly wear dresses/skirts that fall just above the knee - i'm very short and wearing a longer length dress often swamps the figure and in return, makes your legs look even more shorter.
however, if there's one thing i learnt from it - it's to definitely try things outside of your comfort zone as you may be pleasantly surprised! now, this goes for everything not just for clothes as that'd be very shallow indeedy! thank you to my beeaaautiful little sister for lending me the dress!
i had an AMAAAZING night although my suspicions were correct - the seating wasn't great! it was a looong table and it was difficult to talk to everybody throughout the night but i did try to swivel around to chat to everybody at some point! fingers crossed they enjoyed themselves and had a good night! the food was delicious as usual, the evening was hot (perhaps too humid = sticky sweat ew) and we all strolled up to the pier afterwards. it's making me :) as i'm thinking about it and i'm so grateful to everyone who made it! it's always the little things! with everything going on in life, you often lose contact/drift away from the people you love so i've always loved birthday meals as you get to see everybody again and catch up. my friends are a great bunch :) i also received some lovely cards and presents which i did not expect AT ALL - it made me all emotional and teary, haha. i am the epitome of female hormones.
it's my birthday tomorrow and i'm feeling all raarghghh about it for some reason. fingers crossed it'll all go smoothly etc. i'm about to get ready to spend the evening with Jordan's family and my sisters. i didn't want to do anything major so i think we're all just chilling out with a takeaway and film - perfecto with lovely company the night before :)
feeling mellow today and am listening to Bon Iver (hence the blog title) and Daughter on repeat. i love sad songs a lot greater than happy songs - the lyrics just seem a lot more meaningful and realistic. it also relaxes you but makes you evaluate life and ponder. it may sound strange but i love it :)
what have you guys been up to?
sorry for the lengthy and rambly post!