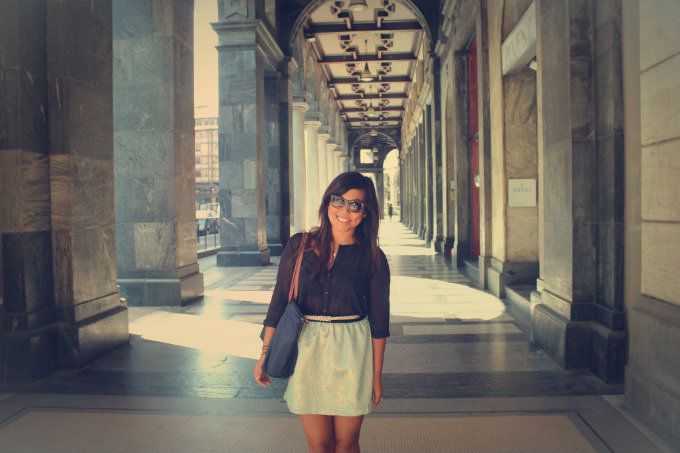 i'm back from Milan! well, i got back around four days ago and i'm a little late posting this but don't worry, the excitement is still there. eeeeee! this is going to be a very picture heavy post and it's also heavily edited but i got a bit too excited about sharing these photos with you all. i really wanted to capture the magical feeling and atmosphere i got from exploring the city. it's truly beautiful and blends Italian history with the modern and rapidly growing age perfectly. i can't quite explain it but i truly recommend visiting Milan if you get the chance to. i have a feeling that this is going to be an incredibly looong post - if you're interested in travel and architecture then great! i hope this doesn't bore you - it's no secret that i ramble on a great deal.
first stop: Duomo di Milano
this was our main priority and we weren't disappointed! i'm incredibly in love with architecture (although i am by no means, an expert at all) and the grand designs that are translated from a creative mind to well, a physical building. the Duomo cathedral is absolutely breathtaking and i still get a little flutter in my stomach thinking about it. it's a cathedral but it's majestic and enchanting. the detail of it is incredible; the men and gargoyles are lifelike.
the picture above is of me attempting to look through the misted windows. we decided to take the stairs to the terraces: there were only 250 steps, it was a great way of getting a true experience of the place instead of whizzing up by lift and let's face it, it was also
€
5 cheaper. every little counts! if you're claustrophobic, i'd avoid this as it's a very narrow and repetitive stairway.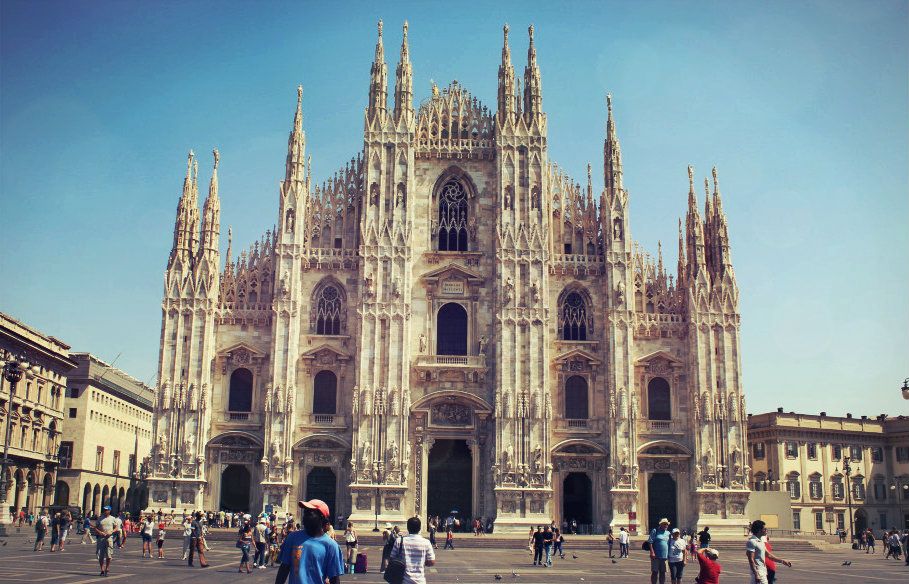 Duomo di Milano exterior. ahh, amazing! there are a lot of street vendors out by the square and they can get very persistent which ruins the whole experience slightly. they usually sell bracelets or food for pigeons. no matter how many times they walk up to you, talk to you, grab your hand or tell you something's free - don't listen unless you want to part with your cash unwillingly. just tell them a firm no and walk off. the guys are harmless but can get very annoying!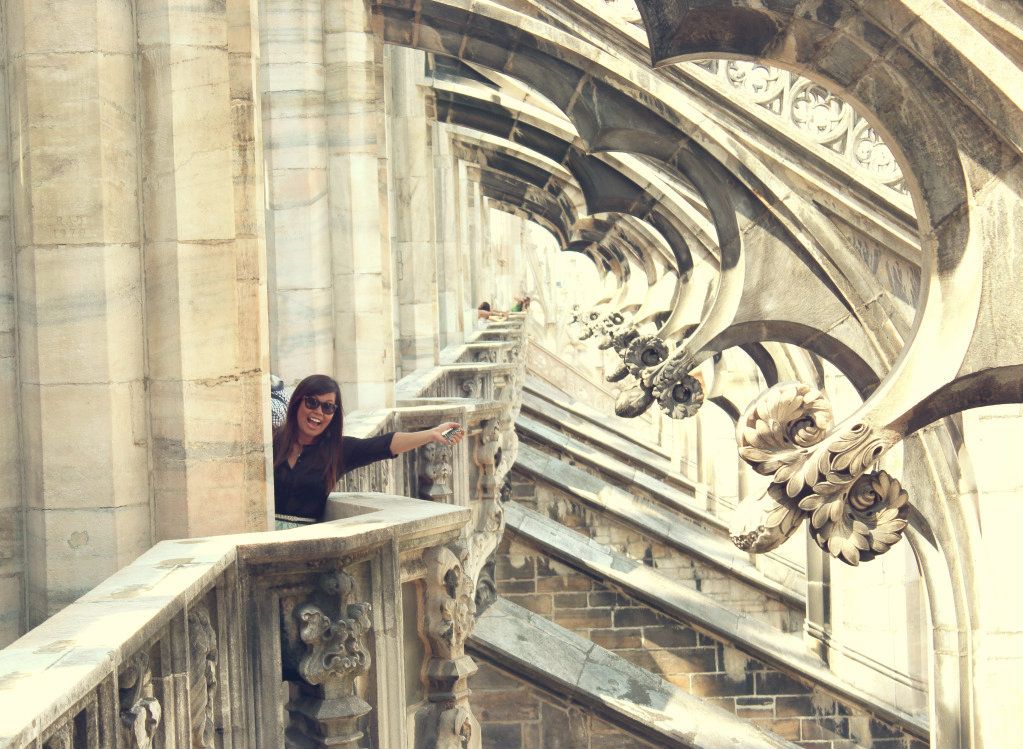 Jordan took this when we were right at the top - we saw a load of people do it and naturally, we had to copy. this makes me smile as i had to keep popping my head out to see! look at the detailing of the arches!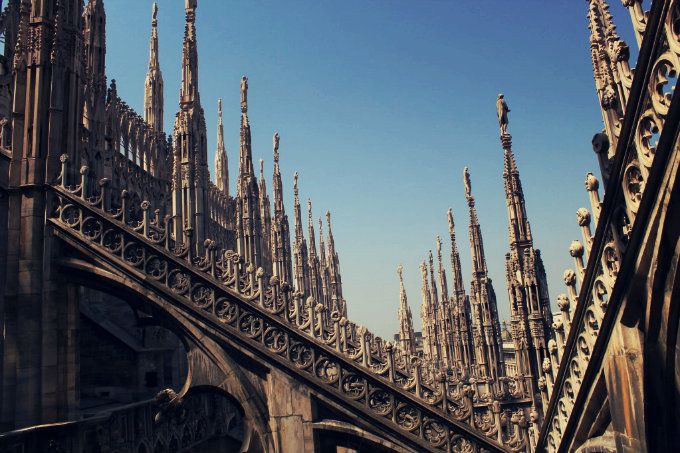 more shots of the cathedral. i cannot stop staring at this photograph - i'm starting to sound repetitive but it's truly on another level. it's great that the architecture lives on for hundreds upon hundreds of years but it also makes me a little sad that we won't ever be able to recreate anything to this scale. it baffles me, technology is better than ever and we have a lot more resources compared to the ancient times but i don't ever see something like this being produced in the modern age. i completely understand that everyone's tastes are different - i just happen to love gothic architecture!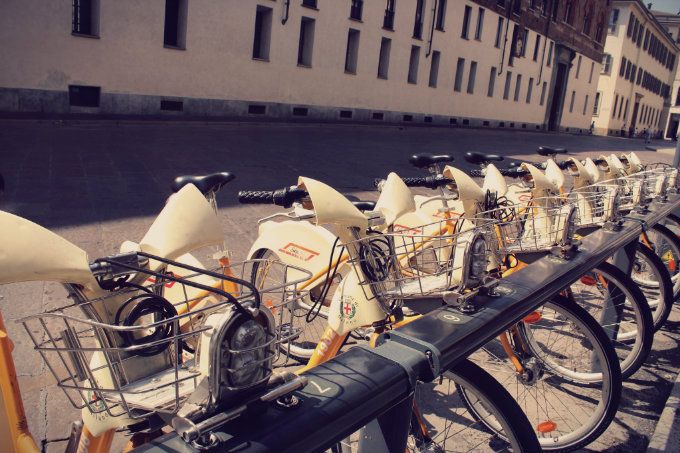 self-explanatory. i found the bikes to be extremely cute so... i took a picture of it.
as this is primarily a fashion blog, i better put a photograph of my outfit in ;) it was 36C and extremely hot. it probably wasn't a wise choice to wear black but the thin cotton material meant it was incredibly light and didn't cling on to my skin. the top is £16 from topshop. the skirt was a bargain and on sale at miss selfridges! it reminds me of ancient Chinese vases and has a lovely mixture of mint green, turquoise, blue and gold in. it was £12. my bag is by Longchamp and is the Le Pliage tote bag. belt is from Primark for £2.50! sunglasses are by Betsey Johnson :)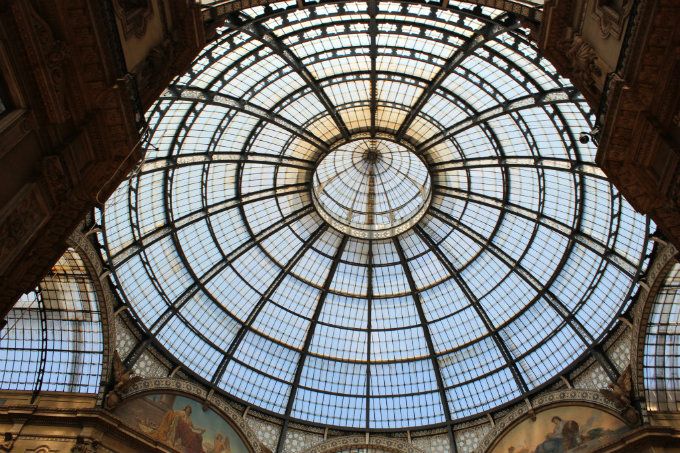 second stop: Galleria Vittoria Emanuele II
this shopping arcade is magnificent. i'm poor so i could never afford anything from the designer shops although strangely, there is a McDonalds there. it does stand out when it's nestled in with Louis Vuitton and Prada but hey, people need their cheeseburgers.
it does remind me of the structure of the Galerie Lafayette department store in Paris too - it's an absolute joy walking down this arcade! there's no harm in doing a little window shopping too, muhaha.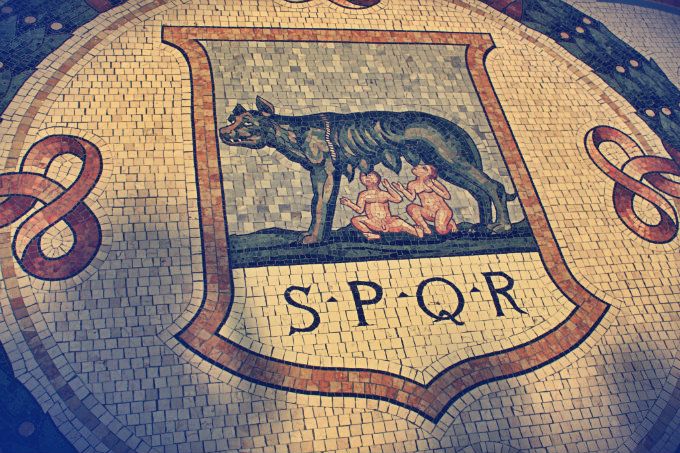 this isn't a photograph of the traditional bull's... balls but i wanted to share it with you anyway. i find it very amusing but strange at the same time. look at the intense look of PLEASURE on the bull's face *shivers*. in case you're wondering, i did spin on the other bull's testicles. it's a tradition in Milan to spin on it three times in order to bring the spinner good luck. i loved people watching too and seeing everyone just spin around and around! legend has it, it's the spot where the architect of the arcade fell and died. in order to not summon bad luck, spinning on the spot three times counteracts it!
this is a picture of me at the Duomo square/plaza. you can see more of my outfit here :)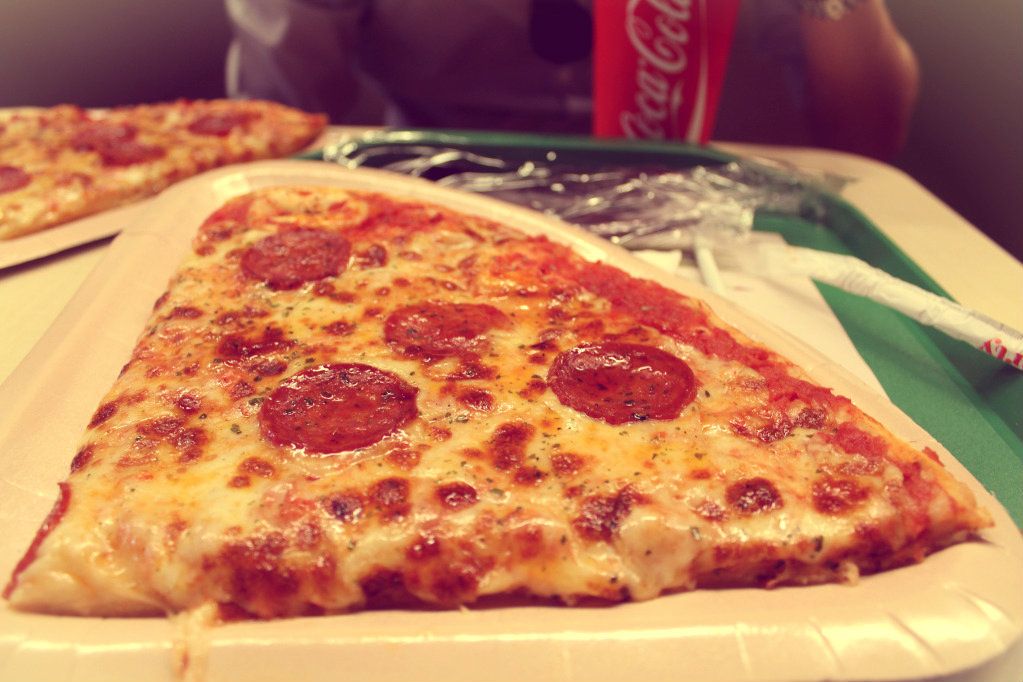 LUNCH TIME!
we were boiling hot, parched and hungry so we didn't fancy trekking looking for a great place to eat like we normally would. instead, we went to a fast food pizza place and got two slices of pizza! ordering it was amusing to say the least, cue broken Italian with lots of hand movements. i followed the pronunciations and words in my Italian guide book but i was either very awful at it or the lady didn't hear me! an Italian slice of pizza equals three slices in the UK - we were stuffed and it was delicious!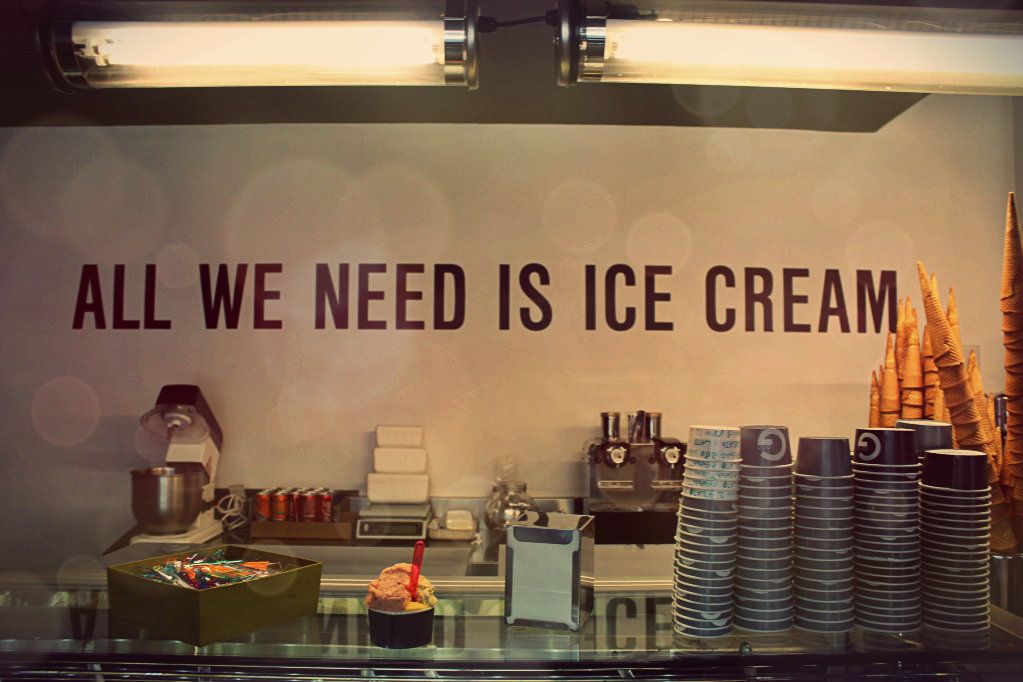 it's true.
could i go to Italy and leave without having some ice cream? of course not. we ordered the 'grande' size and i had the passionfruit, peach and pistachio flavours! it wasn't the greatest mixture in the world but it was so, so, so good. so good. our heads were bigger than our stomachs though and we didn't manage to finish either of ours. boo.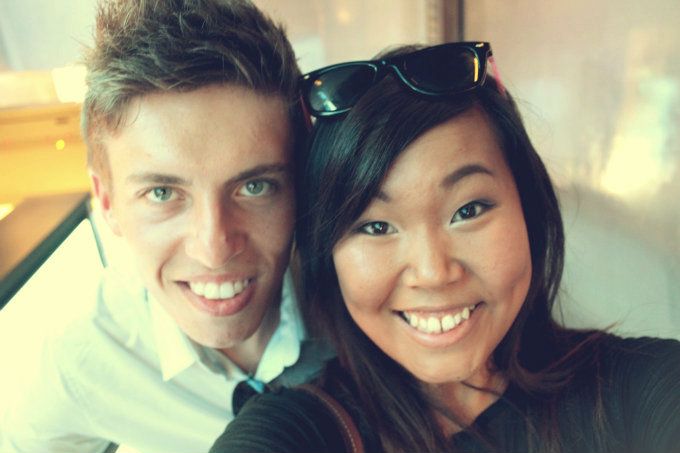 finally, the man behind this. the person who made all of this happen! JORDAN! i'm unbelievably lucky and i still cannot believe that we jetted off to Milan and back this week. ahh! i've thanked him a million and ten times but i really wanted to take the chance to thank him again. it's the most thought out, memorable and special gift i could ever have imagined. it's not always about flashy presents or expensive jewellery and having this trip to represent my twentieth birthday was more than i could ever have asked for. i had a perfect day with perfect company! thank you so much
♥
if you made it all the way through this post with all the waffling then a huuuuge congratulations to you! it's a very different post than what i'd usually write on this blog but aside from casual blogging, writing is a huge passion of mine and i love being able to express myself whenever i can! i truly hope you enjoyed it and i'd love to hear what you think if you've ever been/been somewhere else that's had an impact on you as this has had on me!