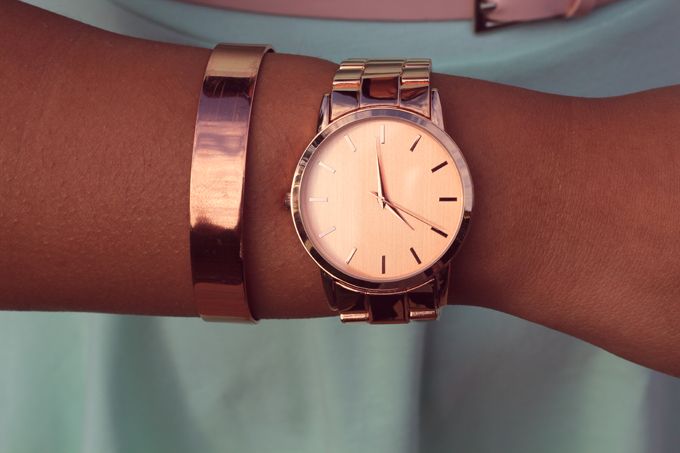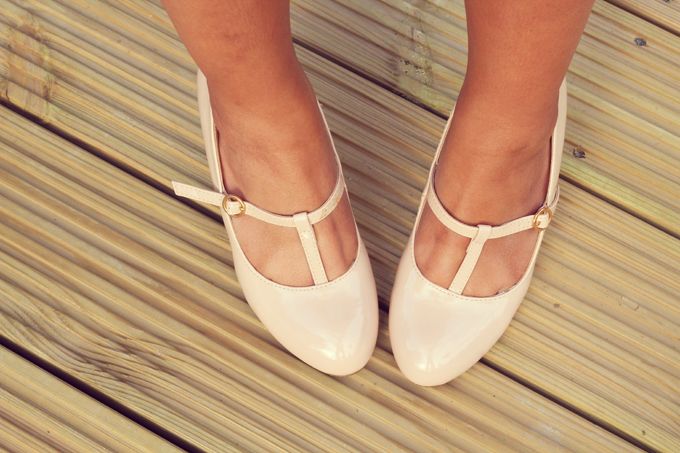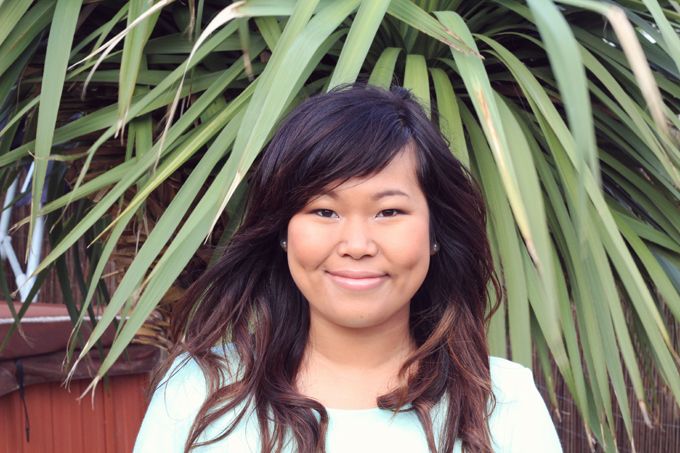 rose gold watch: ASOS (but bought on eBay)
hello!
excuse the weird faces in these photos - it was taken during the gail force wind day so aside from some blooper shots of my hair practically flying towards the sky, these will have to do! a video clip was taken too for an upcoming video, cue a crazy dress flapping in the wind and Bud the dog looking very confused!
the picture doesn't show exactly how beautiful the colour of this dress is. it's the most perfect mint green colour and the style is very 50s in my opinion. it's £19.99 from H&M which i think is an absolute bargain so if you get a chance, please see it for yourself in store. it's very beautiful and comes with a pastel pink belt. green and pink together is my all-time favourite colour combination so i just had to further match it with the pale pink mary-janes from Primark too! it's a very simple outfit and not a creative one at that, but i think based on the colour of the dress, the shape and the way it fits - it's better to keep it simple and to not overcomplicate it. after all, it's beautiful because it's so effortlessly simple yet feminine so why overpower it?
keeping to the girly vibe, rose gold jewellery just HAD to be added in. okay, i admit that my obsession is growing beyond control but i think it complements the colour palette. i always feel grown up and 'professional' whenever i wear a watch, so a ROSE GOLD watch just takes it to a whole new level. it just turns it from being 'girly' to more stepping towards being ladylike!
some crazy things are happening in my life right now - some very good (focus on this), some bad so i apologise in advance if you follow me on twitter if i appear to seem very ranty and >:(. i rarely moan/bitch on twitter but it does sometimes let off some steam. blogging has always been very therapeutic for me, even from a young age (does anyone remember livejournal?) i love concentrating on writing whenever i'm feeling stressed to the max, it distracts me and also is an outlet to calm me down. posts will still be regular but just wanted to say incase you were reading my tweets thinking 'what the-'. everything will be fine and dandy in a few days! :)
on a positive note, not long until i go on holiday - absolutely cannot wait! it's strange how flying to a different country can completely change your mood! are any of you going on holiday this summer?
hope you're all okay :)