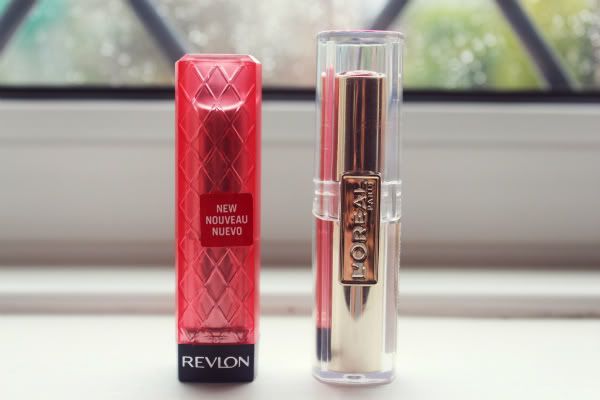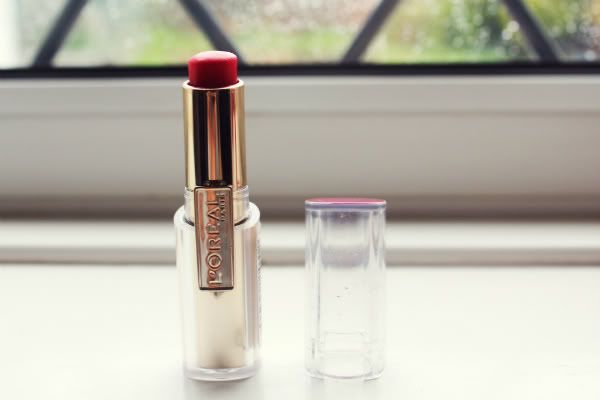 (L-R, T-B) Revlon ColourBurst Lip Butter in Macaroon
L'Oreal Paris Rouge Caresse in Aphrodite Scarlet
hello!
this month has seen the launch of two new high street/drugstore lip products that are both colourful yet lightweight! Boots is currently running a 3 for 2 offer and so i practically ran over there and 5 minutes later, my hands were filled with swatches.
the first lipstick i picked up was (no surprise) one of the Revlon Lip Butters! after camping outside (not really) popping into every Boots i've come across since March, they were finally launched in the UK! despite thinking that i'd pick up at least 7 shades, i was actually a bit disappointed at the shade range. there's a lot to choose from, don't get me wrong but some of them wasn't what i thought it would be. i wanted to try some lighter pinks (mainly either strawberry shortcake or cotton candy) but found them either too pale or too blue/cool-toned. the UK has 14 of the 20 shades available in the US and the one i picked up was Macaroon - an exclusive shade to the UK.
Revlon Claims:
Buttery balm with beautiful shiny colour to give you baby soft, healthy glowing lips. Hydrating mango, shead and coconut butter formula boosts lip moisture by 156%. Sheer to medium colour with buttery shine.
i'd describe Macaroon as a mauvy pink with a red undertone. it's a very good natural colour for the daytime and the red undertone makes it suitable for more formal occasions too. it has a slight gold shimmer running through it and i think it's because of this that makes the formula feel ever so slightly 'gritty'? it may just be the shade i picked. it's hydrating but not to the extent that they're marketing it as. i wouldn't say that it was substantially more moisturising than a typical moisturising lipstick but again, it could just be the shade i picked up.
i feel like the application is a bit heavier than i was expecting although these may be due to the intense colour pay-off. it is still more lightweight when compared to how lipstick sits on the lips. the pigmentation from these lip butters are incredible and it lasts for around 3-4 hours on me even after eating and drinking. there's no need to have to keep building the product up to achieve the colour in the tube - a quick swipe would do the job! i didn't think it was 'shiny' or made my lips glow but the gold shimmer does translate onto the lips and it's pretty. i do want to pick up a few more shades and eyeing up Sweet Tart, Raspberry Pie and Lollipop! i also love that the lids reflects the shade of the lip butters too - very handy to distinguish each one in a mountain of other lip products!
onto the second lip product!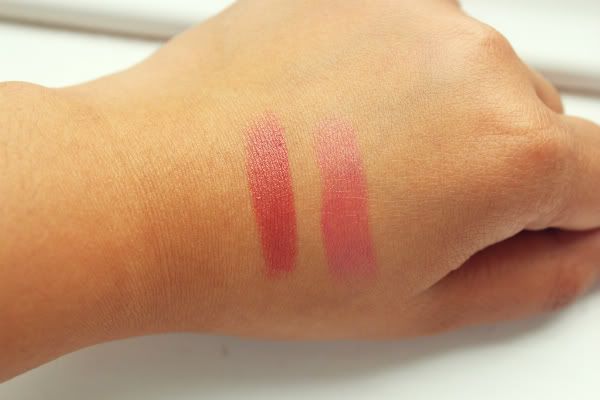 i picked up a lipstick from the new L'Oreal Rouge Caresse line in the shade Aphrodite Scarlet. this didn't receive as much hype as the lip butters but i think i actually prefer this! it's marketed as a lipbalm/lipstick hybrid too like the lip butters but it's a lot more lightweight upon application. the packaging is sophisticated but think it would look better without the plastic lid but as long as it keeps the product safe, it's all that matters really!
L'Oreal claims:
A flutter of kissably soft light-weight feeling colour. Its delicate texture glides onto lips creating a veil of colour with a luminous shine. Weightless sensation. Pop of colour. Flutter on your lips. New sensation.
The L'Oreal stand in my Boots resembled a jumble sale - the testers were smushed and the lipsticks that weren't meant to be testers were all used as them so i had a hard time trying to swatch all the shades. i managed to track down a hidden Aphrodite Scarlet though. despite the name, it isn't really scarlet but more of a rosy pink with a very slight lilac undertone? it applies brighter on the lips than when it's swatched on the hand and can be built up for a more intense colour as it applies a lot more sheer than the lip butters. this is definitely more lip balm than lipstick so if you're looking for something that is lighter in application and initially very sheer on the lips - this would be a better choice as you have the option with the level of pigmentation. i feel like there is more shine in this compared to the lip butters and the 'veil of colour' and 'weightless' description is also very fitting.
(L-R) Revlon ColourBurst Lip Butter in Macaroon
L'Oreal Rouge Caresse in Aphrodite Scarlet
in the pictures above, each product was swatched once on the hand in the first photo and were built up in the second photo. the gold shimmer is more visible in the second photo and in comparison, the L'Oreal Rouge Caresse looks more lightweight too. of course, both products are marketed as a lipbalm/lipstick hybrid and they both fit these claims as they are. they're just both on the opposite ends of the scale. Revlon leans more towards the 'lipbalm weight but applies heavier and pigmented like lipstick' and the L'Oreal as more 'lipbalm with a more pigmented colour than a tint'.
i love both products but think i prefer the L'Oreal Rouge Caresse for daytime wear and a lipstick to quickly apply when i'm on the go and the Revlon Lip Butter for occasions when i want more pigmentation and for the colour to last longer on the lips! both are perfect for spring and summer as although it's as pigmented as a lipstick, it does indeed feel more hydrating and lightweight compared.
phew! that's it!
have you tried either of the products? what are your thoughts on it?
hope you're having a lovely day, afternoon or evening!