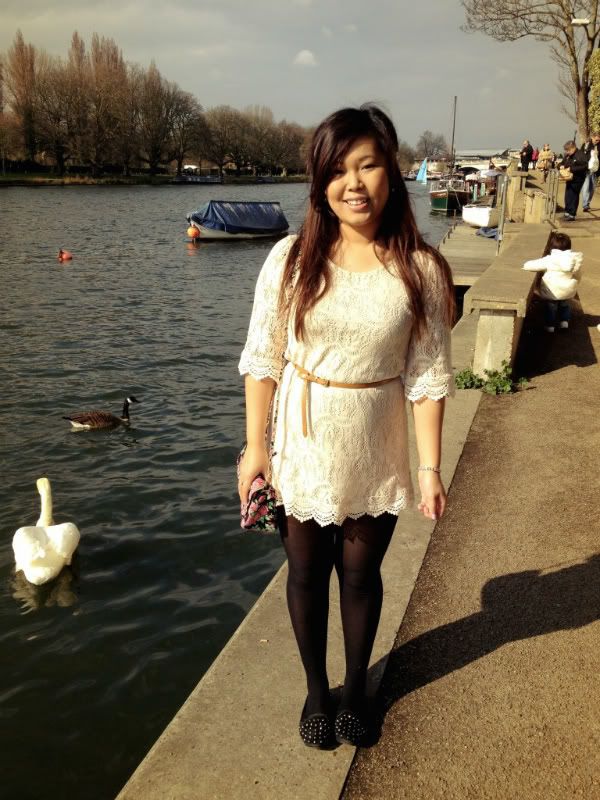 studded slippers: topshop
bag: primark (many moons ago)
happy april fools' day!
has anyone been pranked yet? i'm waiting for my sisters to come up with something. i wish i had those really realistic plastic spiders and houseflies, i'd plant them on their pillows and bags. so very original, i know! and ok, i resorted to changing lyrics from 'sway' to crochet. i just like play on words and i couldn't help myself. i'm still chuckling.
i've blogged about this dress before, the only difference is that i've added a belt in this one, aha. i know a lot of people don't like waist-cinching belts and prefer blouses/dresses to just be flowy but not me! i think it helps to define the waist a bit better, and just generally helps clothes that are a bit too baggy have more of a feminine structure and shape to it. this mustard yellow one also helps add a bit of colour and makes it look day-time appropriate methinks. the dress is from h&m and was £20!
i wore a floral bag with it to brighten the outfit up more for spring. i loved being by the river for these photos, there's something about a natural backdrop that completely 'revamps' an outfit compared to taking it in front of a white wall! swans are just beautiful too, although i've heard that they can actually be quite lethal. gulp. also, ducks aren't meant to have bread too as it's unhealthy for them?!
i'm starting to think more and more about my future as each day goes on. it's scary how quickly time goes, i remember stressing out over my A Levels worrying whether i'd even get into university. now look at me, only have two weeks of my second year to go and i'll (hopefully) be graduating next year! everyone keeps asking me what i plan to do after and i really don't know how to answer them. i obviously have a very strong interest in fashion journalism but the idea of going out in the real world alone scares me. i wish someone could just look into a crystal ball and tell me what the perfect career choice for me is. anyone with a crystal ball out there or in the same position as me?
i hope you're all having a lovely day, afternoon or evening!
let me know if you've done/fallen for any pranks today!