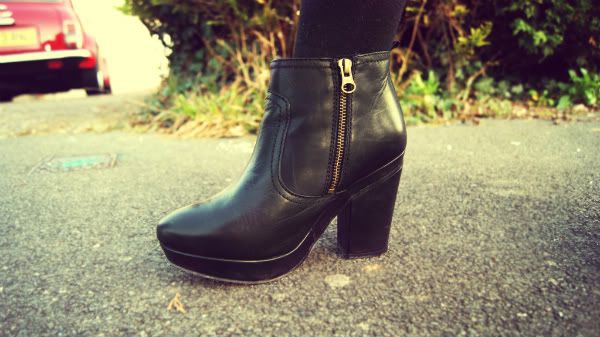 hello!
these are the amazing Topshop Alibi Mid Ankle boots, AHH. since Tuesday, i've been going a bit mad about taking care of them. this means i've been lifting my foot up to see if i've scuffed them or creased them every few seconds. ok, slight exaggeration - 10 seconds.
they retail for £78 and the heels are 8.5cm which are 3.3 inches. i got a 15% discount on them so they came to £66.30 - pretty good for real leather boots! with all leather, they do have a tendency to crease and as they're mid-ankle boots, they do but not to a horrible extent. i need to get leather polish and obsessively clean them. a little bit of creasing seems to add a bit more character to the shoes anyway (at least that's what i'm telling myself when i see one). if you are worried about the creases, you can get something called a shoe tree/shoe horn to put in the boots when you're not wearing them to minimise the chances of them. despite the heel, they are by far the most comfortable heels i've ever worn. the platform helps to minimise the height of it and makes it a lot easier to walk in and for your feet to adjust in. for some reason it makes me feel like i'm bouncing up and down when i walk in them (not literally). i feel all light when i wear them (and tall, yay height).
they seem to go with absolutely everything in my wardrobe too. i'm enjoying just wearing this with each outfit and for it to just look better. once the weather gets warmer, i think i'll wear them with cute lace ankle socks instead of thick tights. ooh, this will be useful for those who are planning to get them: get a size up. i'm usually a 4 and i originally thought they were ok and it was just a case of wearing them in as the leather is very stiff at first. nuh-uh. tried on a 5 and it fits so much better. no cramped up toes (great image) and plenty of space! the toe box region is very narrow and considering these are primarily winter boots, thick socks/tights will be worn with them so having enough space for the feet is a must!
although i said they were comfortable, they did give me tiny blisters on my little toes the first time i walked in them - but i did walk around a lot, and walked uphill then downhill then uphill, you get the idea. my feet are weird and even new flats gives me pumps (new look ones especially, glare), after a few more outings with them, my feet are absolutely fine now :)
so that's just my 'review' of the boots so far. i'm absolutely in love with them and although the price is a bit *sudden intake of breath*, they are worth every single penny. cheap shoes are at the end of the day cheap quality and won't last as long as investing in a better quality pair! thumbs up for such a brilliant 'WELL DUR' sentence.
you can find the boots
here
.
does anyone else have them or are interested in them? what type of shoes are your favourite?
hope you're all having a lovely day!
:)