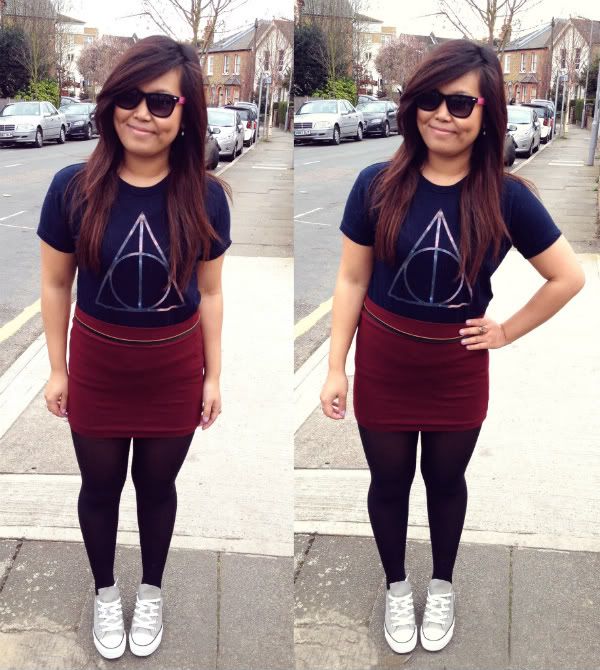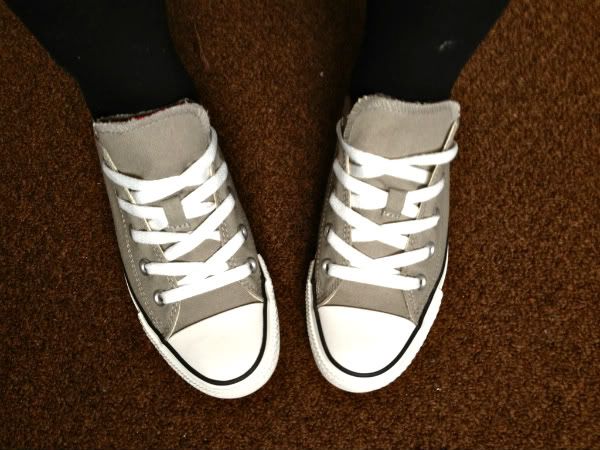 deathly hallows tshirt: orange circle clothing
burgundy skirt: forever21
sunglasses: betsey johnson
hello!
first of all, i just read out the title out loud and it's a bit cheesy but fitting. geddit? hallows, like hello!
ok, forget it.
haven't updated this in a while but i have around ten posts coming up so they'll be appearing every day over the next week! the majority of them are outfit posts, and there's two/three product reviews too. i'm now on my Easter break so i want to write all of these posts ready before i go on holiday (so excited).
this was taken around two weeks ago but i still love this outfit! the amazing deathly hallows t-shirt is from a company called Orange Circle Clothing. i've made a video on it before but it really needs a blog post dedicated to it as i'm so in love with it. the material is good quality and doesn't fade in the wash; the t-shirts cost £13.49 each which i think is reasonable considering how much it would be in the shops! for reference, i'm a size 10 and bought this in a women's large as i wanted it a bit baggy. it's the cosmic print design on a navy shirt. i thought the navy complemented the whole sky/cosmic print going on!
link here!
i'm going to the Warner Brothers Harry Potter Studio Tour next month and i know what i'll be wearing. just watched Tom Felton on Day Break showing the studio and i am unbelievably excited. EEEEEEE.
i paired it with a burgundy bodycon skirt to add a pop of colour to the otherwise dark outfit. trying to wear a lot more colour for spring instead of my usual neutrals! sunglasses are from betsey johnson, love. they're bright pink on the sides and it's nice to have them peeking out!
now, for a small little problem. i bought this pair of converse a few weeks ago. i'm usually a 4 but it was humungous so i got a size 3, should've gone for the 3 and a half but they didn't have it in stock and the 3 felt fine at the time! it's been killing my feet and keeps giving my little toes blisters. for those who have owned converse, is this just part of breaking it in? it's more comfortable, the longer i wear them so fingers crossed!
off to prepare the other blog posts now!
i hope you're all having a lovely day or evening!