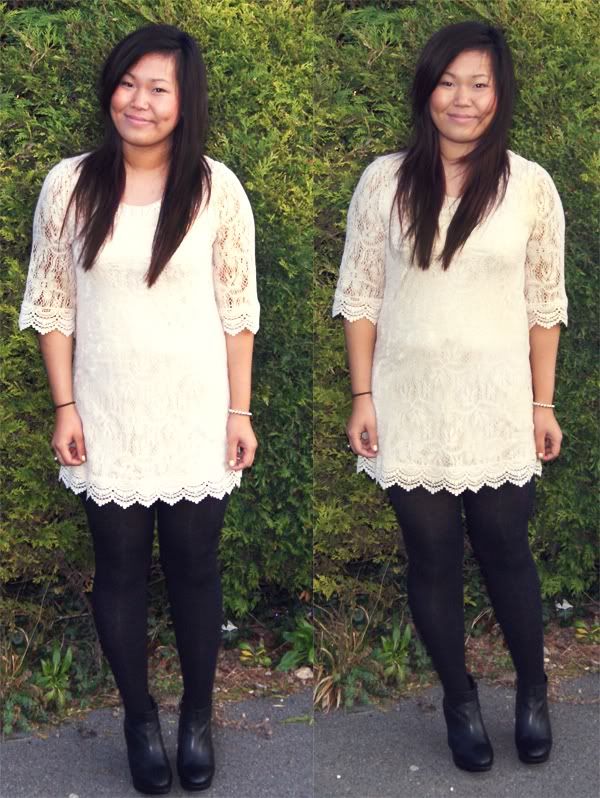 hello!
just a quick outfit of the day post! got this dress from H&M on Tuesday and I am in love. i like the detailing on the sleeves and the hemline - it's very girly. i feel a bit like a hippie in it though and feel like i should have flowers in my hair and be spinning on the spot or something. summer outfit of the day, methinks. i don't think hippies play dizzy dinosaurs either. my mum treated me to the topshop alibi mid ankle boots and i cannot get over how beautiful they are! it's around a 3 and a half inch heel but because of the platform, it's so easy to walk in. a more in-depth post shall be coming up in the next two days! :)
Jord and I have decided to go on a 'cut something out for a month' phase and trying to decide what. takeaways? fizzy drinks? all of it? have definitely piled on the pounds since Christmas and with my holiday coming up, it all needs to go, go, go. i'm very healthy when i'm at uni though and mostly have boiled vegetables with steamed/oven-baked fish with only fruit to snack on. food shopping is expensive so i never buy junk! i do love healthy eating but the lure of junk food on a saturday when i'm home is also very tempting. waah.
i'm also thinking of doing another 'spending ban' for the whole of March. it'd be good to save all the extra money for holidays or any emergencies that may suddenly pop up! i haven't convinced my mind yet though as if i decide to do something, my mind likes to annoy me and protest. clothes also decide to dance around me singing 'buy me, buy meeeeeeeeee'. beauty products also march up to me and basically say, 'put me on your face'. only me? i have just drank the last few sips of coke and this may be goodbye to it for at least a month.
anyone been on spending bans or months of cutting junk out?
hope you're having a lovely day
:)