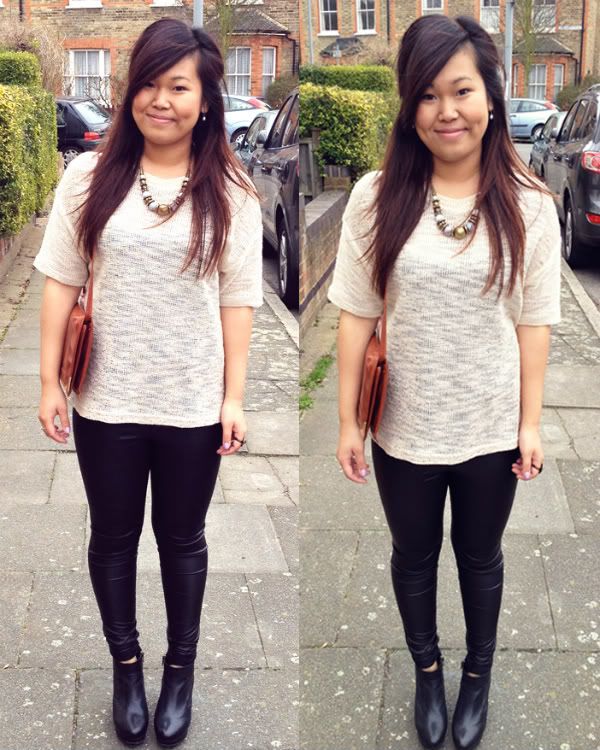 knitted metallic foil top: topshop
wet look leggings: topshop
alibi mid ankle boots: topshop
hello!
again, see what i did with the title? i'm sitting here laughing to myself, oh dear. i'm very easily amused and as an english and creative writing student, it really had to be done. these are all recent purchases from Topshop and i'm not quite sure how i've managed that as usually it's all bits from different stores mixed in. i've been in a 'boycott primark' phase recently and surprisingly, i've actually saved a lot of money from not shopping there for months! it's so easy to just keep filling up the basket with blouse after blouse after blouse after - you get the point, when it seems so cheap. the prices have sneakily gone up though and for a few £££s more, i'd rather go to Zara/Topshop for better quality items. Zara is honestly my all time favourite shop, especially this season as everything they have in at the moment is amazing and very reasonably priced!
this foil effect knitted top i'm sporting (only time you'll read the word sport and me in the same sentence) was actually on offer from £28 to £20. it's thick enough to keep you warm during the chilly days in spring/summer, but thin enough to not make you resemble a marshmallow. i love the foil effect as it just adds that special 'something' that takes it away from being another generic, knitted top; it's also a subtle way of introducing this season's metallics trend without looking like something from outer space (unless you're going for that look).
now, i've said this once, twice, a million times but i don't agree with leggings. i've always just worn tights with black shorts or skirts but for some bizarre reason, this pair just spoke to me. we had quite the conversation. i've been looking for some leather trousers for a while but after accepting the fact that my legs just look like tree trunks in them, i gave up. however, this, my friends, is lovely. it fits like a dream (a tiny bit too baggy for my liking though) and it feels so comfortable! i understand why everyone loves leggings so much as i never want to take them off whenever i'm wearing them. i still can't bear to wear them out as trousers as some people are so fond of doing (no bum showy and pants line showy please), so i purchased the top from the tall section to add a bit more length at the bottom.
still in love with the alibi mid ankle boots, they just get more and more comfortable. the necklace was to add a bit more texture and colours to the outfit as the knitted, wet look leggings and leather obviously wasn't enough. the bag was actually purchased from a vintage store, paid more than i would have liked but it's beautiful and straps can be taken off to become a clutch! voila!
so there you have it!
weather is a bit blaah today but hope you're all still enjoying your day/evening!
i miss those times back in middle school when everyone just played board games whenever it was raining outside. i cannot stand being in the rain or the cold so board games indoors used to be my favourite break times! what about you guys? :)