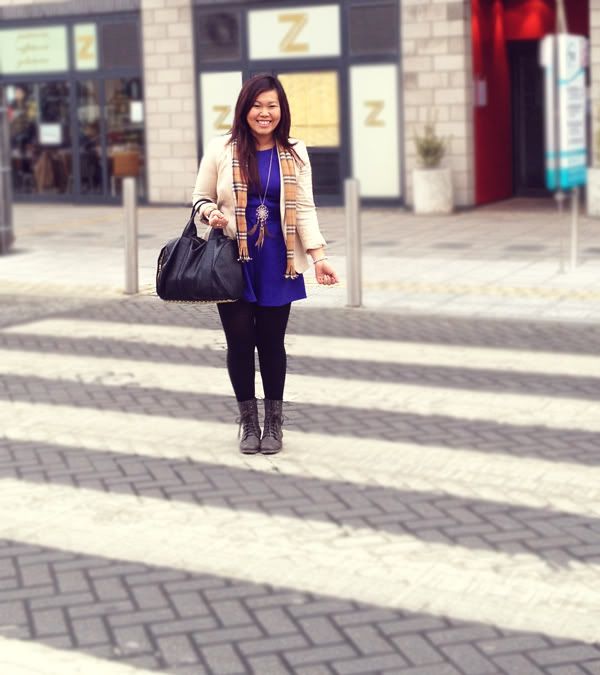 dreamcatcher necklace - h&m
hello!
i know, i know. it's not valentine's day anymore and this post is rather late but i thought i'd share my outfit with you anyway. i knew some kind of eating would be involved so decided to wear clothes that were a bit more loose-fitting. good idea. if you watched my
haul video
last month, you'd have seen the playsuit i had bought from ASOS. it was on sale, i didn't have anything blue in my wardrobe and i like playsuits so... bought. i had to really, it was practically talking to me. anyway, it's a thick enough material to keep me warm but not thick enough to make me sweat buckets (fantastic imagery there, you're welcome. ironic though as i hardly ever sweat - weird human). i love wearing this beige/cream blazer as it makes me look less formal like a
'oh me? i have just come back from work. i'm a financial banker'
lady. i'm not sure what a financial banker lady would have been doing galloping around the marina though and not doing their financial banking jobs but oh well. i thought i'd pair it with a tartan scarf
burberry ripoff because one 'designer inspired' item isn't enough apparently
and i like how all of it works together so yay.
usual shoes and bag. i am in love with anything to do with feathers and dreamcatchers so this necklace is perfect. i just thought i'd wear it as i love it and it's more casual with all the block colours and sophisticated gear going on. i'm liking my hair at the moment with all the red and brown in it. i can't stand my hair when it's black and i had a lot of blonde highlights in it last summer. not sure whether to add some more in this year or keep it simple and have it just brown. hum.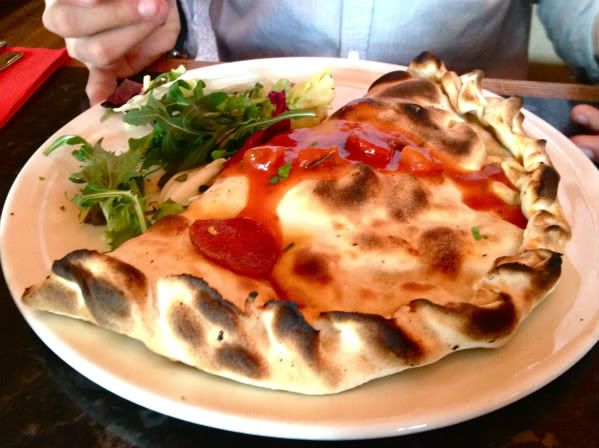 i was very lucky and received the most beautiful bouquet of roses from Jord. they still haven't wilted and it makes me so happy to look at them. i've never seen myself as a flowers kinda girl but that has been changed. if you've seen my
recent video
, you would have seen the BEST SHEEP NOTEBOOK IN THE WORLD. the eyes move and everything, oh, it makes me so very happy also. went to Frankie and Benny's as i've never been and ordered the New Yorker Calzone pizza. yum yum and more yum. it was a bit weird going to the toilet with the speakers attempting to teach me Italian though. it's a cute little idea but really? would i really remember how to say 'how much are these two bananas?' in Italian when i'm going for a weewee? you decide.
the last picture is just of the beautiful marina that has been heavily edited. i like it though and i love that i live by the sea. oh i do like to be beside the seaside and with that, i shall end this post. by the time this post is up, my 2 hour train journey will have ended. time to make a huge cup of tea. one sugar and lots of milk please.
hope you've all have a lovely day.
:)