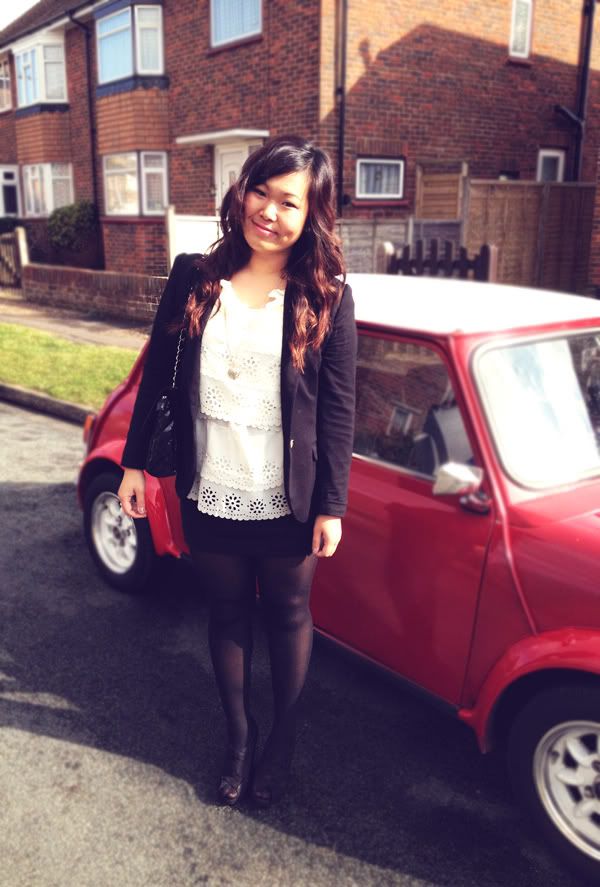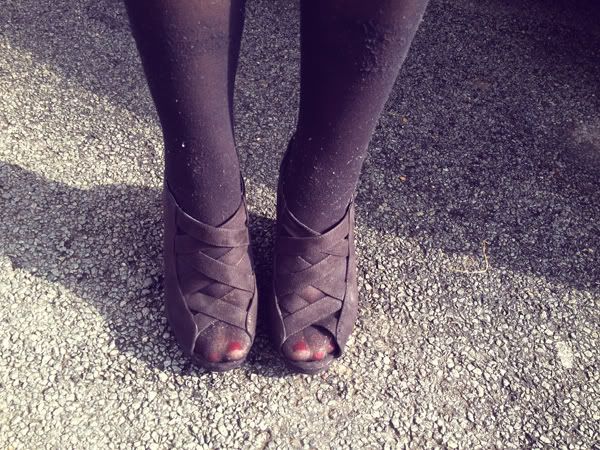 hello!
it's been unusually warm these past two weeks so i've enjoyed not having to layer up to resemble a marshmallow. i love the food (especially with hot chocolate, drool) but i do not enjoy looking like one nor do i like waddling to uni looking like a penguin. i'm so excited for spring/summer and would like the sunshine to hurry up and come to play perlease. sorted out my wardrobe and found this top! it was originally my mother's but she bought it, forgot about it then found it a few months later and decided she didn't like it so off it went to me. it's beautiful. it's light, has ruffles, pretty cut-out detailing and i like the unusual ruffle neckline too. basically, the top is very me. i can also confirm that after a lot of meat feast pizza and a trip to the salad bar at pizza hut - it's very flattering too and the scalloped layers hid my food baby. good job.
paired it with the usual black blazer (i've developed a very unhealthy obsession with this. it's just so comfortable and soft) and a black bodycon skirt. if i didn't look like a financial banker lady in my last outfit post, i definitely do now especially after wearing wedges with it so i was a few inches higher! i never wear heels during the daytime and thought it'd be nice to wear it during a day of eating and shopping. they were very comfortable and although being tall was fun, i wasn't used to my new found height and felt like i was trampling over buses and ant people in broad daylight (slight exaggeration). thought i'd complete this monochrome outfit with a patent Chanel inspired copy of the 2.55 bag. i don't use it enough but i love it. it's so spacious inside and just smartens up an outfit. one day i will own the Chanel 2.55 though, one day (hi, santa).
just loosely curled my hair to make it look wavy. it looks like i've ombre'd my hair in the photos and i kinda like it like that? it's lightened a lot these past few weeks and i need to decide what to do with it. any suggestions would be very welcome indeedeo! also, those are not weird strands of hair but in fact feathers! i put feather extensions in my hair around two months ago and i've been very impressed with them. they haven't fallen out, they've been straightened, curled and washed numerous times and look exactly the same as when they were first put in. let me know if anyone is interested in more of an in-depth review of them, i'm thinking of getting some purple ones as soon as it's spring. i need to complete my Pocahontas transformation.
also, on a very positive note. i've received my results back for two of my modules in semester one. a 2:1 in my exam and i went and got a 1st for one of my research projects! i nearly cried and did one of my 'very happy dances' in front of my lecturer. he looked away awkwardly and proceeded to talk about dim sum (yum) but AHHHH. i'm so happy. i'm aiming to get a first overall so i'm slowly getting there and need to push myself more to be a better student! it's very strange to think that i'll be graduating next year. i was only in my first year last year and now i'm already halfway through. so scary.
i shall end this post now and watch The Simpsons! i looked up earlier and Mr. Burns was half naked, singing, dancing and shaking his bum in a fur skirt. SEE MY VEST, SEE MY VESTTTTT. okok, i shall go now before i start to dance and sing (i already am).
i hope you've all had a lovely day!
:)