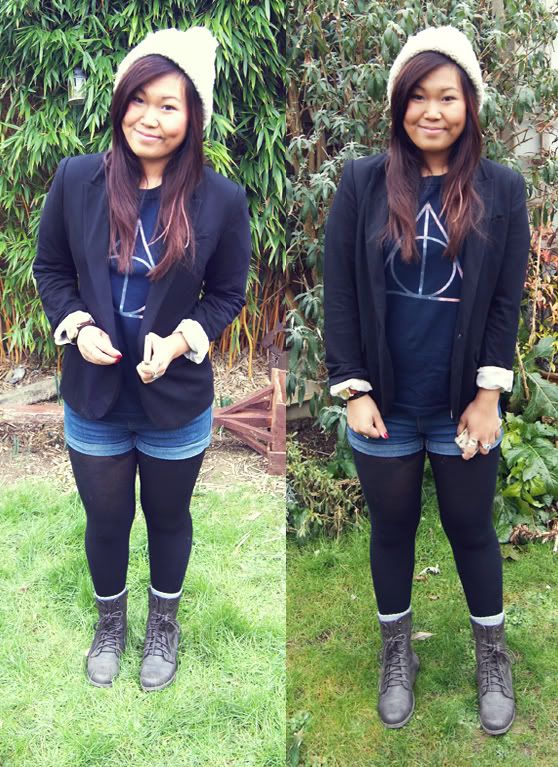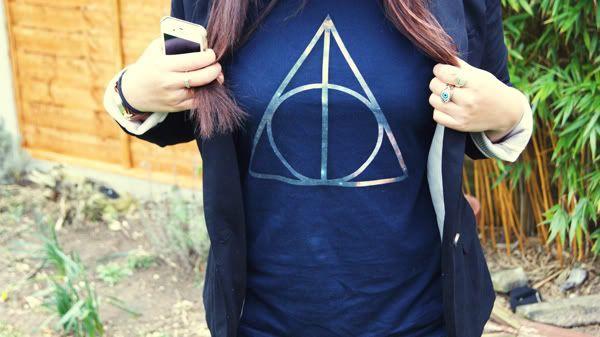 hat - h&m
deathly hallows t-shirt - orange circle clothing
hello!
these photos were taken around 3 weeks ago and have just had time to upload them now. oops. i originally wore Jordan's burgundy cardigan instead of the blazer which looked a lot better, but we were in a rush to go so quickly changed into a jacket due to the BRRR weather we had weeks ago! i have already made a note to take a picture/video of the outfits i'd style this t-shirt with so that'll be up soon.
i had to buy this t-shirt as soon as i saw it featured on
gemsmaquillage's
website. deathly hallows and a cosmic print? perfect t-shirt. the company
'Orange Circle Clothing
' had free delivery one weekend so bought it asap and already have my eye on a few more. they retail for £13.49 each and i bought it in a women's large and in navy. i thought i'd choose a large for more of a baggy fit but a medium would be of course, more fitted. the quality of the t-shirt is lovely too so i definitely recommend them. follow them on
twitter
too as they're always coming up with new designs and are very lovely to talk to!
i forgot i had this cream bobble hat that i bought from H&M last year and it saved my bad hair day. it kept my head all warm too (we went for a pub lunch and it was already warm in there but shh.) ooh before i forget, did everyone have a yummy pancake day? sisters and i made about three huge batches of american and normal ones. we also had ice cream, nutella, lemon juice, sugar and marshmallows laid out on the table. fatties. it was sooooooo good.

i have two more outfit posts lined up and apologies for not posting regularly. i spend half of my time on trains nowadays!
hope you've all had a lovely weekend.
:)