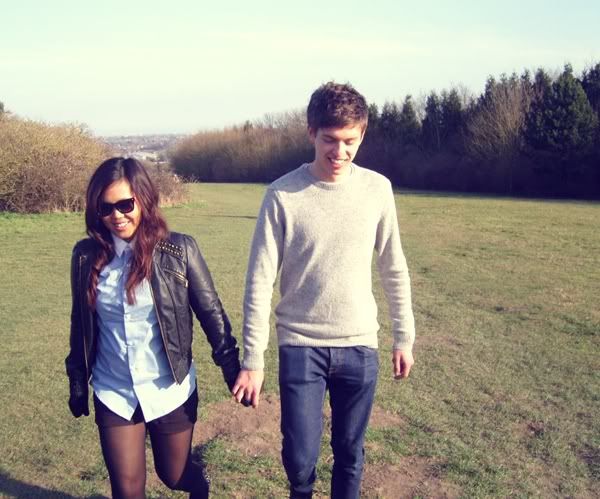 sunglasses - betsey johnson
leather jacket - miss selfridge
hello!
another outfit post today :-). it was Jord's cousin's birthday on Sunday so we all went for lunch and went for a walk afterwards to take care of the food babies. full credit to her and his mumma for letting me use these photos as i didn't have a chance to take any. these aren't posed as it looks slightly like we're being cheesy catalogue models (you know the ones with the big grins and effortless prancing around like 'we'd do this even without the whole camera crew being here'). the background is beautiful so i had to put these photos up as it gets me excited for summer every time i look at them!
thought i'd wear my new Betsey Johnson sunglasses as it was such a sunny day. i always just get cheapy ones so it's nice to have some good quality ones now! it's black and pink and i love them very mucho. wore this shirt buttoned all the way up, i like how it looks very polished instead of having a few buttons undone which to me, looks a bit too casual. i need to find some nice collar tips so shall be browsing good ol' eBay for that. my sister recently bought a pack of studs and so we've gone a bit crazy with it and decided to stud the leather jacket. it's so very easy (although your fingers hurt after) and looks amaaaazing. the colour of the studs match the hardware on the jacket too so that's a bonus. if anyone wants a tutorial on it, as usual, let me know :-).
kept the rest of the outfit very simple and wore my topshop studded vectra slippers with this. trying to convince myself that i don't need the cream pair but aren't they beautiful?! the black gloves and sunglasses look a bit Karl Largerfeldy but i love the man.
currently munching on the new Quirks biscuits and watching Two and a Half Men. the biscuits are yummy but i preferred it when Charlie Sheen was in it. tiger blood, yeaaah. i shall leave now, by the time this is up - i will yet again have finished my 2hr train journey. i wonder how many unlucky passengers will have the pleasure of seeing a ZZZZZ MOUTH OPEN sleepy me? i'm one of those embarrassing people that fall asleep on the train but i don't think i've actually fallen asleep ON someone yet (i bet i have jinxed it now). i don't snore or drool though so lucky them!
what have you all been up to today?
hope you've all had a lovely day!
:)