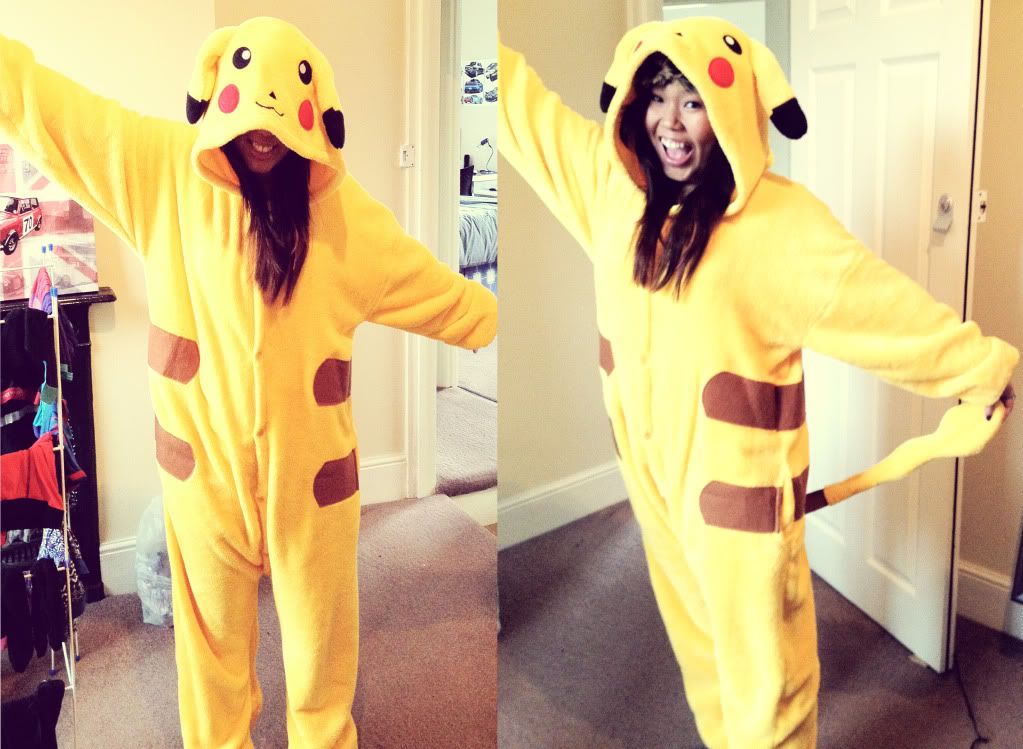 hello!


so.. that's my outfit for today. i'm not even joking, from 3pm onwards, i decided to just climb into this onesie and turn into.. PIKASHU. play on words makes me so happy. it's the most comfortable thing i own and i love it! it even has a tail!!! i've always wanted a tail, imagine if humans had tails. ahhh!
but if you wanted more of a normal outfit of the day, this is what i wore a few hours before:
top: topshop £14
shorts: h&m £20
leopard headband: christmas present (miss selfridge)
nails: revlon facets of fuschia £6.49
rings: pearl ring from Jord, vintage flower ring £3.50, topshop eye ring (love) £5
watch: aldo £28
wooden all saints bracelets: ebay £1.50 each
bracelet and charms: pandora (presents) yayayay
this was a 'throw something random on as i can't wear any of my new clothes until i've filmed my haul video' kinda outfit but it was very comfortable to lounge around in. my hair was in a bit of a mess so i decided to make it look less offensive by putting on this beautiful leopard headband. i love it so much! it's marmite as you may hate the headband in which case, it would be offensive to you, but, i love it.
absolutely love this nail polish! i've wanted it for the longest time and it was always sold out.. until now! it's beautiful and took 2 coats for it to be opaque. purchased 2 new bits of jewellery yesterday too, i'm a sucker for rings (especially from topshop) and i'm absolutely in love with these two. the flower ring was from a beautiful vintage shop called 'marjoriedoovintage'. if anyone of you live near/in Coventry and into vintage clothing then please do check it out, it's amazing and the prices (compared to most of the vintage shops i've been in) are amazing also! the eye ring is from topshop for £5. i've wanted it since summer and it was never in the shops when i've searched for it, until yesterday. it looks really realistic and a bit freaky - but that's why i love it.
in the middle of uploading a youtube video (finally)! i've been away for 2 months due to uni work and deadlines, it's all done and out of the way now though so i'm back! i've missed uploading videos so much. i'll update this post in a few hours with the link to the video if you're interested, if not, find it on
http://www.youtube.com/shulikesclothes
EDIT: here it is! looking like ALI SHU after i took the hood off! oh well, comfycomfycomfy. enjoy!
hope you've had a lovely day and evening!