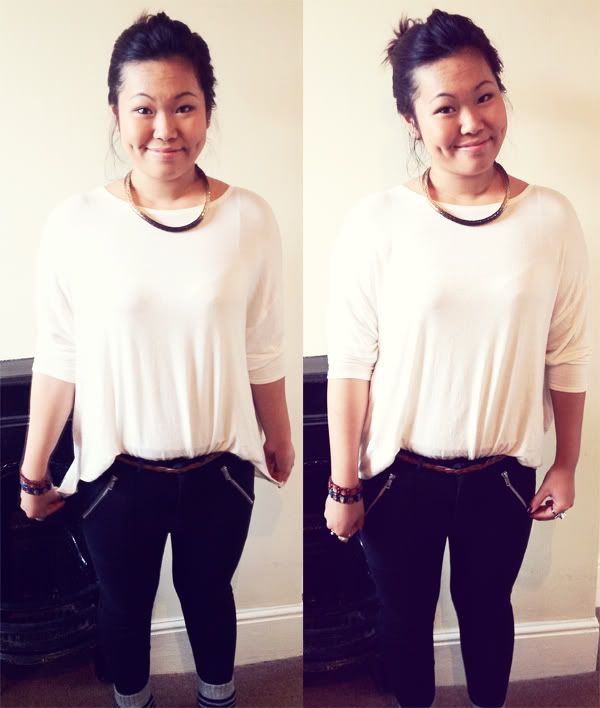 riding pants: h&m £15
belt: primark £1.50 (?)
gold/black necklace: topshop £1.40 (in sale)
wooden all saints bracelets: eBay £1.50 each
owl ring: topshop (years ago)
flower ring: vintage £3.50
evil eye ring: topshop £5
hello!
back again with another outfit of the day! really getting back into blogging again so will try and find any excuse to, hence this post. bit of a plain outfit but i'm obsessed with everything that i'm wearing in the photos. the white, slouchy, and slightly bat-wing top is from Topshop and it's the softest and lightest top i own. i bought it in a grey colour too and i'm so gutted that i didn't get the purple and coral! i don't usually buy the same tops in different colours but these are amazing. they're versatile, perfect for layering and i could sleep in them. i won't, but i could.

the riding pants are from H&M and they're everywhere right now, i know American Apparel are selling them for around the £60-£70 mark but why pay that much, when i'm perfectly OK with mine for £15? they're very stretchy (but fitting), thicker than leggings but lighter than jeans, and also very flattering. recommend.
have been looking for this fur stole for the longest time and fate bought us together, because we're now lovers. before this winter, i've never really liked fur - not quite sure what's changed but i'm in love with this piece. it keeps you SO warm and literally goes with everything, and makes any outfit look a lot more put together than it actually is. i like to pair it over coats and jackets too. this over a trench coat completely changes the way it looks and i like adding a twist to the classic design (will snap up a photo to post on here in the next few days).
also shoved my hair up as i'm really not liking my fringe or hair at the moment. was nice to keep it out of my face although i now look like a spam head. remember that game during middle school? SPAM! just me? ok. i never really shove it up when there's other people around as i think it makes me look like a boy or showcase a big forehead. 2012 will be the year for experimentation though so yaknow, be nice! :)
love the jewellery! they're all recent purchases and i'm back in the 'shove all my jewellery on and put all da ringzz on all da fingerzzz' phase again. i'm a very indecisive person so the less decisions i have to make, the better. i've reversed the gold necklace around so a bit of the black belly (tehe, like a snake) is showing and i like how it makes it look a lot less blingy with the fur. there's experimenting, and then there's looking.. ahem. not that you can see but i'm slightly proud of my eye makeup today. i've made your day with this fact, haven't i? i'm contemplating whether or not to purchase Benefit 'They're Real!' mascara. it's got really good reviews, but most mascaras just simply don't do a lot for my asian lashes boohoo. don't want to spend £18.50 only for it to be the same as a drugstore one. opinions please!
i haven't been doing a lot these past few days; i've completed all my coursework for uni and handed that all in so after 3 very stressful weeks, i'm really enjoying just relaxing and doing... nothing. my body's exhausted and catching up on youtube/blogs and eating junk food is making me very happy. having fish and chips/paella for dinner then going to watch a film with some people from Jord's uni (again, fantastic things i've told you that have totally made your day, you welcome). obsessed with Temple Run again, liked it back in october and like it again now. i've come to the conclusion that i shouldn't really play games very much as i get way too competitive. bad trait. going to end this now before your eyes get too tired, another rambly post!
hope you're all having a lovely day!
link me to any blogs/youtube channels you have, would be nice to have a read :)!