wooden all saints bracelets - eBay
pandora bracelet - pandora
hello!
three posts in a week, yay! the Man United match is currently on so whilst the guys are shouting at the screen and discussing football tactics, i decided to save the blogging 'til now accompanied with a packet of wine gums and peach loops (extra fruity) - yum. this is the outfit that i wore yesterday and i actually really love it. i wore this top in the last outfit post as i was originally planning on wearing a black scoop neck with this but realised that i didn't have it, and had to improvise. it just proves how versatile this top is and i'm glad i have it.
the trousers were mentioned in my
haul video
and i didn't get to show what they looked like on, so voila! the pictures don't show exactly how high-waisted they are but it makes my legs look so much longer than they actually are (short and stumpy, boo). i am in love with the aztec print and the fit of it (baggy but not in a 'clown pants' kind of way, but a bit... edgy?). they are currently on sale for £14 from ASOS and if any of you are interested, i urge you to get them. they're comfortable and perfect for all seasons - i can't wait to wear this with a bandeau top during the summer with some sandals/wedges. i toughened it up with my military boots and i like the combination of them both. the bottom of the trousers narrows down once it reaches the ankles, but with these boots - the bagginess is emphasised more and creates this interesting structure which i like.
usual jewellery, i don't think i'll be switching anytime soon. i like mixing metals with the gold and silver jewellery and also mixing girly pieces with 'weird' pieces such as the evil eye ring.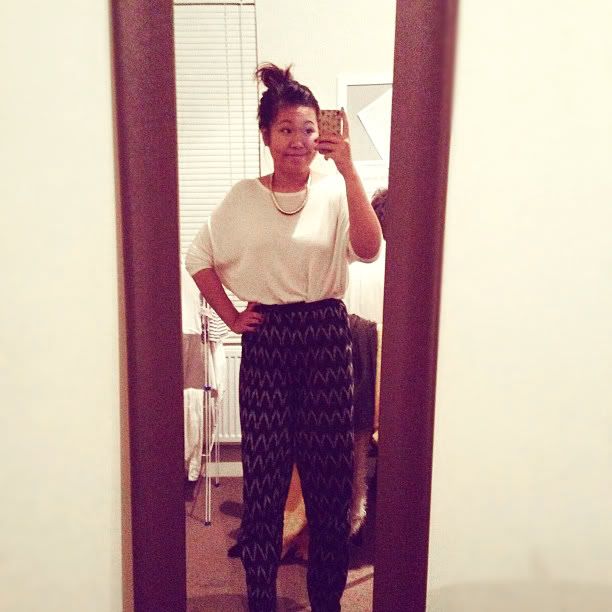 hair was in an absolute mess, left it to dry naturally and didn't bother straightening/curling it. i later shoved it up in a top knot and i really love how different the outfit looks with just a different hairstyle. i tweeted a picture i took on instagram so forgive the quality of it as this was taken at around 10pm. this picture gives more of an idea of how high-waisted the trousers are. i feel like the top knot gives the outfit more of a 'clean', 'smart', and 'sophisticated' look. the messy, long hair made it look more casual and relaxed so different hairstyles = different occasions and purposes of the outfits.
on a completely unrelated note, i've been catching up on Chuck and just finished watched episode 10. waiting to watch episode 11 in a few hours and although i'm excited, i'm so sad as it's coming to an end :(. this season has been absolutely amazing. i'm actually devastated it's the final season as everything about the show is perfect and i wish it could carry on forever and ever. does anyone else watch Chuck?
i uploaded a video of this outfit on my channel too if any of you are interested!

hope you guys are having a lovely weekend!