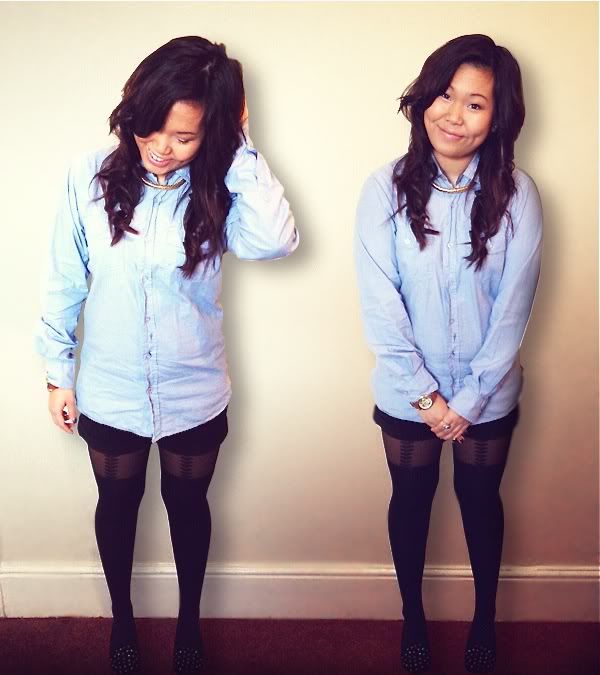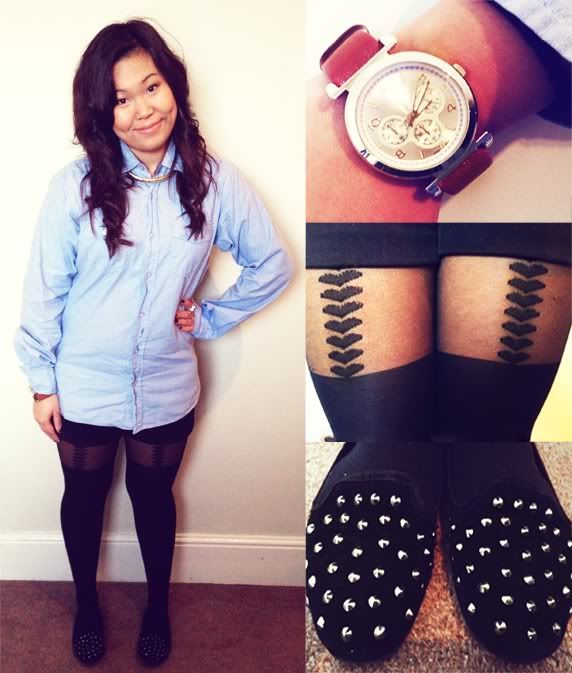 watch - aldo
evil eye ring - topshop
gold necklace - topshop
hello!
first of all,

恭喜發財,利是逗來;)!

祝
大家
萬事如意,
身体健康,
如意
吉祥! in other words, Happy Chinese New Year to you all! it's the Year of the Dragon and wishing it'll bring you all happiness, health, good luck and prosperity. i don't have a large family here so we've never properly celebrated it but it's still nice to spread the good messages and cheer! going to a Chinese restaurant tonight and it's meant to be amazing so i'm excited. they have a dimsum bar, a sushi bar and teriyaki too. nomnomnom. i predict that i'll end up looking like a dumpling by the time i leave that place. ehh, you win some, you dim sum (totally stole that from David & Goliath - i need that shirt in my life).
decided to mix up my outfit. this shirt isn't actually mine and i stole it from Jord. i really need to get a light blue shirt of my own as i have a million ideas on how to style it. as it's a men's shirt, it's a lot baggier compared to it being of a slimmer fit. it makes it look more casual for daywear. it could look a lot more formal if it was buttoned all the way up and tucked into the black shorts; i just left it untucked to look more laid-back. the heart suspender tights may be a bit marmite to some of you, but i love how it adds a touch femininity to the outfit. as the shirt is of a looser fit, the tights help to balance it all out. i paired it with the studded shoes from Topshop. i don't wear them as often as i would like to; the weather's not been great but they'll be perfect for spring and summer. so comfortable and beautiful to look at. i didn't wear my usual jewellery, i wanted to keep it looking simple so wore my watch from Aldo, gold necklace and evil eye ring. i never look at the time on my watch, but it makes me look smart muahha. i really should start wearing other jewellery pieces seeing as i've managed to hoard quite a collection but i'm obsessed with these pieces right now.
i'm going into central London tomorrow and excited to act as a tourist again. i love the underground and the atmosphere the city gives out. i wouldn't want to live there again though. i was born in London and spent about 6 years of my life living in central London before we moved to a much quieter part of the country. from what i remember, it was way too hectic to be living there, but i do enjoy day trips to fully appreciate the experience. excited for tomorrow. planning my outfit in my head so hopefully there will be an outfit post in the next few days.
half an hour left 'til we're leaving to go to the Chinese. yumyumyum!
hope you're all having a lovely day!