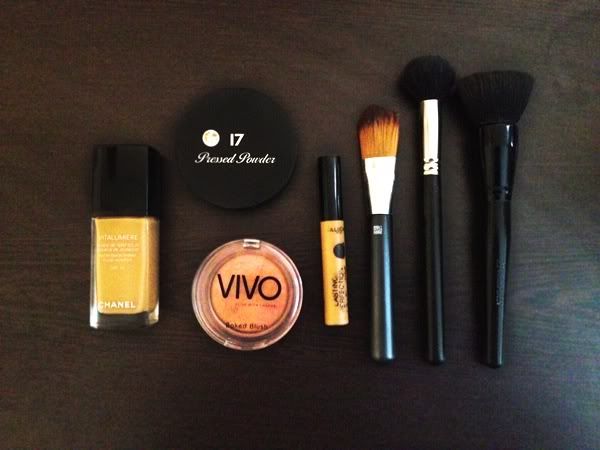 (From L-R,
CHANEL
VITALUMIÈRE Foundation, 17 Pressed Powder, Vivo Baked Blush in Peaches and Cream, Collection 2000 Lasting Perfection Concealer, QVS Foundation Brush, MAC 109 Small Contour Brush and ELF Powder Brush)
As you can see from the products shown in the picture above, these products form my normal foundation routine. I don't wear make up on a daily basis but if i was going out, i'd be wearing this on my face. I thought I'd also create mini reviews for the products too as i've used them all for at least a month in case any of you were interested in the products and wanted another opinion.
CHANEL VITALUMIERE FOUNDATION
Apart from a bit of redness on my cheeks, i would say that i've got quite good skin so i never really use or need full coverage foundation. I hate the thick and cakey feel it leaves when it sets on top of the skin and the matte finish, horrible stuff. The Chanel Vitalumiere is perfect. It offers a light-medium coverage, has a dewy natural finish, and just makes your skin look radiant but yet still feel like your own skin. It's pricey at £33 but it's the best foundation i've tried. I bought it back in July and i'm nearly out of it so it's lasted me well over 6 months - a little goes a long way. I'm intrigued in the Chanel Vitalumiere Aqua as that's targeted as a 'second skin' foundation so that may be next. Ahh Chanel.
Collection 2000 Lasting Perfection Concealer
I like to use the Lasting Perfection Concealer (£4.19) for days when I want to cover under eye dark circles or blemishes. It's a thicker formulation than the foundation so offers more coverage for any problem areas. Again, a little goes a long way and although it has more of a thicker consistency, it doesn't cake under the eyes. I did use either the MAC Studio Finish Concealer (£13) or BeneFit Boing Concealer (£16.50) before this and found that although they concealed blemishes well, it often highlighted dry areas and left a cakey look. They both retail for around £10 more than the Collection 2000 too, so if you were considering any of those higher-end products, try this product first!
17 Pressed Powder
I then set my foundation with the 17 Pressed Powder that retails for £3.99 at Boots. It's a fantastic product for the price and does what you'd expect it to do but it doesn't last the whole day. It also offers a very natural finish on the skin but I'm tempted to try either the Sleek Luminous Pressed Powder after this or go back to my all-time favourite MAC Mineralize Skinfinish Natural. I'm absolutely in love with the MAC MSFs and have been through 3 in the past, but due to the price changes - I don't think I can justify £20.50 for the powder if it's not a necessity. Boo to MAC. :(
VIVO Baked Blush
The VIVO Baked Blush has been a recent purchase and favourite. It's available in the larger Tesco stores for only £4. The design is
very
similar to the MAC Mineralize Blushes (£19) and performs just as well. The shade I have in the picture is Peaches and Cream (Shade 1) and it's a very warm peach toned blush. It's shimmery but doesn't have any form of glitter in the product. When applied, it gives off a very pretty 'glow' - I've got medium tan skin and peachy blushes always compliments it well. I wouldn't normally pick up a blush from a supermarket, but may look into this brand more!
The QVS foundation brush is just a standard foundation brush. It retails for £4.99 at Superdrug. I use various types of foundation brushes depending on what finish I want or what foundation it is: the MAC 187 (£32.50) is good for summer when I want minimal amounts of products on my face. A lot of people rave about the MAC 109 brush (£26) for liquid foundation but I can't get over the shedding this brush has. Bleugh. I either use the 109 or MAC 168 (£26) for brush/blonzer. It contours the cheeks well and also distributes the right amount of product. Lastly, the ELF powder brush (£3.50) is an amazing multi-tasking brush. I have 2 and it has so many different uses. It's very soft and more dense than the 187 for liquid foundation if you require a heavier coverage. It's also amazing for powders, blushes and bronzers. All round good brush that every one should own. :)
I hope this post has been somewhat useful to anyone who was interested in the products and wondered how it worked on other people. I change up my foundation routine every few months or so to use up other products or try out new ones, but i'm very impressed with the products i'm using right now. I think i'll post my eye makeup routine in the next few days, so hope that will be useful also!
Hope you're all having a lovely day :)