haaiii everybody!
i'm back, with a new hairstyle - yippee! i have blonde, caramel and browny red highlights all throughout and some layers chopped back in! i had a similar hairstyle a year ago but
i couldn't be bothered to go to the hairdressers
decided to let it grow out.. including the colour that i had before so the natural black was on top and brown at the bottom - some people thought i did it on purpose and 'ombre-d' it.. i love it so much and have bought a ton of hair products to add to my already mahooosive collection - needed though, right?! that'll be in a separate blogpost or video :)
onto the pictures.. time for the vain side to show..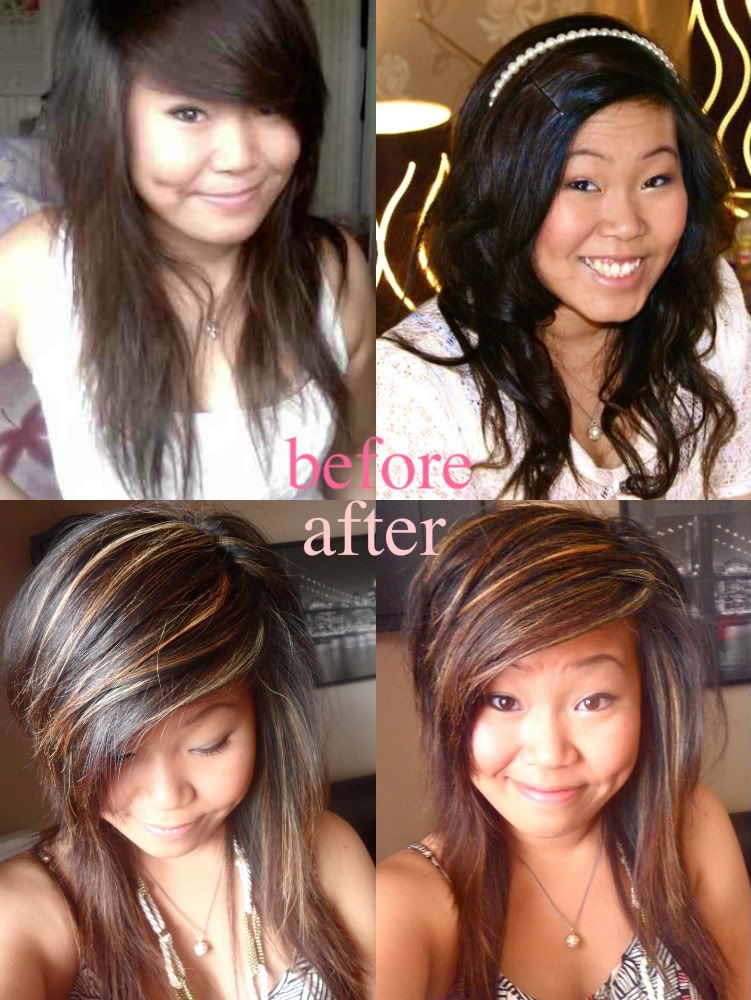 the bottom half of my hair came out a lot lighter in the photos than it actually is in real life. it's actually a dark brown with the highlights through but i want it to be like how it is in the photos! hopefully it will be in summer, fingers crossed! it was a big shock when i looked in the mirror and my fringe was mostly filled with blonde and caramel streaks - i asked for brown but we thought that my hair wouldn't take the colour so if it was highlighted blonde, it'd turn brown! i'm so glad my hair decided to surprise me as i love it! it took some time to get used to but i used to have a blonde streak in my fringe two years ago, and i missed it before it turned orange. i'm now armed with tone-correcting products to prevent it from happening ;)
yesterday's hair routine:
i borrowed some of Wendy's (Jordan's mummy) products for blonde hair before shooting off to buy some for myself.. thanky Mummy K :)
L'Oreal: Elvive Nutri-Gloss Shampoo & Conditioner
Herbal Essences: Split-end Protector (don't likey but trying to use it up..)
Paul Mitchell: Super Skinny Serum (two words: heaven and pears)
John Frieda: Sheer Blonde Colour Renew Tone Correcting Mousse
VO5: Heat Protectant
Cloud Nine: straighteners (love)
Goldwell: Spray Wax (even more love)
that's it :)
what d'you think of this new hairstyle? what have you all been up to?
thanky for reading :)
hope you're all well! x